SHANGHAI, July 11, 2017 /PRNewswire/ — Nielson's latest survey shows that the younger generation parents are looking for products and brands that are unique and define their personalities. This is particularly true in apparel and accessories selection and purchase. Kids fashion in particular is one segment of the market that is highly affected. Clothing and accessories selection is not only in the hands of parents these days, but kids have strong opinions on what design they prefer. Kids fashion brands are challenged to come up with more appealing, fashionable yet comfortable designs for this target market.

Cool Kids Fashion Shanghai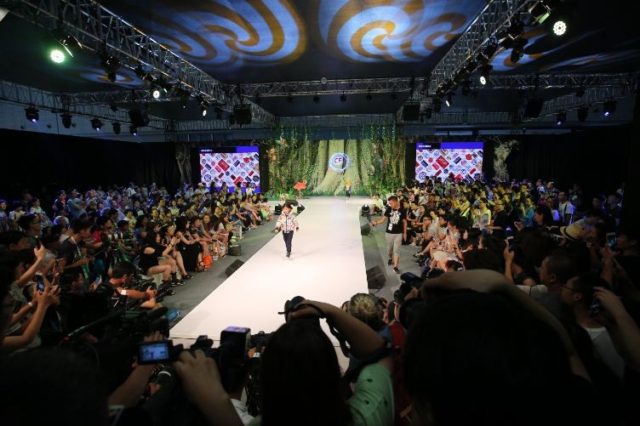 Kids Fashion Shows
The return of the 4th Cool Kids Fashion Shanghai 2017 features over 95 brands from 16 countries and regions featuring their latest trendy collections for the 0-16 age group. The fair will open on 19-21 July 2017 in Hall 3 of The National Exhibition and Convention Center (NECC) in Shanghai, China, co-located with CBME China, the world's largest trade fair for maternity, baby and child products and services.
Athena Gong, General Manager of UBM China (Hangzhou) commented, "Kids nowadays are opinionated and have a strong voice in purchase decision of parents, particularly in clothing. Cool Kids Fashion Shanghai 2017 provides kids fashion brands, designers and China's kids fashion key movers a fashion trade event for kids in China to showcase their collections and network with their peers in the industry. This is where the trends for kids fashion are set and is the gateway for any brand looking to reach China's kids fashion apparel market."
Participating brands include Barbie, Bearpabey, Bibi, Bogs, Cienta, Clovis Australia, cocobambi, cocolic, Como Tomo, Cottonbebe, Devilollipop, Disney, donsje, EGG man, Emile et Rose, eotton, ergobag, Etwo, Eurropic, Fendi, FG4 London, Frankie & Maude Australia, Hanakimi, itty-bitty, Jujubong, KIDY, LAB BY BABY, Lamabaohe, Maya, Mayer-display, Melissa, Mini Phoebee, Nanos, Moschino, MoimoiKamppi, momobaby, NONO&co, Okker-Gokker Nature, Pepino, Ricosta, SpongeBob SquarePants, SUDO kids, supercute, Tip Toey Joey and more.
Cool Kids Fashion Shanghai 2017 has lined up a series of activities to create business and highlight the trends, creativity, and innovation in China's kids fashion industry:
– Ms. Zheng Mianmian of WGSN and Professor Zhaorong Li of Qinghua University will take center stage at this year's Trend Forums on July 19. Ms. Zheng will present the Fashion Trends for Autumn/Winter (2017/2018). Ms. Li will provide tips on how to close business deals for kids' fashion.
– Aspiring designers take center stage with their design and creations at the Kids Fashion Design Contest & Gallery. The contest received 1,241 entries. 20 collections of finalists will be displayed at the Kids Fashion Design Contest Gallery. Final judging will take place with a fashion show on 20 July in Hall 3 Cool Kids Fashion Shanghai Dome.
– A series of Kids Fashion Shows will highlight the latest collections of 15 brands during the three-day event, including Babiboo, Babybol, Boboli, Hanakim, Hasbro, Hexue, Hi!Wawa, Maya, Mayoral, Momo Grow Maternity, My Little Pony, Pan Con Chocolate, Paz Rodriguez, Susana Mazzarino, Teddy Doctor, Transformers and more.
– A series of business matching has been scheduled with buyers from department stores, specialty stores in China.
Cool Kids Fashion Shanghai is co-located with CBME China, the world's largest trade fair for baby products, which showcases a full range of child, baby and maternity products in 239,732 sqm exhibition space, with 3,952 brands from 2,662 exhibitors, and 88,000 visitors.
Cool Kids Fashion Shanghai is a perfect platform for brand owners, distributors and investors to meet and explore business opportunities. Cool Kids Fashion Shanghai 2017 will be held on the 19-21 of July 2017 at the NECC (Shanghai). Pre-register at Cool Kids Fashion Shanghai at www.coolkidsfashion.com/en/register.
Cool Kids Fashion Shanghai (www.coolkidsfashion.com)
Organized by UBM China, Cool Kids Fashion Shanghai is China's must-attend children fashion event for trade professionals. It features a complete overview of children fashion and accessories (ages 0-16 years). The event is comprised of an Exhibition, Kids Fashion Design Contest, Trend Forums, Kids Fashion Shows, and Private Networking Events.
2