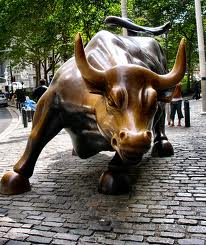 We must accept finite disappointment, but never lose infinite hope — Martin Luther King, Jr.
Some disappointment was always on the cards especially after the RBI released its Macroeconomic  and Monetary Developments report in 2012-13. Friday turned out to be more of a damp squib with the Reserve Bank of India turning out a token 25 bps repo rate cut. It left the cash reserve ratio unchanged at 4%.
The RBI Governor D Subbarao's caution on further rate cuts perhaps was a bit too much for the market and the indices fell like a pack of cards after the policy announcement. Hopes of a 50 bps repo and 25 bps CRR rate cut had fueled the Bank Nifty surge of 1821 points, or 16.72%, from its April 10 low of10,889 to its May 2 close at 12,710. The Bank Nifty ended Friday down 316.35 or 2.49% at 12393.60.
 After raising nerves with its cautious statement on the policy eve, the RBI calmed markets by lowering the Repo rate by 25 basis points. The market was also hoping for a CRR cut which didn't come through. Weak deposit mobilization and lower government spending continue to pressurize system liquidity in a modest credit growth environment but the RBI will look at managing liquidity through Open Market Operations in the coming months, says Amar Ambani, Head of Research, IIFL.
State Bank of India, Punjab National Bank, Canara Bank, Union Bank of India, Karnataka Bank and Dena Bank all lost over 3% in trade today.
 The Sensex closed at 19575, down 160 points over its Thursday's close, while the Nifty shut shop at 5,944, down 55 points.
The gainers in trade today included Infosys, Wipro, Bharti, Sun Pharmaceuticals, L&T, Reliance Communications, Apollo Tyres, and Dabur India while Reliance Industries, TCS, HDFC Bank, ONGC, Bajaj Auto, ICICI Bank, NTPC, HDFC, Dr Reddy's Laboratories, Hindustan Unilever, Tata Power, Tata Motors, Canara Bank, JSW Energy lost out in trade.
Stocks in news:
Adani Ports surged 6.2% after it received security clearance from the Home Ministry to bid for port projects. The stock closed at Rs 155.45, up Rs 9.15 or 6.2%.
 Reliance Communications continued its winning streak, striking a fresh 52-week high. Reports suggest the company is close to inking a tower sharing deal with Mukesh Ambani's Reliance Jio Infocomm. Reliance Jio Infocomm is expected to rent around 30,000 towers from RCom's tower arm Reliance Infratel. The stock closed at Rs 110.60, up Rs 5.55 or 5.3%.
Alembic Pharmaceuticals hit a fresh 52-week high in trade today. For the March quarter, the company posted a net profit of Rs 165.25 crore as against Rs 130.14 crore in the same period last year. The stock closed at Rs 123, up Rs 5.4 or 4.6%, on the NSE.