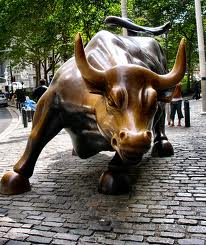 Heavy sell off in scrips across sectors saw the Indian equity market ending with losses on Wednesday bringing a four-day winning streak to a temporary halt.
The NSE Nifty and the S&P BSE Sensex ended near day's low. The record high closings of the Dow industrials and S&P 500 overnight did not help in anyway.
The fall in the market coincided with statements coming from senior BJP leader LK Advani who said it was possible that Lok Sabha polls would happen in 2013. Meanwhile, the Samajwadi Party supremo Mulayam Singh Yadav again accused the UPA government of using the CBI in their favour. The SP leader was quoted as saying, "Is it easy to fight the Congress? Government has thousands of hands…it can use the CBI…send to jail," Singh said.
Prime Minister Manmohan Singh has asked business leaders to be less pessimistic hinting at some steps to improve the economy. Singh said 5% growth was temporary.
Today's decline was led by the interest rate sensitive stocks like the Realty, Banking and the Auto stocks, followed by Capital Goods, Metals and the Oil & Gas stocks.
Only the S&P BSE Pharma index ended with marginal gains. Even the S&P BSE Mid-Cap and the Small-Cap index which outperformed the benchmark indices came under pressure.
Finally, the S&P BSE Sensex closed at 18801, down 239 points over the previous close. It had earlier touched a day's high of 19035 and a day's low of 18721. It opened at 19034.
The NSE Nifty closed 5,673, down 75 points over the previous close. It earlier touched a day's high of 5,744 and a day's low of 5,650. It opened at 5,740.
"Markets have come under pressure even despite rally in the US overnight. With the continuing political uncertainty and talks of an early election market may turn cautious in the near term. It is advised for investors to stay vigilant and invest in fundamental sound companies," says Amar Ambani, Head of Research, IIFL.
Sun Pharma, Tata Power, NTPC and ITC were among gainers in Nifty.
RIL, Infosys, TCS, Wipro, Bharti Airtel, Hindustan Unilever, Hero MotoCorp, Bajaj Auto, ONGC, Sesa Goa, Coal India and HDFC were among losers in Nifty.
The advance decline ratio was almost even. 1444 stocks declined against 1316 advancing stocks, while 133 stocks remained unchanged.
The INDIA VIX surged 5% to close at 14.87. It hit a day's high of 14.87 and day's low of 13.84.
Stocks which hit 52-week high during the week were AKZOINDIA, Finolex Inds, Dhanleela Inv, Sam Leaseco and Grandma Trad.
Stocks which hit 52-week low during the week were Hero MotoCorp, Indian Sucrose, MPIL Corp, Industrial Invest and Sahara One.
Ramky infrastructure continued the rally into a second day on Wednesday after the construction company declared yesterday in an exchange filing that it had won orders worth Rs.3.86bn in different states across water & waste and building verticals. Ramky Infra stock surged 17.5% yesterday and managed to surge further by 4%.
Reliance Communications extended the rally on a second day after Mukesh Ambani led Reliance Jio Infocom signed a Rs.1200crore agreement with the Anil's Reliance Communications after which the stock of latter surged 14% on Tuesday. The stock gained 1.65%
Adani Power shot up 8% after CERC passed order on UMPP for Adani Power and Tata Power. The reports also said that CERC is offering compensation to Adani for electricity from Mundra plant.
Redington India declined by 2.7% down on Wednesday after it was slapped with a tax bill of Rs1.38bn by the income tax department.
The European stock markets slipped on Wednesday, as investors remained cautious ahead of key events later in the week, such as central bank meetings and U.S. employment data.
The Nikkei index in Japan rebounded sharply on Wednesday it was up 3% led by gains in the auto stocks. The Straits index gained 0.2% and the Taiwan index added 0.4%.
Among the top losers were, the Hang Seng index in Hong Kong was down 0.2% and the Kospi index edged lower by 0.2%.and the Shanghai Composite index in China edged lower by 0.2%.