–       The TVs boast of innovative technology amalgamated with impeccable image quality and wide screen dimensions – well-equipped with AndroidTM app versatility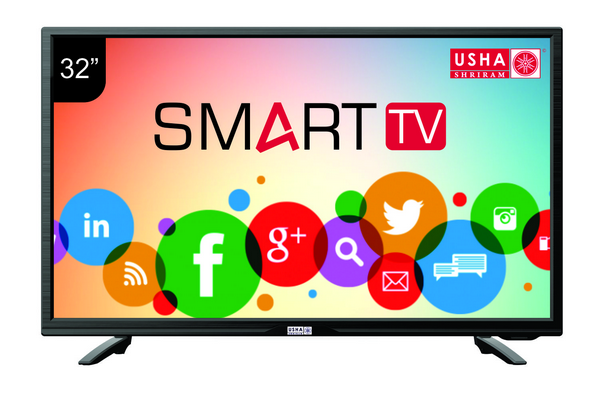 New Delhi, April 19, 2017: Legacy business and the popular household brand, Usha Shriram Enterprises Pvt. Ltd and Videotex International Pvt. Ltd., today announced the launch of the Smart HD and Full HD (FHD) LED Television in the 80cm (32 inch) and 102 cm (40 inch) category, on popular online marketplaces – Amazon and Paytm. Aimed at bringing the most captivating experience to consumers at the best affordable prices, the Panther Series by Usha Shriram is feature-loaded.
USHA Shriram's U42U4S 102 cm (40) Smart Full HD (FHD) LED Television comes with a state-of-the-art Web Cruiser Remote. For providing spectacular quality experience for watching TV, browsing internet or gaming, the Full HD  smart TV comes with an A plus Grade panel , Screen Mirroring and HRDP Technology. Furthermore, the TV also has 2 HDMI, 2 USB, 2 AV, 1 RF, 1 PC Audio Input connectivity ports and 20W audio output. With a resolution of 1920 x 1080, the TV features a wide viewing angle at 178°/178° and comes with a 1 Year warranty.
Up next, the 80 cm (32) Smart TV also boasts of the impressive 1366 x 768 HD Ready resolution, A plus Grade (zero Brt Dot) panel, with a wide viewing angle of 178°/178°. The UV3230S TV offers a host of latest features, including HRDP technology, power audio, eco vision, wireless headphone control, screen capture and M.Cast (screen mirroring). The smart TV comes with 2 USB and 2 HDMI ports, also providing multi-media playability, multi-display function and browser support.
Therefore, although all the functions of the 40 inch and 32 inch Smart TVs are the same except for the size and resolution, the 40 inch TV comes with an external speaker slot. Both the variants comes power packed with 1 GB RAM, 4 GB Internal storage, air mouse & SD Card Slot
Speaking on the launch, Mr. Arjuun Bajaj, Director, Videotex International Pvt Limited, commented, "At Videotex, we strongly endorse the principles of innovation, quality and affordability and each of our product comes with a set of unique features that are not available with any other brand. It has been our commitment since long to disrupt the way one watches movies, play games online, as well as browse through the web on a sprawling and stunning screen. We further look forward to an affirmative response from users interested in finding the perfect balance between latest innovative features and the prices."
Videotex International Pvt. Ltd, a 32 year old, premier LED Television ODM Company that manufactures for a majority of leading brands in the Indian market, recently announced its alliance with Usha Shriram Enterprises – its LED's and Multimedia speakers division where all branding and marketing activities are to be conducted by Videotex.
Usha Shriram U42U4S 40 inch Smart Full HD LED Television – Rs. 25,490
Usha Shriram U32U4S 32 inch Smart HD Ready (HDR) LED Television – Rs.17,990
About Usha Shriram
"Usha Shriram Enterprises" is a name to reckon with for Quality, Reliability and Trust-A reputation that the Company has earned over the decades of building quality and innovative products, providing excellent service and customer satisfaction. "Usha Shriram" has been marketing products including Water Purification, Lighting and Cookware among others under brand USHA/USHA SHRIRAM.
"Usha Shriram" has been the most popular brand of Furniture for decades under the famous brand "Usha Shriram Lexus". The company also has a chain of boutique hotels under the name "Usha Shriram Lexus Hotels and Resorts". The Company has Home Appliances under the brand "Eurolex".