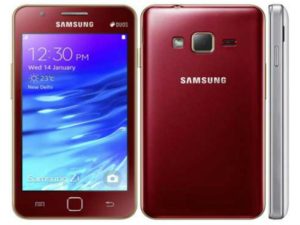 Upholds its position as one of the leading Home Shopping brands in India
Mumbai, September 21, 2016: – Naaptol,India's no. 1 home shopping company, announces the launch of Samsung Z2 smartphone on its home shopping channel, Naaptol Blue, at a competitive price of INR 4790/-. The announcement comes following Naaptol's new tagline – #UpgradewithNaaptol, i.e. customers using feature phones can upgrade to competitively priced 4G enabled smartphones via its platform.
Despite the growing popularity of online shopping, many people still prefer to buy products via home shopping channels as it gives such merchandise a visual appeal. It has also caught the eye of several MNCs, with some using such platforms to reach out to consumers through this new engaging medium. Keeping such factors in mind, Naaptol which has been regarded as the No.1 Home Shopping Company in India has partnered with Samsung for their latest entry-level 4G offering to trigger upgrades to the smart life.
The Samsung Z2 smartphone is 4G and VoLTE enabled. Its powerful specifications include a 1.5 GHz Quad Core Processor, 5MP Rear Camera and VGA Front Camera, 1 GB RAM and an 8 GB Storage + microSD Slot (up to 128 GB). Its smart design along with vivid 10.08cm (4.0-inch) display ensures a superior smartphone experience. Samsung Z2 also features Samsung's proprietary 'Make for India' features such as the Ultra Power Saving mode, Ultra Data Saving mode, and S bike mode for a differentiated smartphone experience. These unique features along with the Jio Welcome offer provide a compelling reason to upgrade to smartphones as consumers can enjoy free voice calls and 4G data for free until December 31st2016 along with free entertainment content such as music and movies.
Commenting on the launch, Manu Agarwal, Founder & CEO, Naaptol said, "We are extremely delighted to be the first choice of Samsung India for launching their Z2 model on a home shopping channel, Naaptol Blue. The launch couldn't have come at a better time than now, as it aligns perfectly with our newest tagline – 'Upgrade with Naaptol' that allows users to upgrade their feature phones for 4G smartphones at affordable prices. Since customer satisfaction is extremely important to us, we hope to continue serving our esteemed patrons, and strive to maintain our position as a leading shopping platform, both online and in home shopping."
Mr. Manu Sharma, Vice President, Mobile Business, Samsung India Electronics, said"As the leading mobile devices manufacturer in the country, Samsung believes in being present wherever consumers prefer to shop. We have received an overwhelming response to the Samsung Z2 and are pleased to add another consumer touch point in Naaptol Blue where consumers can benefit from product demonstrations to gain an understanding of the great value proposition that the Samsung Z2 offers. The home shopping network is an exciting channel that allows consumers to gain a deeper understanding of the differentiated smart, fun, and simple smartphone experience on the Samsung Z2."
Consumers can also enjoy the Jio Welcome Offer with free voice calls and 4G data till December 31st 2016. Users will gain access to free entertainment including JioMusic for music, JioCinema to check out video content including movies and TV shows, and JioXpressNews for curated news and magazine articles.
The Samsung Z2 has been designed to make 4G accessible and relevant for first time smartphone buyers. It is pre-loaded with essential apps for the ease of new smartphone users. The Ultra Data Saving mode saves up to 40% mobile data by blocking unnecessary background applications from data consumption and by data compression technology, ensuring the most simple and cost-efficient 4G experience. It also comes with a dedicated S bike mode, which is designed to allow two-wheeler riders a tension free ride and encourages responsible driving. It is available in Gold, Black &Wine Red colors, and comes with USB OTG support.
With this launch, Naaptol joins the league of most prominent players in the Home Shopping market, and hopes to maintain its growth trajectory in the near future.
About Naaptol
Founded in 2008, Naaptol is India's first and fastest growing home shopping brand. It is the only brand that offers services over multiple touch points including Print, TV and Web, Mobile App and Direct Marketing et al. Naaptol is an only Home Shopping Company that speaks to its consumers in 9 languages. Naaptol has the highest delivery reach among all home shopping companies in India. Naaptol currently process around 30,000 orders a day. Listed under some of the very first home shopping companies in India, Naaptol largely caters to diverse customer preferences through a gamut of products aimed at simplifying their life. It offers products from a wide range of categories such as, Kitchen essentials, Home Décor, Fashion & Lifestyle, Automotive care, Electronics & Communication devices, to name a few.
Log on to www.naaptol.com or download Naaptol App from Google Play and App Store for more information on the current product line up.