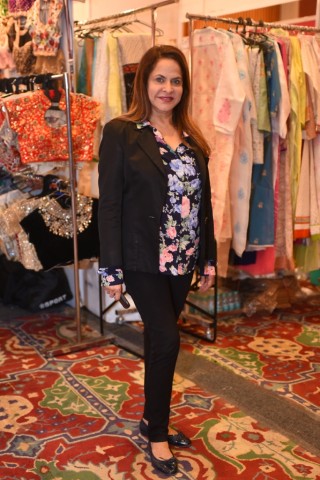 New Delhi, 16th Oct 2015 : The capital witnessed the talk of the town Fashion Exhibition "RUNWAY RISING" – A NextGen Fashion and Lifestyle Exhibition With the magnificent success of last ten exhibitions RUNWAY RISING  on 15th Oct 2015, with its eleventh edition. The Exhibition showcased top established and budding Designers like – Lustre by Poonam and Meenu, Kalista, Pallete by Priyanka Arora, Sana Homes by Suruchi Khanna, Pallavi Jaisingh, Jewels by Tanou, The Hanger by Tanvi and Sheena and many more…
With over 100 Fashion Designers exhibiting their latest design collection, there's plenty for you to feast your eyes on. From the hottest in-trend accessories, footwear to must-have apparel, the exhibition guaranteed to be a heaven for Fashionistas.
According to Entrepreneur Ramola Bachchan "It is exciting to see the quantum of talent and entrepreneurial spirit that proliferates in our country and gratifying to have an opportunity to be part of a process that will shape the fashionscape of the future."
 Ramola Bachchan is a recognized name in the fashion world, having built a reputation through her entrepreneurial and social skills. Based in London for twenty years before settling down in India a few years ago, Ramola is of the view that India is an amazing place for young people to nurture their talent and learn to do business the global way. Ramola Bachchan's Runway Rising is a fashion and lifestyle exhibition that has quickly blossomed into a successful venture. Following ten shows within its first three years, the Runway Rising has firmly established itself on the fashion calendar.
Brand Ramola Bachchan is synonymous with flair and diversity. As she elaborates, "Being a bit of an adventurer, I don't allow myself any limitations and am constantly experimenting with different ideas to create interesting and innovative business ideas." Hailing from the renowned Bachchan family, Ramola is an independent woman and a mother of four children, each of them enterprising in their own right. True to her illustrious surname, Ramola has always been driven towards excellence. Be it in achieving a law degree from UK or in her experience in the hospitality sector, Ramola is a multi-faceted entrepreneur who defies age in all aspects and today is a well established brand in Delhi and around the country.