Madame Gandhi, Little Boots, Kwes and more artists share how they find inspiration, overcome obstacles and discover their voice to encourage aspiring creators to start making the music inside them waiting to be heard
February 15, 2018
Today ROLI  launches Start Making It, a new initiative to inspire, entertain and support aspiring music creators to do more in 2018. Whether you're a complete beginner looking to take your first step making music, or already creating but want to improve your skills, it's easier than you think to Start Making It.
Every musician had to start somewhere. So ROLI spoke to musicians — from established artists to up-and-coming stars of the future — to discover how they find inspiration, overcome obstacles and discover their own distinct musical voice.
Madame Gandhi, the boundary-breaking electronic artist, activist and former drummer for M.I.A., explains how important it is to trust in your own voice and clear the mental space to tap into your authentic inner-self.
"It takes a lot of self-confidence to trust my own intuition and believe in my own ear. At my shows I sell merch that says 'Own your voice', which is a message for marginalized communities, and for young women who are conditioned in this era of #MeToo to not speak up or trust our own voice. But if something sounds good to you, it's perfect," said Madame Gandhi.
There are also fascinating insights from electropop artist Little Boots, UNKLE founder James Lavelle, power-pop singer Jorge Blanco and R&B producer Kwes, who has collaborated with Sampha and Solange.
As well as inspiring stories from artists who are already creating, ROLI released helpful resources for creators in the Learning Hub of ROLI.com.
If you're a complete beginner, you can find introductions to the essential components of songs: beats, basslines, chords and melodies. If you own BLOCKS, explore 'How To' video tutorials that will teach you basic music-making skills.
You can also find a selection of in-depth articles providing expert advice — including a step-by-step guide to making your first song on GarageBand, advice on releasing your first song from an industry insider, and an essential guide to the best free online learning resources for electronic music-makers.
The Seaboard Block and Lightpad M are two great instruments to start making music with. Buy one before April 12th and you'll also get a free one month subscription to the fantastic Melodics learning platform, jam-packed with fun keyboard and finger drumming lessons to improve your skills.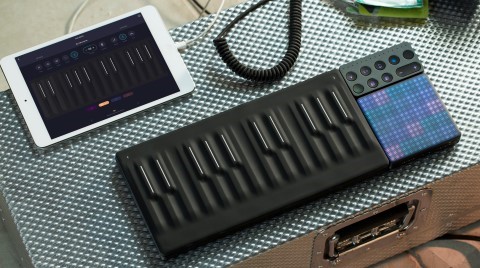 ROLI is also giving away BLOCKS every two weeks to lucky winners who are sharing how they #StartMakingIt. Simply share how you are starting, or planning to start creating music to Instagram, Instagram Stories, Twitter or Facebook. Use #StartMakingIt, tag ROLI, and you could win a Lightpad M or a Seaboard Block.
About ROLI
ROLI is creating the future of musical instruments. From next-generation keyboards like the Seaboard to free apps like NOISE, ROLI instruments are deeply expressive, intuitive to play, and so versatile that they can sound like anything and be played anywhere. Their expressiveness comes alive through touch. Visit ROLI.com to learn more about "the most important company in music technology right now" (Music Tech magazine).