Clinic to offer multidisciplinary care, launches Diabetes Helpline
Bangalore, 8th November, 2017: Ahead of the World Diabetes Day which falls on Children's Day, India's first pediatric super speciality hospital, Rainbow Children's Hospital announced the launch of the first-of-its-kind Pediatric and Adolescent Diabetes clinic in its Marathahalli centre, Bangalore. In the wake of an increase in number of diabetes cases reported in children and adolescents in the country, this dedicated clinic will attempt to provide specialized multidisciplinary care to them, by roping in an expert panel of specially-trained doctors to give integrated care. The hospital also launched a Diabetes Helpline number for children and adolescents, – 8884974333- so that care is just a call away.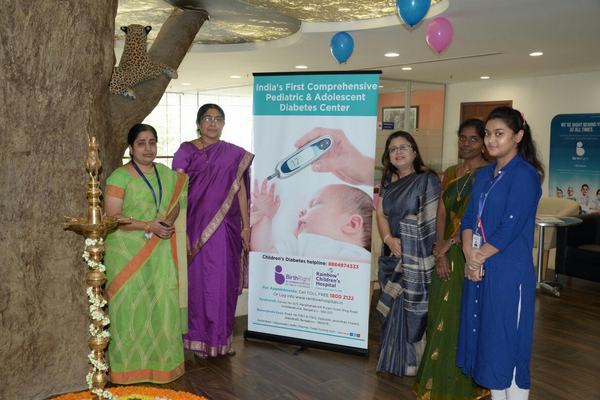 World Diabetes Day, which coincides with Children's Day, will also mark the 17th anniversary of this popular Children's hospital in south India.
More than 97,000 children in India are reported to suffer from Type 1 diabetes mellitus. However, not all of them get the right care and support. Due to the involvement of several interactive psychological parameters and lifelong intensive support in diabetes care, effective self-management is near to impossible, especially among the young adults.
Dr.N. Kavitha Bhat, Chief Pediatric Endocrinologist- Rainbow Children's Hospitals said, "Diabetes is not the end of life. It is the sheer ignorance of simple ways to monitor the glucose levels effectively, that causes apprehensions in parents and children alike about the disease. A systems-oriented and integrated approach will help in tackling the array of complications that can arise from the disease, without compromising on the growth and overall wellbeing of the child."
The Pediatric and Adolescent Diabetes clinic will have a group of specially trained doctors comprising of endocrinologists, nutritionists, psychologists et al providing comprehensive solution to monitor and correct the lifestyle of those suffering from diabetes at an early age.
Mr Neeraj Lal, Cluster Head, Vice President – Operations, Rainbow Children's Hospitals said, "The Diabetes Clinic will attempt to empower the pediatric diabetic community by either preventing or helping them handle their illness confidently, by leveraging state-of-the-art technology and point of care diagnostic gadgets available today. Rainbow Children's Hospital is known for its legacy in providing international pediatric care to the country and with this launch, we are only reinforcing our commitment to delivering quality care par excellence."
Along with the launch of the clinic, Rainbow Children's Hospital is also planning to conduct several educational workshops and seminars to nurses in the schools of the city, in order to help them give the right care to children with diabetes.
About Rainbow Children's Hospital:
Rainbow Children's Hospital prides itself in the 17 glorious years of excellence it has in maternal & Child care. It is the first corporate children's hospital in India, started on 14th November 1999 on Children's Day. Setting the benchmark in neonatal and pediatric intensive care, Rainbow has played a major role in saving thousands of critically ill children and has emerged as one of the best children's hospital in the country.
The hospital's clinical staff includes strong team of highly qualified and experienced Consultants, dynamic team of residents and fellows, well trained nurses and paramedical personnel, and highly motivated team of full- and part-time employees. With experienced medical professionals, dedicated 24X7 and who monitor the various stages of a pregnancy through constant observation, the hospital offers immediate medical assistance in case of complicated or high-risk childbirths.