The Green Tech startup, Co-founded by ex-Marketing Head of Mobikwik, aims at making India a greener, fitter cycling nation
New Delhi, December 5, 2017: Driven to solve the growing pollution menace and traffic congestion on roads, Co-Founders Akash Gupta and Rashi Agarwal have launched Mobycy – India's first dockless bicycle sharing app. Mobycy is the Green Tech Company based out of Gurgaon, presenting users with a unique and first-of-its-kind 'Uber for bicycles' model in India. Owing to the novelty of the idea, and its widespread scope for adoption in Indian markets, Mobycy has been successful in raising Seed Investment worth half a million dollars from an Angel Investor based out of the USA. India's 1st dockless bicycle sharing app, Mobycy is now live on Android Playstore for initial preview, just few days before the service launch. The app will also be available Appstore within a couple of days.
The startup is propelled with the vision and mission of making India a greener, fitter cycling nation. Mobycy's collection of Smart Bikes is enabled with IoT locks and GPS tracking, and hence, can be operated without docks or stations for parking. Users can just download the Mobycy app, find the bikes in the vicinity, unlock the bikes with QR Codes and upon completion, park the bikes safely in the vicinity – with the only exception of gated community, private compounds etc. Looking at the big issue of last mile connectivity in India, the startup also aims to help users commute their last mile distance of 3-6 kilometers with their anytime, anywhere available bicycles.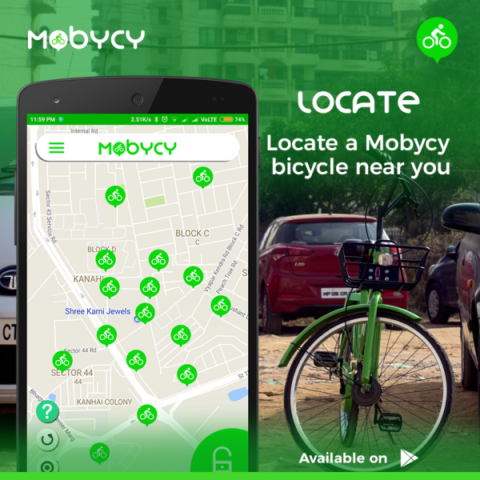 Commenting on the launch, Akash Gupta, Co-Founder of Mobycy, said, "We already know how pollution is a big menace, given the smog that recently enveloped major parts of North India. Along with pollution, traffic jams have grown to haunt urban mobility. At Mobycy, we envisioned a simple solution to these growing menaces – by bringing back cycling. The idea behind the startup is to leverage latest technology to make bicycles easily accessible and affordable, while promoting cycling amongst daily commuters for reducing the carbon footprint. We further foresee a huge favourable response from our users who may want to adopt cycling for commuting shorter distances, leading a fitter, healthier lifestyle, and contributing towards fighting the pollution menace."
Mobycy is launching its operations with currently 5000 bicycles and envisions increasing it to 50,000 in the next 6 months. The bicycles will be available in the Delhi/ NCR regions, including Delhi, Noida, Gurgaon, Chandigarh and Faridabad. The bikes will be available at various public places, like metro stations, markets, popular haunts like North Campus, Cyber City etc. Additionally, students from various colleges and universities, such as Amity Noida, MDI Gurgaon, and Delhi University etc. will be able to hire the Smart Bikes from Mobycy at a subsidized subscription plans.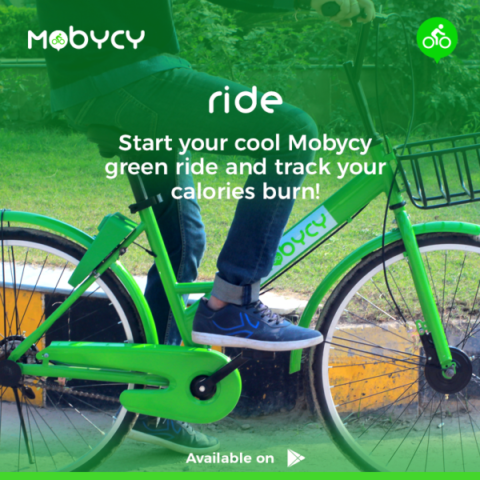 The current model of Mobycy makes dock-less bicycling cheap at about Re 1 per hour ride, or less. Under the monthly plan, users will pay INR 99 for 2 hourly rides per day. Additionally, the users will have to sign up using their Aadhar identification and pay a nominal security deposit worth INR 999, which is completely refundable. For students, the security deposit is only INR 499 and signup will be using their college photo identification. While this is just the beginning, the startup is further aiming for an aggressive growth. Increasing the existing number of cycles to 50,000, Mobycy wants to expand to 12 more cities in next 6 months and 20 key cities by next year. 
About Mobycy
Incepted in the year 2017, Gurgaon-based Mobycy is India's first dockless bike sharing app. As a Green Tech Company, Mobycy is bringing the unique "Uber for bicycles" in India. Propelled with the vision of making India a greener and fitter cycling nation, Mobycy presents daily commuters with smart bikes for short-mile connect, reducing the carbon footprint and improving the fitness levels within our sedentary lifestyles. Mobycy is a startup which is also recognized under Indian Government's DIPP-StartUpIndia program.
The company has leveraged advanced technologies, such as integrated IoT-based GPRS lock technology, cashless wallet payments, geofencing, machine learning etc., to provide users with an excellent, healthy and environment-friendly commuting alternative. Mobycy App users can simply locate the nearest bicycle at any public place, rent it by unlocking the cycle lock by scanning a digital QR code via the Mobycy app. Upon completion, the cycles can be parked anywhere in public pavements, except inside private compounds or gated colonies, etc.
Pay per ride: Rs.10/hour ride
Monthly Subscription Plan: Rs.99 for 2 hourly Rides a Day
Fully Refundable Security Deposit: Rs. 999 general commuters and Rs. 499 for Students
For further details, please visit: www.mobycy.com