PowerWatch energy harvesting and boost conversion technology to be on display during Pepcom, Showstoppers and CES.
LAS VEGAS – January 8, 2018 –  Materials science pioneer, Matrix Industries, is excited to announce this week at the Consumer Electronics Show that its premium first-generation PowerWatch X will be shipping to backers and preorders this quarter. PowerWatch X will be adding the highly anticipated capabilities of push-notifications from your smartphone to your smartwatch automatically, along with 200m water resistance and a rugged exterior.  The award-winning PowerWatch X will follow the successful launch and shipment of PowerWatch, joining it as the first devices to be powered by the body itself, and demonstrating the success of Matrix's proprietary thermoelectric energy converter.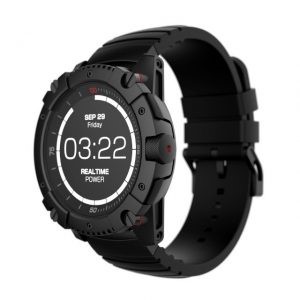 "With close to 200,000 people expected to attend CES this year, I can't help but think about how much body-heat power they're producing, let alone the number of chargers they'll need throughout the show," said Matrix Co-founder and CEO, Akram Boukai. "There will be enough body-heat at the Las Vegas Convention Center to power the entire Strip. As PowerWatch and PowerWatch X are overwhelmingly proving, our technology has the power to harvest that energy and leverage it to run our devices and more."
PowerWatch X was designed and built for the adventurous. Its aircraft-grade aluminum body keeps it light, while its purposeful bulk maintains its rugged look and feel. The wearable that doesn't need to be charged also comes standard with up to 200M of water resistance, and many of the same capabilities that battery-powered fitness wearables offer, without the hassle of annoying chargers and messy cables.
When you take it off, your data is stored in memory and it goes to sleep; put it back on and the watch turns right back on where you left off (with up to two years of idle mode). It's got an always-on power meter that tells you how much electricity your body heat is producing, making it the most accurate measure of calories burned on the market. In addition to the device itself, PowerWatch X has companion apps on both iOS and Android that allow for further customization, tracking and insights.
The breakthrough device's energy harvesting performance is a result of three key technical advances currently unmatched by other technologies, namely:
Advanced thermoelectric generators that operate more efficiently than available power generators.
More efficient boost conversion circuitry to power the electronics and charge the internal battery.
Pioneering thermal design to harvest the small amount of available heat within a wearable form-factor.
"Our technology is improving every day as we further advance the energy conversion process," Boukai's Co-founder and CTO, Douglas Tham, said. "That, coupled with the constant advances in low-powered components, will greatly transform our technology to power even more consumer devices, with even superior capabilities."
PowerWatch X is currently available to pre-order for $249, while PowerWatch and the special edition PowerWatch Black Ops are now shipping and currently available on PowerWatch.com starting at $199.
About Matrix Industries:
Matrix is a Silicon Valley materials science company, founded in 2011, committed to radically re-engineering consumers' wearable experiences. The team of experts in thermoelectric material science, thermal engineering, and consumer product development and manufacturing consists of Ph.D. graduates from CalTech, MIT, Harvard and UCSD with 25+ years of experience in manufacturing and shipping leading technology.
For more information, click here.