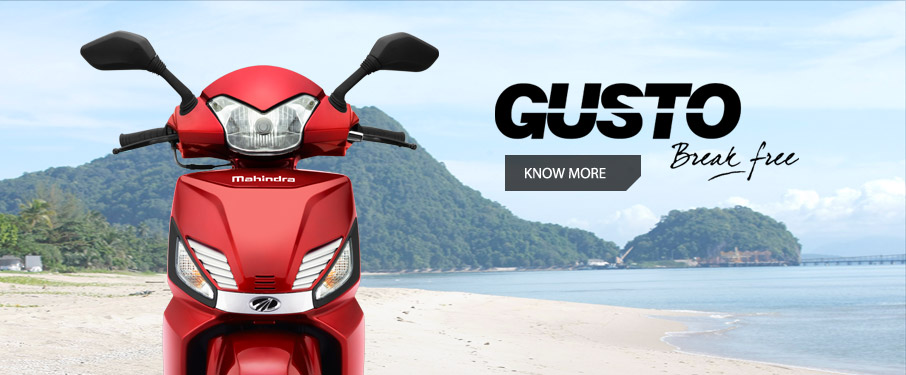 #GoGustoRides was all about bringing together food enthusiasts to experience Mumbai's quaint  cafes on the Mahindra Gusto
It harnessed wide-spread digital engagement amongst  food lovers,  resulting in  a reach of over 7 Million on social media
It  trended all India on Twitter on  8th and 12th April 2015
Mumbai, 28 April 2015: Mahindra Two Wheelers Ltd. (MTWL), part of the USD 16.5 billion Mahindra Group, recently conducted the experiential #GoGustoRides in Mumbai. #GoGustoRides is an initiative where passionate communities are brought together to explore the things they love, on the Mahindra Gusto. Leading food aficionados Amrita Rana, Kalyan Karmarkar and Vivek Bhatia initiated a digital campaign inviting passionate food lovers to join them for an exciting ride on the Mahindra Gusto. The riders got an opportunity to visit some of Mumbai's most famous and iconic food joints.  The fun ride on the Mahindra Gusto had all the right ingredients: scrumptious food, fun-loving people, charming and soulful eateries and alluring Mumbai.
A lot of buzz was created online amongst ardent food lovers, bloggers, photographers and enthusiasts; all bound by one common passion – their love for exploring and discovering food. There have been over 7 million people reached on Twitter alone. The hash-tags trended twice on Twitter nationally.
Commenting on the occasion, Sarosh Shetty, Vice President – Marketing, Mahindra Two Wheelers said, "#GoGustoRides is an exciting initiative which brings together passionate communities and enables them to explore the things they love, on a Mahindra Gusto.  We are delighted with the overwhelming response the first edition has received, wherein millions of passionate food lovers engaged with the brand on social media. We intend to reach out to more cities and communities so that many more can experience the exciting opportunities that can be explored on the Gusto."
For leading food blogger, Kalyan Karmakar, Mahindra Two Wheeler's initiative has been one of the best experiences. Recounting the ride, Kalyan said, "I thank Mahindra Gusto for giving this opportunity to us to connect with millions of other food enthusiasts around the country. I was amazed at the number of people who are passionate about food exchanging views, suggestions, experiences about food and the Mahindra Gusto. It was a fun ride and I am definitely looking forward to the next edition of the #GoGustoRides, as am sure many others are."
The appetizing ride was made more fun on the award winning Mahindra Gusto because of its head turning style, smooth and powerful engine, comfortable ride over the toughest roads due to its large tyres and advanced suspension, and its array of exciting, innovative features, like the Height – Adjustable Seat; Remote Flip Key and Find Me Lamps.
About Mahindra Gusto
Mahindra Gusto is India's first scooter with a unique patented Height Adjustable Seat, making it easy for anyone to effortlessly adjust the seat height as per their individual needs.  The Gusto's distinctive, bold and aspirational styling has its origins in Italy. Its advanced (M-TEC) engine and vehicle design offer superior performance, efficiency, reliability, ride quality and comfort. It is packed with innovative features such as the Remote Flip Key, Find-Me Lamps, Guide Lamps, Bright Halogen Head Lamp with LED pilot lamps, easy Front Kick and a Quick Storage compartment, designed to provide delightful consumer experiences.
The Mahindra Gusto won the CNBC TV-18 Overdrive 'Viewers Choice Scooter of the Year' award. It also won the 'Innovation of the Year' award for its unique height adjustable seat at the Bike India Awards. The Gusto went on to receive the coveted ET – Zigwheels 'Readers Choice Two-wheeler of the Year Award'. Mahindra's global scooter was also awarded the 'Scooter of the Year' & 'Innovation of the Year' at the inaugural Zeegnition Car & Bike Awards.
About Mahindra
The Mahindra Group focuses on enabling people to rise through solutions that power mobility, drive rural prosperity, enhance urban lifestyles and increase business efficiency.
A USD 16.5 billion multinational group based in Mumbai, India, Mahindra provides employment opportunities to over 200,000 people in over 100 countries. Mahindra operates in the key industries that drive economic growth, enjoying a leadership position in tractors, utility vehicles, information technology, financial services  and vacation ownership. In addition, Mahindra enjoys a strong presence in the agribusiness, aerospace, components, consulting services, defence, energy, industrial equipment, logistics, real estate, retail, steel, commercial vehicles and two wheeler industries.
In 2014, Mahindra featured on the Forbes Global 2000, a comprehensive listing of the world's largest, most powerful public companies, as measured by revenue, profit, assets and market value. The Mahindra Group also received the Financial Times 'Boldness in Business' Award in the 'Emerging Markets' category in 2013.
Visit us at www.mahindra.com