Mumbai, April 9: India's very first personalised nightwear studio Sentina Dreamwear opened its doors in Goregaon on Sunday offering Mumbaities an opportunity to wear customised designs in night clothes.  The studio, a brainchild of entrepreneur Rupesh Satra, was launched by fashion designer and politician Shaina NC at a glittering function.
Sentina has aced the personalised nightwear concept with its 'Made to Wear Dreamwear' idea. Satra came up with the idea when he realised that Indian markets almost never offer the perfect fits in the right size for women when it comes to nightwear. Most of what is on offer in stores or online are generalised designs that are not made for specific body types. Sentina's eclectic team comprises of designers who sketch out the thoughts of customers on paper and then convert them into reality. The result: bespoke nightwear that is exquisite, comes in a perfect fit and is a dream come true!
Speaking about the concept, Satra said, "When I conceptualised Sentina, I wanted to offer an experience that was unmatched. I had spent a lot of time with retailers and at malls and had seen that women are almost never happy with what is on offer in the nightwear section. They always have to compromise in either the size or the design because there is no personalisation. Sentina is all about nightwear that is every customer's dream."
With Sentina, Satra and his team have strived to offer an unparalleled experience of superior quality—be it the space, designers, personalisation or value additions for buyers. This is a studio that spells refined elegance and tasteful glamour, bringing the best of nightwear designs to Mumbai.
Said Satra, "Sentina also gives customers the opportunity to turn designers themselves because they can speak their mind out and we will give them a piece just like what they have imagined. For those who have seen particular designs on blogs or in movies or even in international brands, Sentina promises to give them designs they wish for."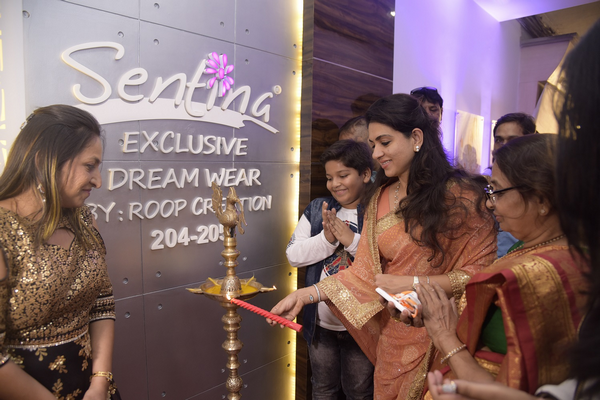 About Sentina
Sentina is India's first personalised nightwear studio conceptualised by entrepreneur Rupesh Satra. In a market where mundane designs in regular sizes are ubiquitous, Sentina brings out the fresh idea of 'Made to Wear Dreamwear' promising to turn into reality the dreams of several women who look for comfortable night clothes in the right fit. Sentina's designers work in close tandem with customers to create outfits that suit their body types and help them feel relaxed. For all the women who have looked at flaunting international designs in the desired fabric and size, Sentina can be their go-to place.
2