NewsBoosters.com is the first crowd sourced news platform in India for sharing, discussing and highlighting socially relevant issues. Any adult person can register for Free and start posting appropriate news and stories that will quickly reach the masses.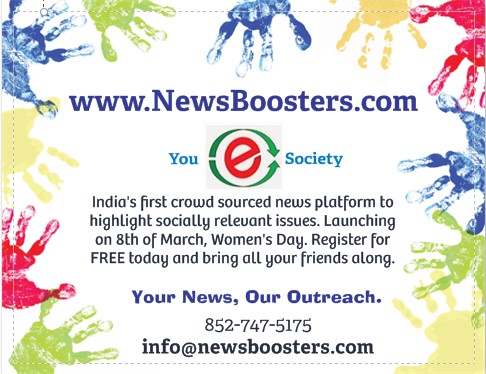 New Delhi, March 8, 2017 – Very often, a relevant news or story doesn't get the coverage that it deserves. The entire news reporting mechanism in India seems to be geared for sensational news that would fetch high TRP ratings. This is the reason why a deserving news story often fails to get the viewership it merits. To address this issue, NewsBoosters.com has been launched today. This is the only crowd sourced news platform in India that is open to every adult citizen to share their issue based news or stories.
NewsBoosters.com is an endeavor of the creators of ForPressRelease.com, the leading press release distribution network in India. The objective of the platform is to allow common populace to take their stories to the masses, which is often not possible through the mainstream media.  Beyond the paid media and sensationalism, it's an effort to highlight the social issues that never get the full attention of the media and consequently the citizens. People will now be able to post their appropriate factual and relevant stories on this website, without any hesitation or apprehension. The stories will be reviewed by the editors of the website before making it live for the audience.
Speaking about this new initiative, the owner of ForPressRelease and the co-founder of Newsboosters.com, Arnav Anand said, "We have created this crowd sourced news platform after months of brainstorming, planning and hard work. There are certain mechanisms that allow news to go viral very quickly through social sharing. If a user can post a story and can share it with the right target audience, it gains quick popularity. In this way, NewsBoosters is unique and not just another news site available on the internet."
Subho Chakraborty, who is the other co-founder of NewsBoosters.com, is the man behind this idea and feels there is an urgent need for people to raise socially relevant issues that may not be appealing enough for the mainstream media or gets lost among the news of politicians, celebs and sportsmen. He states, "When I myself faced serious racial discrimination issues while studying in a US university a few years back and wrote an E-book about it, I found it quite disappointing that media didn't pay any attention to such an important story. This inspired me to ideate a platform that will allow people to directly reach others. Not only an individual, but journalists, organizations, NGOs and even media and news sites can post their socially relevant stories on our site."
Together they choose to launch NewsBoosters.com on International Women's Day, considering women to be at the center stage of the society and seeing that women related issues do not get as much attention in this country as it should get. They are soon going to launch mobile apps, allowing mobile internet users to quickly access and share socially relevant issues on this platform. To register for Free,one can visit the website http://www.newsboosters.com.
About NewsBoosters.com
NewsBoosters.com is the first crowd sourcing news website in India for highlighting, discussing and sharing social issues. The platform is Free for everyone to post socially relevant news or stories. The news platform has implemented a methodology that will allow stories to go viral in a short span of time.