Buying Sentiment for Q2 remains Fairly Positive
Hyderabad, 6th October, 2016 : India's Q2 2016 Buying Propensity Index (BPI) stood at 0.47, (measured on a scale between +1 to -1), up 0.05 BPI points from last quarter. The Buying Propensity Index is a result of a primary research across 3,000 consumer-influencers across 8 cities in India conducted every quarter.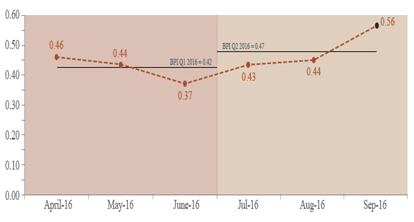 Chandramouli, CEO, TRA Research, elaborated on the Buying Propensity Index for Q1 2016 and said, "The Buying Propensity Index of Q2 2016 stood at 0.47, higher compared to last quarter. Overall the buying sentiment for the quarter remains Fairly Positive."
He further added, "A deeper analysis shows that the Transactional sentiment rose at a steady pace in Q2, dipping only very slightly in the month of August. The Aspirational sentiment witnessed a remarkably rise of 0.27 points in September which signals the improvement in need-based buying behavior, while the higher Aspirational sentiment implies improvement in aspirational spending capabilities, and thereby indicating the onset of a good Diwali season."
About Buying Propensity Index
The Buying Propensity Index (BPI) is a measure of the existing buying sentiment or 'keenness to buy' of India. The current Index represents the second Quarter of FY 2016, i.e. July, August and September. The Buying Propensity indicator is a detailed analysis of three factors: the transactional and Aspirational Buying Sentiment of the Indian consumer along with the Environmental Buying sentiment of the country. The BPI value can range between -1 and 1 ranging from a completely Negative Sentiment to a fully Positive Sentiment.
About TRA Research (www.trustadvisory.info)
TRA Research, a Comniscient Group company, is a Data Insights and Brand Intelligence company dedicated to understand and analyze stakeholder behavior. TRA Research's Buying Propensity Index is a syndicated study which surveys 3,000 consumer-influencers across 8 cities in India conducted every quarter. Buying Propensity, measures the Transactional, Aspirational and Environment sentiments towards making buying decisions and is a direct measure of propensity to buy. TRA Research also publishes The Brand Trust ReportTM and India's Most Attractive BrandsTM.