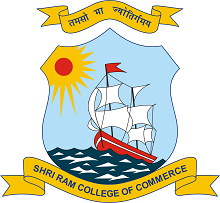 Shri Pranab Mukherjee, Hon'ble President of India inaugurated the Ninety Years Celebration of the founding of Shri Ram College of Commerce at Vigyan Bhawan, New Delhi on February 20, 2017.
The distinguished guests at the ceremony included Shri Arun Jaitley, Union Minister for Finance & Corporate Affairs, eminent alumnus and Member, SRCC Governing Body, Shri Vijay Goel, MOS for Youth Affairs & Sports, eminent alumnus, Justice Arjan K. Sikri, Justice, Supreme Court of India & Member, SRCC Governing Body, Prof. Yogesh K.Tyagi, Vice Chancellor, University of Delhi, as also the host, Shri Ajay S.Shriram, Chairman, SRCC Governing Body and Dr. R.P. Rustagi, Principal of the College.
Starting its journey from a small rented building in the Old City in 1926, today SRCC  stands tall in its red-brick art deco building with its distinctive Clock Tower and circular edifice in the North Campus of the University of Delhi. It is rated as the most favoured destination by talented youngsters and was recently awarded an A+ by the National Assessment and Accreditation Council (NAAC).
At the inauguration, Shri Ajay Shriram welcomed the guests and recalled the enormous contributions made by the several stakeholders to carry forward the agenda of excellence through ninety years. He felicitated the President on the occasion by presenting him a brass replica of the college building.
The Vice Chancellor of Delhi University congratulated the college on the occasion and urged the students to pursue their goals with greater vigour.
The Finance Minister fondly recalled his association with the college and how  the college has transformed his life. He later released a commemorative medallion to mark the occasion and presented the first copy to the Hon'ble President.
Speaking on the occasion, the President highlighted the importance of learning that reflects a realistic and practical approach to life in general. He noted that for decades, SRCC has met the essential requirement of connecting education to the needs of an emerging nation and also developed the livelihood and professional skills in the fields of business and economics.
The President remarked that the vision of the College Founder, Sir Shri Ram, to create an institution that would train young minds to manage the needs of industry, business and economic administration has been fulfilled comprehensively. He was happy that having stood the test of time, SRCC has not only maintained excellence in academics but also produced students who have gone on to excel professionally.