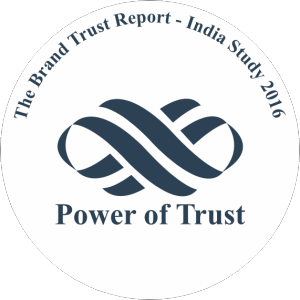 India, April 2016: In the present brand-infused world, a brand's penchant for being trusted depends on a complex mix of factors. The Brand Trust Report, India Study 2016, launched earlier this year, is India's only comprehensive primary study on Brand Trust, and is published annually since 2011.According to the Report, in 2016, Competence of a brand outweighs other aspects in creating trust. On the other hand in2015, building customer confidencewas the primary requirement for gaining consumer trust. These findings are the result of a comprehensive primary research conducted on the proprietary 61-Attribute Trust Matrix of TRA (formerly known as Trust Research Advisory). The 2016 study involved 18,000 hours of fieldwork covering 2500 consumer-influencers across 16 cities in India and generated 6 million data-points.
"Consumers seem to have been spoilt for choice in terms of brands. As they begin to spend more time scrutinising brands before buying, it becomes essential for brands to maintain their credibility and reinforce consumer's Trust. In a trust deficit market where brands are continually coming under scrutiny, a need arises for brands to appeal to the rational side of the brain. The perception of 'Competence' therefore, enables consumers to believe what they see.Tangible outcomes matter most to the consumer in terms of gaining and maintaining Trust in brands, "said N. Chandramouli, CEO, TRA.
"The Brand Trust Report highlights how building Trust is an essential factor of a communication strategy that helps transaction and this year brands that display high competence seem to be favoured for trust among consumers.Last year it was important for brands to emanate those messages and signals that made the consumer feel comfortable tocreate a bridge of trust. The perceived genuineness of the brand was thus sufficient for gaining consumer trust",N. Chandramouli added.
About TRA (formerly Trust Research Advisory):
TRA, a Comniscient Group company, is an actionable insights and brand intelligence company dedicated to understanding and analyzing stakeholder behaviour through two globally acclaimed, proprietary matrices of Brand Trust and Brand Attractiveness. TRA was conceived in 2008 to decipher, analyze and measure Brand Trust, to make it universally understood and easily applied. TRA conducts primary research with consumers and other stakeholders to assist business decisions and give brands insights on solutions to consumer behaviour. TRA provides Competitive Intelligence Reports mined from its 15 million data-points on brand intangibles of 20,000 brands, and also undertakes custom-made studies for brands. TRA is the publisher of The Brand Trust Report, India's Most Attractive Brands & India's Most Trusted Educational Institutes.