Ritwik Das, the soccer crazy MD and CEO of the Kolkata based Realty Company Bluechip Projects is known for his soccer fanaticism. A member of the Governing Council of the East Bengal Club, the young entrepreneur is acclaimed for the various CSR activities that he has willingly subjected his group to, aimed at helping improve the level of the game and through it, refurbish the development of youth.
The latest offering from this fledgling group is the 3000 sq ft East Bengal themed food court, the first of its kind in India, which is waiting to be unveiled in Nager Bazaar, Dum Dum. "I have seen such entities abroad, especially in Europe and wanted to bring the experience to the local fanatics, who are no less passionate about the game and their club. Food, football and fanaticism will be a heady mix and I am sure that the supporters will not only partake of the mouthwatering delicacies that will be spread, but will also buy the various collectibles and merchandise that will be on offer. This unique food court will over time, give out franchisees and evolve into an independent revenue stream for the club, helping bring down the dependence on sponsors" said a beaming Ritwik Das.
The décor will naturally be in the theme of Red and Gold – the colours of East Bengal Club and seek to recreate the magic of traditional fare and the madness of a cause called East Bengal. "The contribution of the club in India soccer or its achievements cannot be over emphasised and I am sure football lovers of the state, irrespective of their affiliations, will throng to celebrate this "another first" from the club, in the truest spirit of football."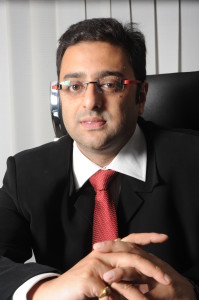 However, Ritwik Das, or the company he leads, Bluechip Projects, cannot be identified by soccer alone. Blue Chip, a contrarian of sorts, the company is creating one landmark after the other, primarily in what is called "North Calcutta", the erstwhile abode of the babus of the city. "Kolkata is no ordinary metropolis" says Das, "and therefore, instead of building ordinary dwellings for residence, we are focusing on establishing a "connect" with the rich legacy of the city – building homes that touches a raw nerve of sentimentality, establishing connects with our rich heritage." Their much touted project Rajmahal is a case in point which is in fact a brick and mortar tribute to the Chief Advisor of the city's founder Robert Clive, Raja Naba Krishna Dev. The project, another first of its kind in the history of construction, is being built around the 300 year old Durga Puja of the Sova Bajar Raj Bari one of the city's must experience annual events.
A sure winner with the NRI's from the state, the Rajmahal and the various other projects that Bluechip currently has in various stages of implementation are known not only for their impeccable planning and execution but also for the complete adherence to stringent quality norms which make them a user's delight. "Like football, where people are more interested in the game than in the result, in properties it is the livability that matters as opposed to mere embellishments. Our effort is always to ensure that we put in the best ingredients in the melting pot so that the team that emerges is like East Bengal's – fair playing and always on a winning run, a delight for the supporters."
For More Information contact : www.bluechipprojects.com