The innovative household utilities' product maker moves fast up the excellence ladder
Appropriate HR strategy implementation leads to smooth internal operations internally and externally, say Bonita India's JMD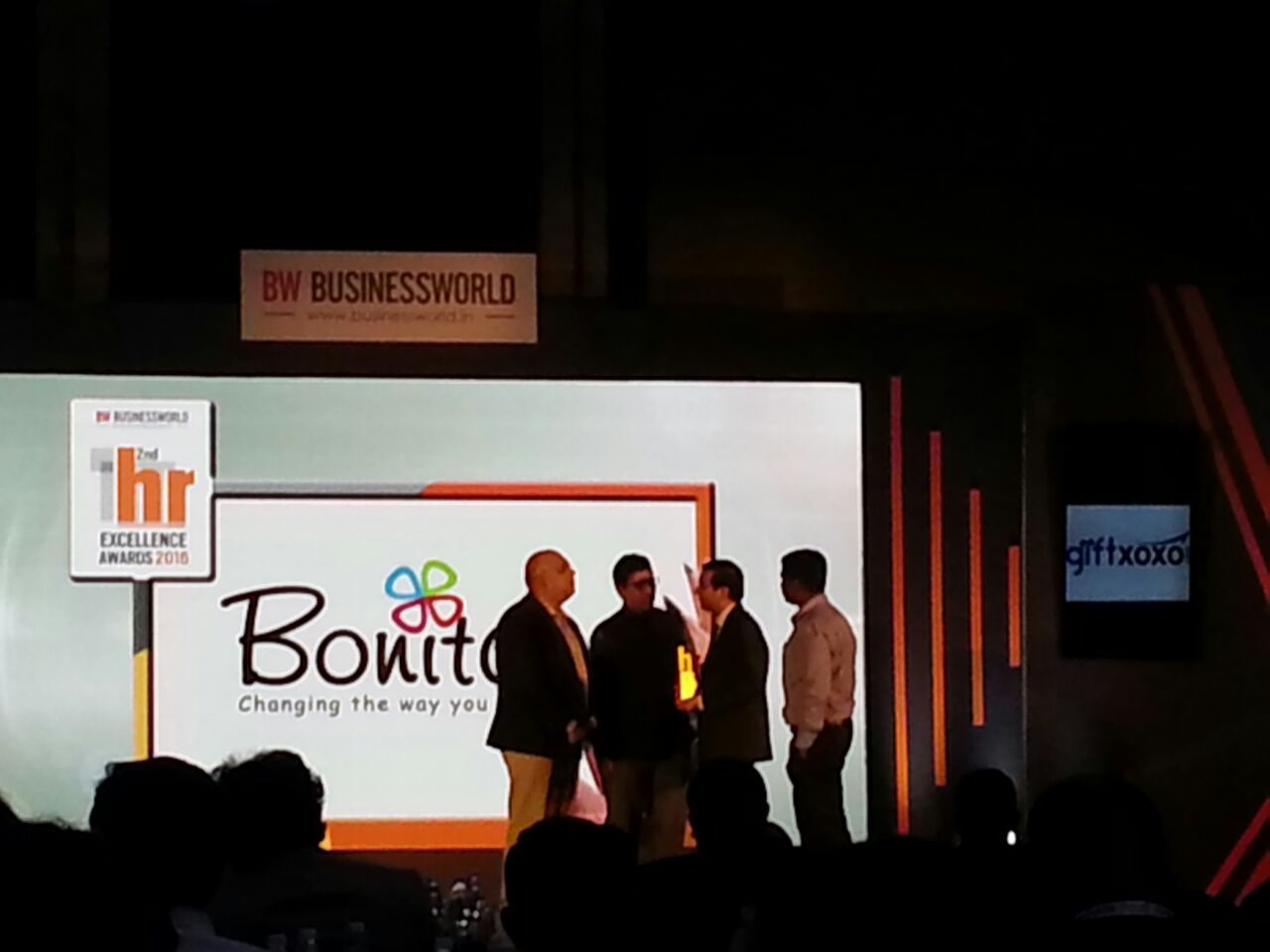 New Delhi, 18.10.2016: Bonita India, a leading Indian manufacturer of stylish and innovative home utility products, won the 'Best Emerging HR Strategy' award at the recently held 'HR Excellence Awards 2016' organized by Business World Magazine. The award is meant for startups that have a powerful HR strategy to promote excellence and achieve organizational goals in the formative years.
The prestigious award was handed over to the senior representatives of the company by Anurag Batra, Editor-in-Chief, Business World and Prabir Jha, CHRO, Cipla Limited at a glamorous event held in Mumbai. Prabir Jha was also awarded the CHRO of the year by Business World at the same function.
The BW HR Excellence Awards recognizes excellence in HR and strategic planning of organizations and individuals who are currently pushing human capital as a key resource in business development. The award categories this year was focused on three pillars, namely HR strategy excellence, HR execution excellence and HR people excellence.
The awards ceremony was held at The St. Regis Hotel in Mumbai and a total of 22 categories of awards were given. Among the prominent award recipients this year were Pepsi, Mahindra & Mahindra, Aegis, Landmark Group, Vodafone and Cipla.
Elated at the honour, Mr Umang Srivastava, Joint Managing Director, Bonita India, said, "We are proud to receive this award which is recognition of our spirit of people management strategies. Unlike other start-ups, we at Bonita, attach great importance to HR and have developed a culture of employees' involvement in building the business and the brand. At Bonita, innovation is the key not only in products, but in HR policies as well. This helps us in retaining talent and making employees enthusiastic stakeholders in the company's growth."
In the last few years, Bonita has worked with major brands not only in India, but also across USA and Europe. Within a short time span of time, the group has achieved phenomenal success, and carved its niche in both Indian and International market.
Elaborating on Bonita's PR philosophy, Mr Srivastava added, "We always stress on reliability and quality and building strong relationships, and this is where HR strategy assumes a very important role. While we revolutionize the household product market as a start-up, we also understand that it is extremely important to implement successful HR strategies on ground for smooth internal operations."
The Business World HR Excellence Awards is a unique platform to celebrate HR and business leaders who have achieved stellar business outcomes using HR strategies at the ground level. The main award distribution event was followed by two panel discussions which witnessed participation from captains of the industry including Sanjay Bahl, CEO, Raymond India, Pasenjit Bhattacharya, CEO, Great Place to work, Rajesh Padmanabhan, Group CHRO, Welspun, Deaodutta Kurane, President, Human Capital, Yes Bank, Samir Nair Group CEOBalaji Telefilms and Sumit Shukla, CEO, HDFC, Pension Life.
Like previous years, the honorary jury team this year included industry veterans like Dr. D.V. Kapur, Founder CMD, NTPC, Ex. Secretary to Govt. of India & Presently Serving as Director, Reliance Industries;  Dr. Pritam Singh, Non Executive & Independent Director, Hero Moto Corp & Director of Godrej Properties Limited; Santosh Desai, MD & CEO, Future Brands; S.Y. Siddiqui, Chief Mentor, Maruti Suzuki; Rachna Chhachhi, Nutritional Therapist; Dr.Niru Kumar, Ask Insights, Gender Diversity Expert for Pepsico, Walmart, Vodafone & others.
About Bonita
Bonita comes from the house of Casa Brands India Pvt. Ltd. Bonita means beautiful in Spanish. The brand was envisioned to help Indian consumers experience convenience and comfort in their household work. Apart from being attractive, the most important aspect of Bonita products is their unsurpassable quality.Bonita's talented team takes utmost care to ensure that only the best quality products reach you. This attribute comes from their parent company which is preferred partner for all major American and European brands of these products. All products are manufactured under strict quality control guidelines by using excellent quality raw material and state-of-the-art machinery like German Automatic Powder Coating machines, Robotic Welding and other automated machinery.
The products are available through selected dealer network and also available online at http://www.bonitaindia.com/
Does your kitchen put you off with its dullness and monotony? Then maybe it is time to add color and novelty into it. India's favorite home utility providing company Bonita has launched a new range of kitchen ware that will add durability, convenience as well as color to your drab kitchen.
At the annual prestigious trade show, HGH India for Home Décor, Gifts & Houseware, dedicated to the Indian home market, Bonita added a new dimension to its home utility range by introducing a new series of kitchen ware to its much-popular line of products.
1