Certificates distributed to successful candidates of Commerce Plus programme.
Walia Hall, BESC. June 23rd 2017. Champaklal Doshi, Chairman of the Bhawanipur Education Society College (BESC) gave away the certificates to the 52 successful students completing their Commerce Plus course in 2016-17 in the presence of Nalini Ben Parekh, member of the Governing Committee of the institution. The certificates of the 2nd Edition of Commerce Plus were distributed in the presence of representatives from the corporate world – those who have already marked their presence in the campus as recruiters as well as those wanting to break in. This was in keeping with the underlying philosophy behind Commerce Plus, as well as a strong endorsement of the course that seeks to liberate the students from the shackles of inward looking curriculum and expose them to real life situations.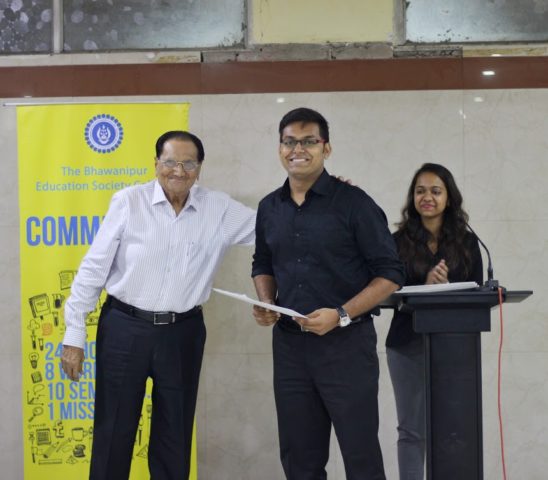 Prof Vijay Kothari – the coordinator of the Commerce Plus programme and the placement cell of the College organised the programme on behalf of the college which was also attended by Dr Divyesh Shah and Prof Minakshi Chaturvedi who play pivotal roles in BESC's Career Connect initiative – short duration quasi-professional courses aimed at empowering students by making them industry ready.
Earlier, Prof Dilip Shah, the Dean of Student Affairs of BESC explained the reasons underlying the runaway popularity of the Commerce Plus programme highlighting the fact that within just two years of its being the course has succeeded in creating a positive demand-supply mismatch with demand for Commerce Plus graduates outstripping the supply by far. He also explained the courses being introduced from the current session under the umbrella of Career Connect and introduced the domain experts – guest faculties who will conduct and coordinate the respective courses in fields as diverse as Corporate Communications, GST, Ethical Hacking, Stock Market among others. Jaishankar Gopalan, Aswini Bajaj, Abhijit Paul, Chawm Ganguly, Rajiv Soni, Vishal Dave and Mitali Banerjee graced the occasion and presented their take on the Commerce Plus and Career Connect initiatives of the college, both as visiting faculties and as industry end users. The faculty explained the need and efficacy of orienting education with a view towards ensuring that the students, on the completion of these short duration, targeted courses, become deployment ready, lauding the path breaking initiative of the college.
Muskan Kedia, Commerce Plus alumna, conducted the programme which was followed by a networking session and high tea.
For More information contact:
2