Top CEO's and Spouses set the tone for evolving gender norms, changing  workplaces and shared roles
New Delhi, April 13, 2016: For the first time ever, nearly 65% men including a diversely rich panel of CEO's and founders gathered at the first edition of SHEROES The SHIFT – The Men's Conference – to mark their support as allies for gender equality. The event emphasized on discussions around men initiating for role reversals and helping women in household work. They pondered over the rise of shared parenting, breaking stereotypes at home and the workplace.
The conference moderated by Natasha Badhwar, Founder, The Ochre Sky, facilitated dialogues around the new black in gender equality, and roped in men and women who have been instrumental in shaping change in homes and at the workplace. The event witnessed Taru Kapoor, the Head of Tinder India Ankur Warikoo, CEO and Founder, Nearbuy and spouse Ruchi Warikoo, Rajul Garg, Founder Sunstone Business School, Investor and spouse Rabani Garg, spill the beans on their evolution.
Elucidating further, Sairee Chahal,Founder & CEO, SHEROES.in commented, "Gender equality is no
more a women's responsibility. Men are equally participating as it benefits them too. With an increasing number of men taking on the task of caring for children as their partners work, breaking down traditional gender stereotypes has become increasingly important. Today, these CEO's present here disclosed how they spend time with their family despite having a busy life and share work at home with their partners even in terms of parenting. By bringing them in conversation as the advocates of gender diversity, our motive is to inspire those young men and women who consider these men in leadership as their role models."
Saket Jain, CEO, Fenesta, commented, "It's high time that we start perceiving gender on a spectrum and not as two divergent sets of standards. We men have a unique responsibility to be out in front on increasing women in the workforce. Let's not call it a women's issue but a workforce issue. By getting integrated into this movement, we will be successful in opening up vast opportunities for women in business."
Ankur Warikoo, Co founder & CEO Nearbuy commented, "It was wonderful to be part of this great initiative by SHEROES.in as a panelist. I think the shift has happened; it's something that we have started witnessing in bigger cities of India. Whether it's about sharing finances or taking care of the child, people have started sharing the responsibilities and are equally taking care of all the things.  I personally never believed that there could a shift in responsibilities. Kudos to Team SHEROES.in and Sairee for introducing this fantastic initiative of bringing together people to discuss about this SHIFT. It's indeed a great way to involve people in contributing and sharing their idea on gender diversity.
Gender equality has been an ongoing issue for tech giants like Facebook and Accenture. As the work towards improving the gender diversity continues, there are some other companies like Tinder, who have joined hands with SHEROES.in to establish a network of people, allowing them to share their views on diversity that is worth noting and learning.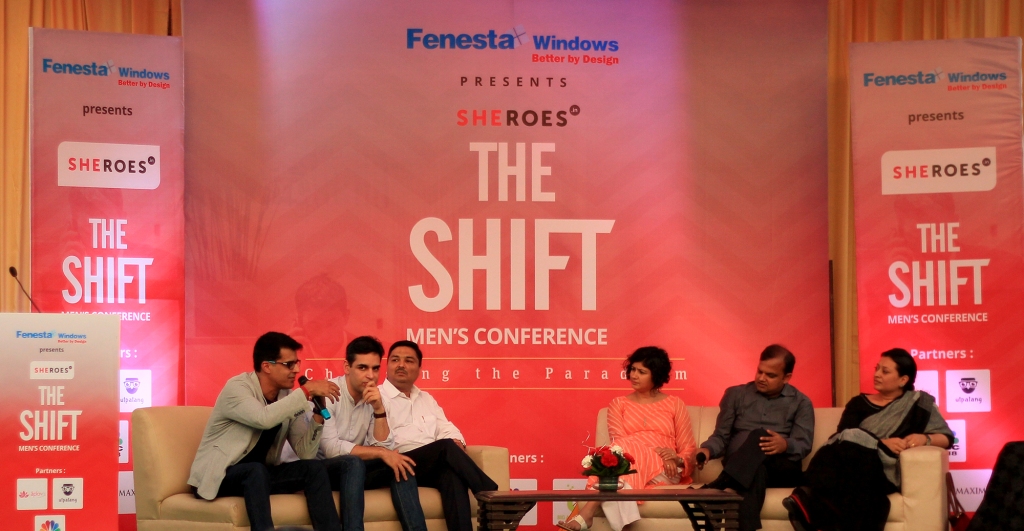 About SHEROES:
SHEROES.in is the career destination for women from all walks of professional life. It's the only platform that provides the career Eco-system for women with opportunities of various work formats – full time, flex work options, entrepreneurial work options, internships, projects etc. The SHEROES.in Community has access to high growth career resources, mentor-ship and support. SHEROES.in engages with businesses to help them connect with female talent in form of employees, partners, customers and business owners.
SHEROES.in is built around career and life stages of women and assists them throughout their career in terms of work opportunities that best fit their lives, career resources and mentor-ship.
1