Kolkata, November 25th 2015.350 odd students from a dozen colleges of Kolkata broke into a spontaneous applause when Mehul Shah, the student representative of the Bhawanipur Education Society College (BESC) handed over the much coveted and keenly contested "Overall Champion's Trophy" of Communiqué 2015 to his counterpart from St Xavier's College (SXC) the runners-up. "As the host, I thought it is the right, honourable thing to do"said Mehul. "It is gestures like these that reinforce one's faith in our future generations" added Prof. Dilip Shah, the Dean of Students affairs of BESC and the moving spirit behind the Communiqué.
Communiqué, the inter-college literary meet of the BESC, in its 4th avatar saw spirited participation from 12 premier Institutes of Kolkata – the St. Xavier's College, J.D.Birla (BBA), J.D. Birla (B.Com.), Ashustosh College, Sri Shikshayatan, ILead, Amity, Hazra Law College , IBS , JCC Law College & Jadavpur University .
Students thrashed it out across 13 events like The Controvert (Debate) , The quill (Creative Writing), Wordsworth(The Word Inspector)etc., and were judged for their spontaneity, thought, leadership qualities, interpersonal and presentation skills in front of an audience comprising of appreciative students who were equally quick to put their hands together in an applause as they were in lashing those who failed to live up to their exacting expectations. A galaxy of stars – winners in their own right – were present to judge individual events, encouraging, even accommodating in parental indulgence, yet firm in the conduct of the serious business of fest-ing.
Jimmy Tangree, the voice of Kolkata and the personification of her life's rhythm was there as a judge; as were Pranab Mukherjee from UNESCO, Theatre & Media personality per excellence; Mitali Sengupta, noted educationist and communication expert Chawm Ganguly. Jimmy Tangree was ecstatic about the high standards that were attained in course of the competitions "Kolkata is on the right course and it is great to see the campus' rocking " he said. Pranab Mukherjee himself an avid quizzard and debater in his college days, agreed "the delivery, the content, the structure of the arguments, the puns , intended to pin the opponent or otherwise , were all not only in excellent taste but also executed perfectly and reminds one of the days of yore. It was a pleasure being here today."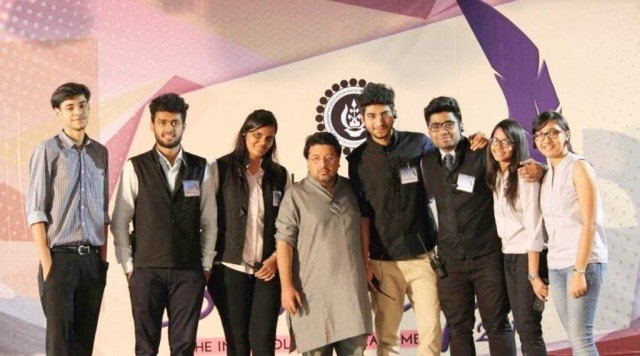 About Communiqué
Communiqué has been another initiative undertaken by the college to train and educate students, through the form of a competitive events. Communiqué celebrates the power of literature ,through an annual students meet , where students from elite colleges in kolkata, are given a platform to practice and showcase their oratory and creative skills . The fest attempts to be a bridge between written literature and the spoken word.
The fourth edition of communiqué aimed to uphold the standard of excellence it has set over the past years and also set forth a new stage for students , to train them for changing scenarios.
About the Bhawanipur Education Society College (BESC)
BESC provides a solid campus experience in the heart of Calcutta, with temperature controlled and wi-fi enabled classrooms, free surfing stations interspersed throughout campus, a spacious cafeteria and common rooms with indoor games facilities. BESC boasts of a well-stocked library, with nearly 15,000 holdings and several internet-enabled computers, designed to meet all the students' research needs and more.
BESC constantly strives to grow and impart learning-focused education through the introduction of new, cutting-edge courses recognised by the University of Calcutta. The Institution is especially committed to girl students, and believes in inculcating community engagement, imparting soft skills, fostering creative thinking, and empowering all pupils with leadership skills that will stand them in good stead not only in the competitive and constantly changing environment of the global job-market and workplace, but also help them become leaders within their respective communities.
At BESC, the stress is on creating leaders committed to excellence, and responsible citizens aware of their rights and responsibilities. BESC students not only go on to pursue higher education and find placements in excellent global companies, but have also consistently proved to be brilliant entrepreneurs.
For More Information Contact: thebges.edu.in/
2