Rohaan's family received medical visa due to the initiative of Mrs. Sushma Swaraj, Hon'ble Minister of External Affairs
Rohaan's parents selected Jaypee Hospital, Noida for the treatment of hole in the heart of the infant
Noida, June 12, 2017, 4-month-old infant, Rohaan, who is from Pakistan and got medical visa through help of Mrs. Sushma Swaraj have reached Multi Super Specialty Jaypee Hospital, Noida Sector 128, at around 7 pm today. Rohaan is suffering from a hole in the heart.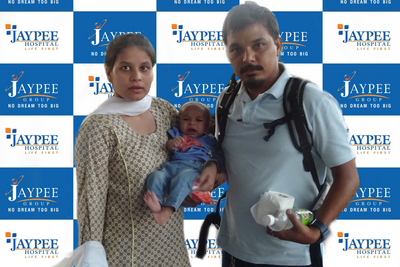 For the treatment of this disease, his parents had been consulting Jaypee Hospital. However given the unrest between India and Pakistan, Rohaan's parents were unable to get medical visa for their child's treatment in India. As his parents had consulted doctors at Jaypee Hospital, Noida in the past, they wanted the surgery to take place on urgent basis, as his condition was critical. Failed to get a medical visa, Rohaan's father Kanwal Sadiq, approached Indian Foreign Minister Smt. Sushma Swaraj and made a plea for a medical visa. Union Minister of External Affairs Smt. Sushma Swaraj 's directed the authorities to grant medical visa to Rohaan's family and Rohaan's parent reached Jaypee Hospital around 7 PM today from Pakistan via  Wagah Border.
Dr. Ashutosh Marwah, the eminent paediatric cardiologist at Jaypee Hospital and the world famous paediatric cardiac surgeon Dr. Rajesh Sharma will investigate and treat Rohan. Dr. Ashutosh Marwah will examine the disease and condition of the baby and Dr. Rajesh Sharma will operate Rohaan.
Explaining the condition of Rohaan, Dr. Ashutosh Marwah, Additional Director, Department of Paediatric Heart Disease Department, Jaypee Hospital said – "One out of every 100 children suffers from heart related critical illness. Rohan has a hole in the heart along with a condition called D-TRANSPOSITION OF GREAT ARTERIES. In this condition, the heart and lung nerves come from the opposite direction and there will be flow of no oxygen-rich blood in the body. Due to the same, there would be complication in breathing from first month onward, hence the child starts breathing heavily. Weight of the child does not increase and due to repeated pneumonia, the chances of survival become less. The most important thing is that the disease should be treated soon enough, because after 8 months the disease becomes untreatable and the chances of death increases.
Dr. Rajesh Sharma, the Director of the Paediatric Heart Disease Department and World-renowned Paediatric Cardiac Surgeon, who will be operating Rohaan said, "Rohaan is suffering from a critical condition. He has hole in his heart and AORTA, which should be on the left side of the heart, is coming from the right and PULMONARY ARTERIES are coming from the left which is exactly opposite to the general structure of the body. Due to this disease, Rohan's pressure of lungs goes up very quickly and there is shortage of clean blood in different parts of his body. This disease will be treated with the ARTERIAL SWITCH WITH VSD CLOSURE method, in which AORTA and PULMONARY ARTERIES will be removed from its place and adjusted to the right place. If this diseases is treated within 4 month of birth, the chances of survival will be 100%. Since Rohaan has already completed 4 months, therefore the surgery will have 5 to 10% risk.
Dr. Rajesh Sharma further added "Jaypee Hospital has treated more than 50 cases of such diseases with a success rate of 100%. We are hopeful that Rohaan will be treated successfully and his parents will be back to his country soon"
Rohan's parents, who reached the Jaypee Hospital said, "Rohan's was not keeping well since birth. After preliminary investigation in Pakistan, it was discovered that there is a hole in the heart along with the problem with the heart's nerves. The treatment for such a major disease could not be done in Pakistan or other small hospital without inadequate facility or infrastructure. We did not want to compromise in this regard and wanted to treat Rohaan at a hospital with adequate infrastructure and renowned doctors, that's why we chose Jaypee Hospital, Noida. "
Mr. Manoj Luthra, CEO of Jaypee said, "We are happy to welcome Rohaan to our Hospital. It is a matter of pride that his parents has chosen Jaypee Hospital for his treatment. We have the team of best doctors to handle such cases. Our doctors has treated such cases in the past with success rate of 100%  and I am hopeful that Rohaan will be back to his country soon in hale and healthy condition. Our state-of-the-art infrastructure is equipped with advanced technologies, which are used for the treatment of such serious or highly complex diseases."
It is worth mentioning that people from across the globe are lauding and expressing their gratitude for the remarkable humanitarian approach of Smt. Sushma Swaraj for giving Rohaan an opportunity to come and receive treatment in India.
About Jaypee Hospital
Noida-based Jaypee Hospital is spread across more than 72, 000 sq. m. of sprawling campus in Uttar Pradesh. Designed as a 1,200-bed tertiary care multi-specialty facility, the Hospital has commissioned 525 beds in the first phase.
The Jaypee Group is committed to providing world-class healthcare backed by renowned consultants and the most advanced technology. A super-specialty hospital with advanced healthcare facilities, it has the latest diagnostic systems and state-of-the-art technology focused on medical specialties that meet the needs of the masses. The plan, design and construction of the Hospital position it amongst the few GOLD LEED Certified hospitals in India.
For further information on the Group, please visit: http://www.jaypeehealthcare.com/