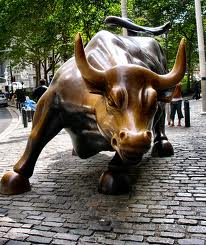 The Indian stock market bounced back sharply on Thursday ignoring rising inflation data. The annual rate of inflation, based on monthly WPI, stood at 6.84% (Provisional) for the month of February, 2013 (over February, 2012) as compared to 6.62% (Provisional) for the previous month and 7.56% during the corresponding month of the previous year.
Markets slipped sharply in early trades after a sting operation stated that the major Indian private sector banks were blatantly running a huge nation wide money laundering racket. However, post the clarifications from the leading private banks, the Nifty and the Sensex bounced back sharply lifting the NSE Nifty above the 5900 mark.
ICICI Bank and Axis Bank closed up 2.7% and 0.8% respectively after falling in the early part of day post the cobrapost sting alleged the banks to be involved in countrywide money laundering. Even HDFC Bank also was alleged to be flouting several provisions of the Income Tax Act, FEMA, RBI regulations, basic KYC norms, the Banking Act and Prevention of Money laundering Act (PMLA).
The Oil & Gas stocks were in action after media reports stated Petrol price may be reduced by about Re 1 per litre while diesel price may be hiked by 40-50 paisa a litre from March 15-16. Finally, BSE Sensex closed at 19570, up 208 points over the previous close. It opened at day's high of 19604 and hit an intra-day low of 19179.
The NSE Nifty closed at 5,909, up 57 points over the previous close. It earlier touched a day's high of 5,920 and a day's low of 5791. It opened at 5,884.
"While the headline inflation print came higher than expectations at 6.8%, the continued moderation in core inflation kept the market expectation alive that RBI would cut the repo rate by 25bps coming Tuesday. The central bank is likely to take heart from the fact that increase in WPI month-on-month was essentially driven by de-regulation of fuel prices. Further moderation in core inflation during March would enhance possibility of a rate cut on May 3rd also," says Amar Ambani, Head of Research, IIFL.
S&P BSE Bankex closed up 2.24% while S&P BSE Realty was up 2.20%, top stocks in the Banking segment remain SBI which went up by 3.5%, HDFC (2.28%), ICICI Bank (2.29%), IndusInd Bank (1.7%), Kotak Mahindra Bank(1.27%).
RIL, Infosys, TCS, HDFC Bank, ONGC, Tata Motors, ICICI Bank, HDFC, Hero MotoCorp, Maruti, Jindal Steel, Tata Steel were among gainers in Sensex and Nifty.
Wipro, Gail India, Bajaj Auto, Sun Pharma, Bharti Airtel were among losers in Sensex and Nifty.
The advance decline ratio was almost even. 1424 stocks advanced against 1443 declining stocks, while 117 stocks remained unchanged.
The INDIA VIX slipped 9.5% to close at 14.66. It hit a day's high of 17.16 and day's low of 14.58.
Stocks which hit 52-week high during the week were Asian Paints, Dhanleela Inv, Fomento Res, MONOTONA SEC and Westlife Dev.
Stocks which hit 52-week low during the week were Apple Finance, BEML, BHAG GAS, Ester Inds and PH Capital.
Stocks in News
BGR Energy Systems gained by 1.1%. The company has reportedly exited a Rs8bn contract for supplying power equipment to NTPC's upcoming 1,600 MW Darlipali project in Odisha, on grounds of project no advancing.
Hindustan Petroleum Corporation signed a memorandum of understanding (MoU) with Rajasthan government for setting up a 9 MMTPA refinery-cum-petrochemical complex in Barmer, Rajasthan. The project would be set up as a partnership of HPCL and Rajasthan State Refinery Ltd. (RSRL) and others. The project would be set up at a cost of Rs. 372.30bn.
The Asian stock markets moved broadly mixed on Thursday, The Hang seng index in Hong Kong gained 0.3%, the Shanghai Composite index in China gained 0.3%, Nikkei index in Japan gained 1.1% and Kospi index added 0.2%.
On the other hand Taiwan index declined by 0.6% and Straits index declined by 0.3%.
The European stocks were trading higher on Thursday, the FTSE index in UK was up 0.3%, the CAC index in France was up 0.5% and DAX index in Germany added 0.6%