MCCI  organized a Presentation on 'Zambia Tourism' by Zambia Tourism Board & Tour Operators of Zambia in the presence of Mr.Bwalya Lyapa Nondo, Acting Deputy High Commissioner of Zambia in India. today at Chamber Hall.
'United Nations World Tourism General Assembly 2013– The World Cup of International Tourism'  to be hosted by the Zambia- which is crowned as  'Most Promising New Destination' at an Indian Trade Show in 2013'  – were the  major announcements by the visiting Zambian Team comprising Acting Deputy High Commissioner, Director –Marketing Zambian Tourism Board and heads of Private Tours Companies.
6-7% consistent Economic Growth, Investment Offers from 'Health, Mining Sector, Precious Stones (specially Emerald), Uranium, Solar and Hydro power'; Free Market Economy; Lesser Government Intervention boosting Private Investor Confidence; Permission of 100% Foreign ownership of Financial Institutions; Free Movement of Currencies;Safe and Peaceful ambience'  underscore the selection of Zambia as 'One of the Fastest Economies of the World' by Economist magazine.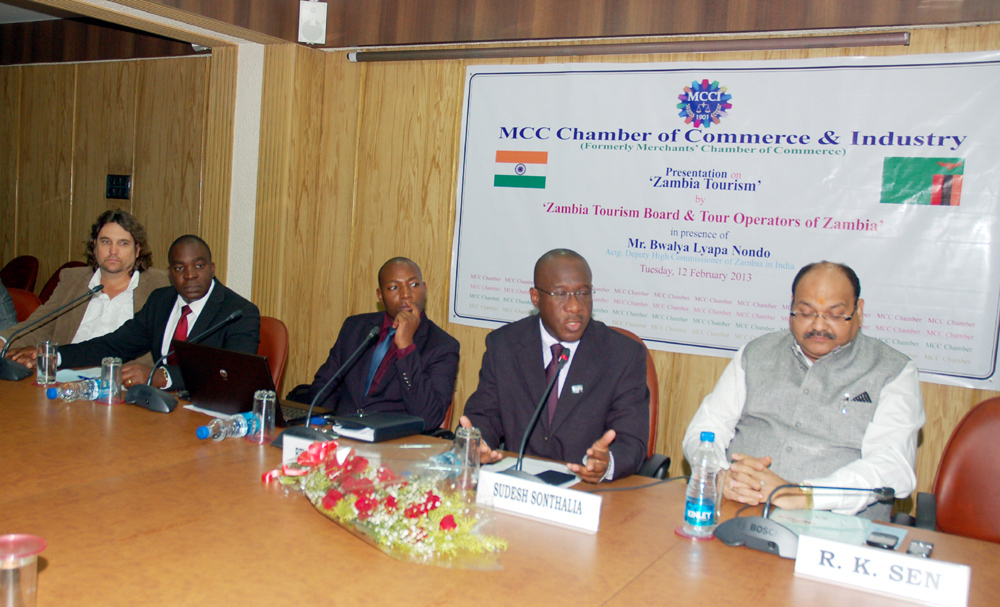 Shri Sudesh Sonthalia, Past President, MCCI highlighting  the 84% rise in the Bilateral Trade  between Zambia and India lauded the internationally acclaimed Tourism Sector in Zambia inviting any incentives from Zambian government for business provisions for Indiam Companies  in 'Tourism Transport','Hotels','Safari Operations','Tour Operators' and 'Film Industry'.