Jewellery designer Pallavi Foley unveils "Flame of The Forest" line presented by BlueStone.com
Yami Gautam walks the ramp for the collection at the 'India International Jewellery Week 2017' in Mumbai
Mumbai, 24th September 2017:BlueStone.com, the country's leading online jewellery brand,presented Pallavi Foley, one of India's rising star jewellery designers, at the recently concluded India International Jewellery Week in Mumbai. Pallavi showcased her latest avant-garde collection 'Flame of The Forest´with actress Yami Gautam as the showstopper.
Inspired by the beautiful orange flower "Flame Of The Forest"; the collection is a unique expression of nature's most gorgeous elements. The flower forms the core of the key pieces with myriad elements like rain, fire and other flora blending together to create a truly unconventional collection.
Stating her excitement before the show, actress Yami Gautam, said "I am super excited to walk the ramp at IIJW for Jewellery designer Pallavi Foley. Her work is really good and different and I am looking forward to wearing her pieces. I am delighted to be associated with BlueStone.com, India's coolest online jewellery brand."
'Flame of the Forest' is an ode to Bangalore, a city where Pallavi started her career as well as the birth city of BlueStone.com. Speaking about the collection, designer Pallavi Foley explains; "Bangalore holds a very special place in my heart, and this collection captures the beauty of this versatile city with its gorgeous balance of flora and industry. Designing this collection with BlueStone.com has been a very wonderful experience, and we are excitedwith the response to the show."
Speaking on the occasion, Gaurav Singh Kushwaha, CEO & Founder, BlueStone.com said; "We are delighted to have partnered with Pallavi Foley at our very first show at IIJW. The collection with its unique designs and inspiration, stands for everything we believe in at BlueStone.com. We love giving our customers the latest on-trend designs and we are very excited about the 'Flame of the Forest' collection and its exceptional design story!"
The key piece of this capsule collection – 'The Wind-Blown Necklace' romanticizes a common sight in rainy Bangalore, where the flowers sweep away in one direction from their trees during a typical cloudburst. The collection builds on the use of such unconventional and nature inspired textures crafted in the best fine jewellery making techniques. The plays of scale and proportions have been used effectively to dramatize the various pieces of jewellery.
Costumes for the show were designed by Wendell Rodricks, with celebrated stylist Gautam Kalra styling the show. The show was choreographed by Lubna Adams.
The 50-pieceexclusive collection will be available at BlueStone.com and at Pallavi's two beautifully designed boutiques, the Couture Store at the Leela Palace, Bengaluru and a prêt store in VR Bengaluru.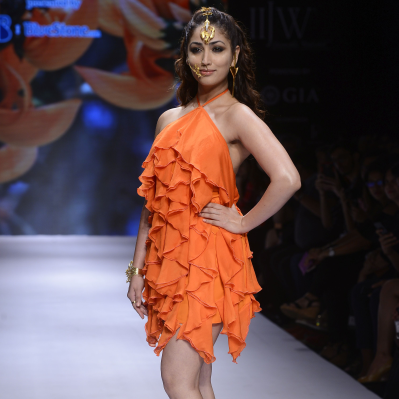 About Pallavi Foley:
Pallavi has been identified as a game changer-part of 35 young achievers who "make a difference". Rio Tinto has called her as "India's hottest young talent", and the World Gold Council has named her as "The Elsa Peretti of India". In the August'17 issue of Harper's Bazaar Bride, which explored her avant-garde yet intensely wearable designs, termed her as the shape-shifter.  A signature Pallavi Foley piece is luxurious and understated in an unexpected way. Bringing in the drama by breaking norms of conventional jewels and taking craft of jewellery making to a further new level of sculptural and artistic three dimensional forms.
About BlueStone.com:
BlueStone.com was established in 2011 by the young and enigmatic, out of the box thinker, an IIT-Delhi graduate, Gaurav Singh Kushwaha. The brandaims at revolutionizing the precious jewellery and lifestyle segment in India with a firm focus on Design and Customer Experience. The platform features more than 5,000 unique designs from a wide collection of themes to suit every occasion with over 200 new designs added every month. These designs are crafted to perfection with utmost care and are available 24/7 with a 30 Day Money Back Policy and Lifetime Exchanges. Shoppers also experience the ease of luxury shopping from the comfort of their home with a unique Try At Home facility available in 18 cities.