Each Art Toy-inspired Xboy model will show off their unexpected sound quality and special features during CES at Sands Expo, Hall G, Booth 53130
LAS VEGAS – (Jan. 10, 2017) – Xoopar (pronounced Zoo-par), a global mobile accessories brand that merges practical technology with creative design, has announced its expansion into the U.S. market at the Consumer Electronics Show with the launch of its signature Xboy Bluetooth speaker line. Xoopar Boy speakers allow users to find "Joy in Technology," with an unconventional design and unexpected sound from their three-tiered models:  Mini Xboy, Xboy Stereo, and Grand Xboy. Inspired by the Art Toy culture, Xboys break the mold of standard Bluetooth speakers thanks to their unique frame and charming extra features, coupled with vibrant color choices that add character to any listening experience.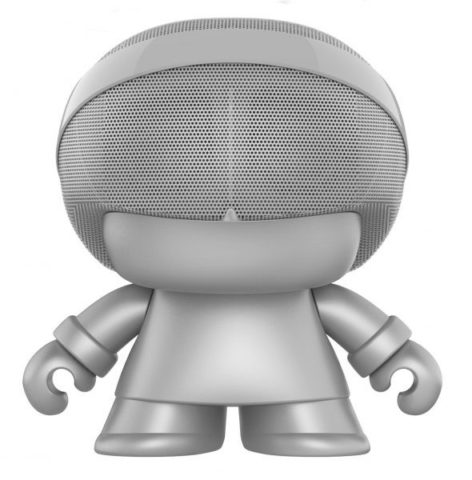 Xoopar's Mini Xboy is the smallest in stature, but certainly not in personality. The entry level Xboy stands three inches tall with a 3-watt speaker to match, perfect for throwing in a purse or pocket. Mini Xboy adds ambiance to any listening session with a multi-color changing faceplate, which you can capture with the built-in selfie remote while being serenaded by your favorite song. The Mini Xboy includes a micro-USB cord for charging and a durable travel strap, and is available in Orange, Black, Gray, Pink, Mint and Lime.
Users seeking a more dynamic sound experience can pick up an Xboy Stereo, a five-inch-tall 10-watt audio companion. Large enough to be a counter-top fixture, but small enough to take on the go, Xboy Stereo can be a homebody or a travel mate with 6-hours of play time for extended listening parties. Users can also build on their Xboy collection and pair a second Xboy Stereo to share music between rooms or place in the same space for full stereo sound. Xboy Stereo also provides mood lighting during listening sessions with a light-up, ambient pulsing body, as well as a built-in microphone for handsfree speakerphone capabilities. Xboy Stereo comes with a micro-USB charging cable, 3.5mm audio cable, and is available in Orange, Black, Gray, Pink and Mint.
Users looking for a speaker that's also the life of the party will enjoy Xoopar's Grand Xboy, with booming sound to match its head-turning design. Standing at eight inches tall, the Grand Xboy boasts two powerful 10-watt speakers and an extra three-watt speaker to provide 360 degrees of crisp highs and deep bass tones. Practicality isn't lost on the top-tier Xboy, with built-in speaker phone capabilities and functional play/pause, volume and track selection buttons. With eight hours of continuous playback time, Grand Xboy can play user's favorite tunes while adding character to any room, apartment or entertainment area. The Grand Xboy includes a micro-USB charging cable, 3.5mm audio cable and is available in Black and Silver.
Xoopar will also be highlighting additional mobile accessories at CES that will be available in early 2018, including the Splash POP Waterproof Bluetooth speaker, Hug Booster mini powerbank with built-in charging cables, and Powercard ultra slim emergency powerbank measuring just five millimeters thick.
All Xoopar products will be available in Q1 2018 at www.lafab.us/brand/Xoopar, the official distributor of Xoopar products in the U.S.
About Xoopar:
Xoopar ("Joy in technology" www.xoopar.com) is an innovative gadget outlet at the cross road between design and technology. Xoopar is born from the friendship between Olivier Vergnet and Pierre Yu during an internship in Hong Kong. With offices in China and in Paris, the company combines the strengths of industrial and engineering know-how with cool design inspired from the Art Toy culture. Xoopar sells its signature products in more than 20 countries, within high-street consumer electronics retailers, telecom carriers, major department stores and concept stores in Asia, Europe and in the US. Xoopar is a registered trademark in China, Hong Kong, in the EU, the USA and other countries. Xoopar is distributed in the United States by LaFab US LLC (www.lafab.us/brand/xoopar-2)