Chennai, 14th December 2015: As part of its relief efforts following the Chennai floods, World Vision India plans to distribute relief packets worth over INR 4 crore to 12,064 families affected in the city. The first phase of the distribution took place at the Madras School of Social Work, Egmore on Sunday afternoon.
Each relief packet distributed contained 2 blankets, 1 towel, 2 mattresses, 1 dry ration pack (2 kg dal, 1 litre oil, 5 kg wheat), and 1 hygiene kit. The hygiene kit contains 1 soap, 1 tube of toothpaste, 3 toothbrushes, 1 bottle phenol, 5 pieces of sanitary napkins and 1 bar of washing soap.
"Since there are concerns about the possible outbreak of disease due to unhygienic sanitary conditions in many of the relief camps, World Vision India is now also focussing efforts to provide clean drinking water, water purification sachets, sanitation supplies and bio-toilets, in some of the affected locations. Our approach is to work in coordination with government and local authorities, so that we supplement their work. We are also working to educate our communities on preventive health and hygiene measures so that the risk of illness is minimised," said Kunal Shah, Director – Disaster Management, World Vision India.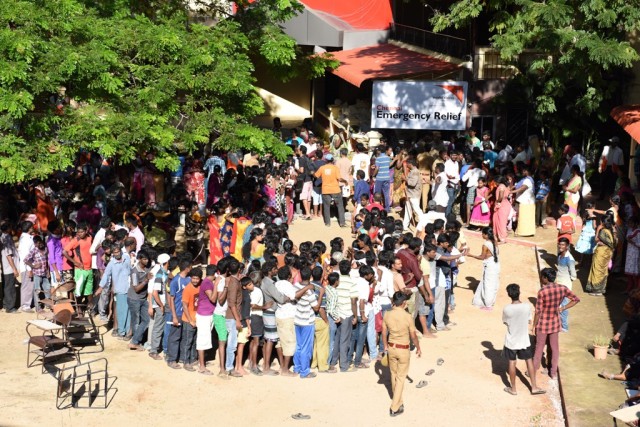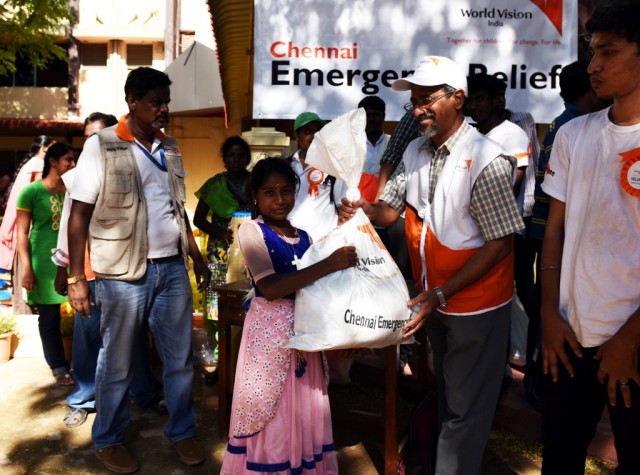 World Vision India has been actively responding to the disaster, having distributed 46,000 water bottles and 12,300 food packets till date. Keeping in mind the physical, social and psychological well-being of children, the NGO has also set up child-friendly spaces (CFSs) in 3 relief camps within the city, directly benefiting around 200 children. Against the backdrop of the looming threat of epidemics and infections, World Vision India also has also held 2 medical camps, helping 435 people. The NGO hopes to further help affected communities in the long term, bringing sustainable solutions for the heavy losses suffered.
World Vision India is a Christian grassroots humanitarian organisation that serves all people regardless of religion, caste, race, ethnicity or gender. Through development, relief and advocacy, we strive/seek to create lasting change in the lives of children, their families and communities living in contexts of poverty and injustice. World Vision works in nearly 100 countries worldwide, and we have been in India since 1962. Today we work in over 6200 urban, rural and tribal communities spread over 163 districts across 26 states impacting the lives of 26 lakh children.