New Delhi, 3rd Nov 2015: In his endeavour to uplift the sport of boxing in India, Olympic Silver Medallist British boxing prodigy Amir Khan hosted an exclusive press preview at the ITC Maurya, New Delhi on Nov 3rd, 2015.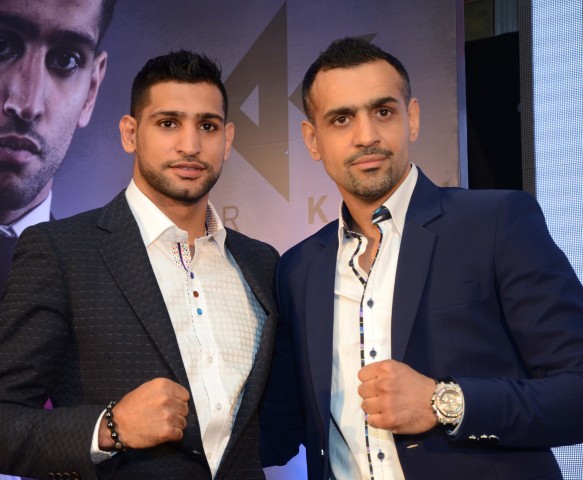 The agenda mainly revolves around Khan's upcoming strategies and plans to promote the sport of boxing in India through his brand Khan Promotions by recognition and selection of Indian boxers and enabling them to represent India in Pro Boxing on international platforms. India based Mixed Martial Arts organisation, Super Fight Promotions joins hand with him, Khan is a partner along with Bill Dosanjh (CEO, Super Fight Promotions).
 Additionally, AK Promotions along with Super Fight Promotions also plan to start an International Boxing League in South East Asia, which includes India as one of its main hubs. The same is slated to be held in the next calendar year.
Internationally acclaimed athlete Amir Khan said, "India is a powerhouse of talent for the sport, that needs to be showcased on the right international platform. I strongly believe we can make several champions".
Bill Dosanjh, CEO, Super Fight Promotions Pvt Ltd. said, "Amir is one the best and youngest prodigal boxing talents in the world, we whole heartedly support his endeavour in India. Speaking about the league he mentions – In a cricket heavy country, a boxing league is an absolute necessity. We are currently at a planning stage, our aim is to create an international platform for action sports in this country. On being asked about plans for Super Fight Promotions, he mentions – We are currently concentrating on the India and USA market with regular live televised events, we plan to expand soon to other countries. Some big news on the Mixed Martial Arts front in awaited soon.
 About Amir Khan:
 Amir Khan is a British pro boxer and two-time former world champion, having held the WBA and IBF Lightweight Titles. He currently holds the WBC Silver Welterweight title, and has fought at three weight classes: lightweight, light welterweight, and welter weight. Khan is the youngest British Olympic Boxing medalist, winning silver at the 2004 Athens Olympics, at the age of 17. He is also one of the youngest ever British world champions, winning the WBA light welterweight title at the age of 22. The International Business Times ranked him the eighth best pound for pound boxer in 2011. As a Pro – Boxer , Khan holds notable wins over nine world champions,including Andreas Kotelnik, Marcos Maidana, Julio Diaz, Luis Collazo, Chris Algieri, Paulie Malignaggi, Devon Alexander, Marco Antonio Barrera and Zab Judah.
About Bill Dosanjh:
A British Indian business tycoon, Bill Dosanjh, currently holds fort of Super Fight Promotions Pvt Ltd, as CEO to the international Mixed Martial Arts brand. He is also a partner in Khan Promotions. A sports enthusiast, Bill trains with Amir Khan.
About Super Fight Promotions
Super Fight Promotions is India's first and one of Asia's top pro mixed martial arts organisation. Started in the year 2012, Super Fight League has been one of the most successful MMA promotions company in the world.
In the past two years, Super Fight League has successfully executed 44 live televised Events all over the country and in international locations like Dubai and the USA. The league has given birth to a new breed of sportsmen who went unrecognized in our country, It has been a platform for budding MMA talent.
Currently the brand is headed by CEO Bill Dosanjh with Bollywood actress Shilpa Shetty Kundra as at the Chairperson along with British pro Boxer Amir Khan as a partner.
Over the last couple of years the brand has spread its wings into retail. marketing and MMA Gyms (SFL Fitness) all over the country.
Currently running successfully through events in India, Dubai and USA, Super Fight League aims at something huge in the next calendar year, that is going to change the face and positioning of Mixed Martial Arts all over the world.