Azim Premji inaugurates the facility in Bangalore
Bangalore, March 14, 2018: Wipro3D, the additive manufacturing (AM) business unit of Wipro Infrastructure Engineering launches a-first-of-its kind, state-of-the-art solution & experience center for metal 3D printing in Bengaluru. The facility was inaugurated by Wipro Chairman, Mr. Azim Premji.
The 12000 square feet solution center has all capabilities including leading edge build technology, post-processing, research, characterization and validation facilities. It is India's foremost fully integrated Metal Additive Manufacturing facility, recommended with AS9100 Rev D certification.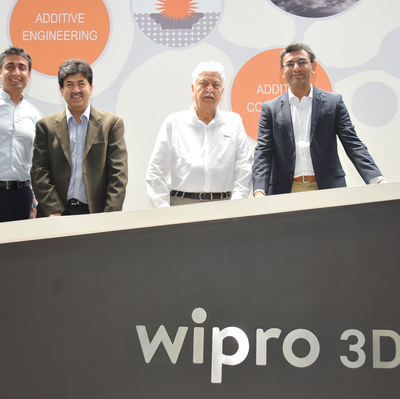 With a range of end-use applications successfully delivered in four years, WIPRO3D today offers standard and customized Additive Manufacturing solutions, products and services,  to industries including Aerospace, Space, Industrial, Automotive, Healthcare, Oil & Gas and Heavy Engineering.
"Based on the confidence developed from our India operations, we are planning to take Wipro3D global," said Mr. Pratik Kumar, CEO, Wipro Infrastructure Engineering. He stressed that Wipro3D will continue to shape the AM market in India and aims to be a leader in the metal AM solutions and services space globally.
With a strong ecosystem of partners including EOS, a  global leader in 3D printing technology, Wipro3D has become a solution provider of choice to industry leading organizations.
Said Ajay Parikh, Business Head, Wipro3D, "India's first functional metal AM component in space, was built by Wipro3D. We  have built competencies and offerings across Additive Consulting, Engineering, Manufacturing, Research & Development as well as turnkey solutions, to deliver impactful business outcomes for our customers We see 3d printing or Additive Manufacturing as a critical component in the digital manufacturing and future proofing strategy of any enterprise."
Several research studies and experts have rated 3D or additive manufacturing as one of the economically disruptive technologies. Metal Additive Manufacturing (AM) has seen a steady rise in adoption across various domains and industry verticals during the last decade. Initially regarded as a pure prototyping tool, AM technology has evolved considerably and is now being used for series production. To reduce time to market, improve product performance and reduce product lifecycle cost, more and more companies are relying on AM as a strategy.
About Wipro3D
Wipro3D works with clients from discovery to design, development to deployment of metal AM solutions including setting up of captive AM centers. Our AM experts work closely with customers' strategy, technology, innovation, engineering, R&D manufacturing, quality, and supply chain functions to deliver Additive Manufacturing solutions and services that are focussed on business outcomes. For more information visit www.wipro-3d.com
About Wipro Infrastructure Engineering
Wipro Infrastructure Engineering is a diversified business with expertise spanning over 4 decades of engineering and manufacturing excellence in the fields of Hydraulics, Aerospace, Water treatment and Additive manufacturing. The Hydraulics Business specializes in designing and manufacturing custom built Hydraulic Cylinders for applications in diverse segments such as Construction & Earthmoving, Material & Cargo Handling, Forestry, Farm & Agriculture, Mining and Truck Tipping. WIN is amongst the largest independent hydraulic cylinder manufacturers in the world, delivering over one million cylinders to OEMs in different geographies.
Wipro Water offers end-to-end solutions in Water and Wastewater treatment for industrial applications, catering to industries such as Oil & Gas, Steel, Power, Pharma & Chemical to name a few. Wipro 3D provides Concept-to-Component services in 3D Printing that include Design for Additive manufacturing, prototyping and serial production for demanding applications across Aerospace, Defense, Nuclear, Industrial and Medical Segments. The Aerospace business division manufactures Actuators and Precision Engineered Components for Landing Gears and Aero Structure Assemblies. For more information visit www.wiproinfra.com