India's only online – offline synergized matrimony needs service in Chennai
Chennai – 11th January 2017:
For the first time in Chennai, aspiring couples and their extended families will now have a place to visit to fulfill every single wedding related service need. India's one of its kind marriage services destination is now a reality, with the launch of WeddingStreet, in OMR, Chennai. When the founders of the fledgling bootstrapped start-up Mygrandwedding where faced with queries from their customers on a one stop shop to take care of all their wedding needs, Sharath and Britto came up with the idea of WeddingStreet.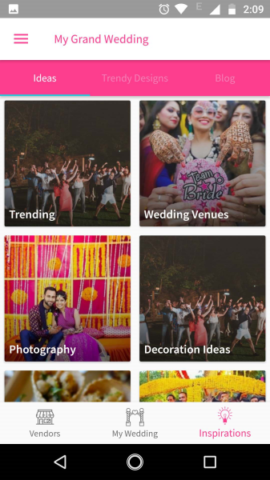 Spread over an expanse of  25000 Sq Feet, housing a whole range of wedding service providers under a single roof, WeddingStreet is a dream come true for those who want to finish all their wedding chores in one shot. Be it finding event managers to choreograph the mehandi or any event culmination in the wedding, florists to bedeck the venue and the muhurrat dias, exotic dressing arrangements etc.. Wedding Street has all of them – the to-be bride and groom families just have to make a choice and pat, all is as good as organized.
Speaking on the launch of WeddingStreet, Sharath, Managing Director, Mygrandwedding said –
"When we launched the app, mygrandwedding, our mission was to see that every service needed in the run up to a wedding ought to be available at the finger-tips, and that too, at a competitive price. The app, available both on iOS and Anroid now has a critical mass of users, and is doing well. In our engagements with a variety of customers, we felt that there was a latent need for a personal wedding shopping experience, which even now a lot of people prefer. This was a sizeable majority of people. So, as entrepreneurs whose vision was to ensure the best for customers, we came up with the offline version– thus was born WeddingStreet".
Commenting on the choice of venue to bring WeddingStreet into reality, Britto, GM, Operations added –
"The OMR corridor is one of the fastest growing real estate tracts not just in Chennai, but even nationally. Leading realty researchers agree that in the next few years, this will be as good as the CBD for Chennai. So, based on this research, we chose Navalur in OMR, Chennai to locate WeddingStreet, so that a huge working population can benefit with such a wedding facilitation center. Our research shows that we will hve over 5000 people visting us in the weekends. It will be a unique place, where you can almost manage your entire wedding end-to-end, hassle free, and sans the stress of roaming around scouting for service providers".
The duo behind the venture, Sharath and Britto,  plan to take WeddingStreet to other locations in India, moving forward.  Mygrandwedding and WeddingStreet will be the perfect combination of offline-online play, with the goal of benefiting customers, and manage their wedding with ease.
My Grand Wedding Pvt. Ltd., a Chennai based bootstrapped start-up launched an online platform and a mobile app to enable people to choose and decide on services providers and vendors for meeting A-Z requirements related to the conduct of a wedding event in India. Mr.R.Sharath, Managing Director, Mygrandwedding P Ltd, is an ex-hotelier and highly successful event Manager. He started his career as a Trainee at The Taj West End Hotel about 2 decades ago. His wealth of experience in the hospitality industry & entrepreneurial skills motivated him to start this venture to serve customers in the smooth and effective conduct of weddings.