~ CSR foundation of Roca Group launches its flagship campaign 'Sauchalaya Apna, Bitiya ka Sapna' to resolve the sanitation problems for women & girl child~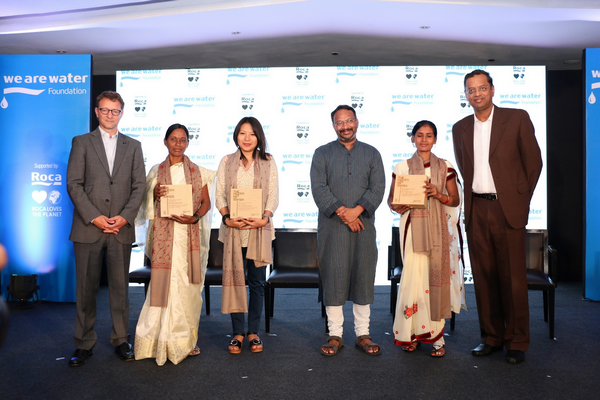 New Delhi, July 31, 2017: We Are Water foundation, a non-profit organization supported by a socially responsible corporate, Roca Bathroom Products Pvt Ltd, announced its India launch. With this move, the foundation also announced its flagship campaign 'Shauchalaya Apna, Bitiya ka Sapna' targeted at improving the sanitation facilities for women & girl child in the country.
With a vision to work towards solving the global problem of water, sanitation and hygiene, 'We Are Water Foundation' a non-profit organisation conceived in 2010, stepped foot in Indian soil this year. The foundation has completed 30 projects in 18 countries that have helped more than 400,000 people get better sanitation and water access. The event saw a confluence of delegates, dignitaries, architects, builders, NGOs, agencies, social heroes and sanitation champions as they gathered to voice the noble cause of providing better hygiene and sanitation facilities to all sections of the society.
The event also saw unveiling of the foundation's campaign and logo directed at protecting the integrity of women and providing them with basic sanitation facilities. This was followed by the Panel discussion that boasted of names such as Joe Madiath (founder Gram Vikas), Swapnil Chaturvedi aka The Poop guy, Mr. Arumugan Kalimuthu (WASH Institute Program Director & In-charge for Swachh Bharat Mission Technical Assistance program), Akhila Sivadas (founder member of Centre for Advocacy and Research) and Abhjit Banerji (Secretary FINISH society).
The event also witnessed the felicitation of the social heroes who have championed the cause of sanitation and hygiene in the country today and inspired others to get access of better facilities. Among them were Priyanka Bharti, Sharda Chaggan Kamble, Tensutula Imsong and Bezwada Wilson. Each of these heroes have sacrificed their time and efforts for the greater good of the society.
Speaking on the occasion, Mr. K.E Ranganathan, MD, Roca Bathroom Products Pvt Ltd said, "We at Roca strongly believe that water, sanitation and hygiene are basic rights for everyone and we always strive to make these available to every section of the society. With this aim, we are elated to announce the launch of our CSR foundation 'We are Water' in India and take pride in announcing its inaugural scheme 'Sauchalya Apna, Bitiya ka Sapna (Owning a toilet, Every Girl's dream)' in the country today. We hope that this initiative of ours will provide better sanitation and hygiene facility to all especially women and girl child; and achieve the status of an open defecation free India."
Commenting on the launch, Mr Xavier Torras, MD, We are Water Foundation said, "With a vision to alleviate the rising problem of proper access to water and sanitation and the negative consequences arising from it, We are Water is honoured to announce its arrival in India. The foundation has been working in the most disadvantaged areas of the planet addressing issues pertaining to water, hygiene and sanitation; and has successfully been able to complete projects and provide better quality of life to all sections of the society. India has already taken cognizance of these issues, the government has already been actively involved combined with multiple NGOs and partners. To curb these, the foundation is excited to contribute to the cause and work towards a better future for all in the country."
About Roca Bathroom Products Pvt Ltd
Roca is a company engaged in the design, production and commercialization of products for the bathroom space, as well as ceramic floor and wall tiles for architecture, building and interior design. Its origins date from 1917, when the Roca family started building their first production plant in Gavà (Barcelona). In the centenary of its establishment, the company employs over 22,600 workers and has 78 production plants, with a presence in more than 170 markets in the five continents. For more information, visit www.roca.in
About We Are Water Foundation
The We Are Water Foundation has two key goals. The first is to promote awareness and encourage debate among the public and organizations on the need to create a new culture for water, to enable the equitable development and sustainable management of the world's water resources. The second is to carry out a whole host of actions to counter the negative effects of the lack of adequate water resources. The foundation's fields of activity include involvement in infrastructure, education, health and research, concentrated in the world's most deprived areas.