DesignEVO is a free online logo maker application. It is primarily for start-ups, brands, small companies, blog owners, or those who are in the hobbies (web site, software). There are many similar software available for Windows, but I have not met such a concept yet. I'm glad they visited us because this is really a useful and well-functioning service. The free package is enough for basic features. If you are the first time to hear of this app, go ahead to look at it:https://www.designevo.com.
What do I recommend?
Opening the web page will reveal a clever interface. There is a simple introduction. Turning down we get some pre-made templates. At least 4,000 of professionally designed logo templates are available. If we want to create a logo for us within a short time, we will select a pre-made template and then enter the name of our project (company, enterprise, website, app, software). There are categories and labels. These can be used to filter the list. According to the service, we have free access to so many features that we have a complete high quality logo.
Let's have a close look!
Click Make a Logo at its homepage or click Make a Free Logo to enter the app.
On the top of the loaded screen, you will find a search box on the left. We can include labels, of course, in English, such as music, photo, dog, cat, phone, etc. This will be used to find these pre-made logo templates. Below the categories we find. So we can filter it. The right side will be the results.
If you want your own on a completely virgin blank template, you can find the Start form Scratch button in the top right corner. Press it to start you design from a blank template! I just choose a template from the preset ones.
DesignEvo contains many features that we need to create a logo. At the bottom we can set the image size. It is 500×500 pixels from the base. We can change this to custom size. For icons, it is preferable to set 512×512, 256×256 pixels. But you can have any sizes by typing the specific number between 32pixels and 2000 pixels. Beside the magnification and sub-grid options are just at our hands.
The header contains a new project (New), undo, and redo file navigation. In addition, you can set the background and placement in the middle. The right side is preview, save, and download.
The point is. On the left, icons are located. If you are looking for a specific icon, enter the word to search what you want. Here, I just type "tree" to search it as example. Hit Enter to get the results. The icon set database is extremely large, there is no accurate information about it, but there is a very small chance that we will not find the right icon for us.
Clicking on the selected photo places it in the workspace, you can resize and rotate the photo and you will see a new toolbar appear in the header. Here you can set your color code,adjust the  horizontally or vertically mirrored or adjust its opacity.
You can add text. It can be plain character with different fonts or with a different effects  under the Art tab. Some editing features here are just as well as the icons.
Within the Shape tab, you find the different shapes like decorations, banners and symbol accessories, lines, frames, etc.
Keyboard shortcuts also work in the web application. If you want to duplicate the shape, you can do this with the CTRL + C – CTRL + V key combination. If you want to delete, use delete key.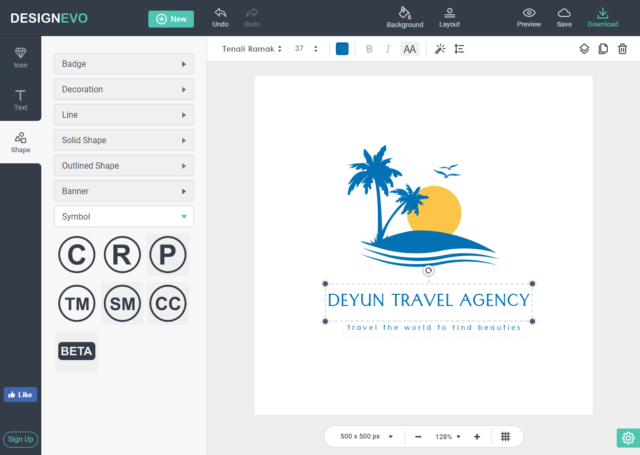 Finish you logo
When everything has been done with our logo, we can save it to our account. This requires registration. Save button to save. Downloading is available with Download button. In the free package, you can save up to 500×500 pixel logo in PNG format. It should also have background (even white), so it will not be transparent. We can resolve this in Photoshop later, not a big problem.
For $19.99 basic package, we get PNG support with a transparent background. Print image, unlimited support (fast local chat). You can also modify and download it later in the package.
The Plus package $39.99 gives you more to save your project as a PDF or SVG file.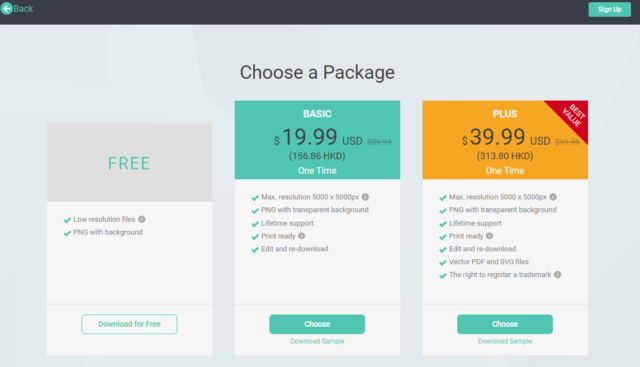 For almost of us, the basic free package is just enough for us to make our own logos.