05 July 2018, New Delhi: Virgin Atlantic is excited to celebrate 18 years this July since it launched its first flight from India on 5 July 2000 on board an Airbus A340 from New Delhi to London. Since the year 2000 Virgin Atlantic has welcomed over three million customers on board and served over three million glasses of bubbly at 38,000ft. Today customers travelling with Virgin Atlantic enjoy a daily service to London Heathrow on-board a state of the art Boeing 787-9 with Wi-Fi in all its cabins making it the only airline on the Delhi-London route to offer Wi-Fi connectivity to all its customers. Virgin Atlantic has been consistently working on innovation and personalization for its passengers.TO ITS
To commemorate the special day, the airline introduced a special birthday offer with one way fares starting from INR 46,794 in economy, and INR 134,221in Upper Class. These fares include taxes and charges are available for sale until Monday 09 July by logging onto www.virginatlantic.com or calling 1800 102 3000 or 0124 469 3030. The airline also hosted a fabulous party yesterday and raised a toast to its 18 years in India with the Glenfiddich 18 years Single Malt Scotch Whisky. Staying true to the spirit of innovation and personalisation, the event had Virgin flair spread throughout engaging guests with entertainment, whisky tasting and trade partner awards.
David Hodges, Country Manager at Virgin Atlantic, India said says, "This is a momentous time for Virgin Atlantic in India. The Delhi route is as popular as ever among Indian customers who love the great Indian food, the latest Bollywood films, interacting with our Indian crew and using our inflight Wi-Fi to stay connected with their families as they travel. It's also a time of tremendous growth for Virgin Atlantic in India. You can now connect to Virgin services from all over India through our partnership with Jet Airways, and reach destinations all over the UK and USA connecting with Flybe and Delta Air Lines. To say thank you for the warm welcome Indians have given Virgin Atlantic we're giving customers a special birthday fare to London!"
For passengers travelling in all cabins three meal choices are available – one of which caters for the Indian palate and the British love of Indian food. As part of the in-flight entertainment, in addition to box office UK film titles, Virgin Atlantic offers a number of Bollywood films across a range of genres.
Through a strong partnership with WE (formerly Free the Children), the airline is growing a global community of activists for change in the country by supporting and investing more than £766,504.14 in projects in the three communities in India (Udawad, Kalthana, Kamoda). This has included addressing the 'five pillars' of poverty in each of these communities (Education, Water, Health, Food and Opportunity), solar powered classrooms, school rehabilitation and donations of rickshaws to communities.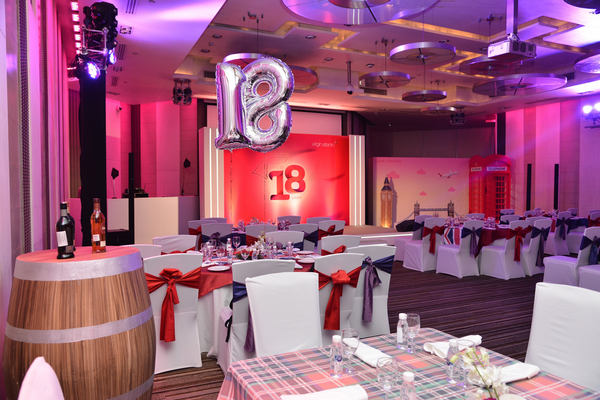 About Virgin Atlantic
Virgin Atlantic was founded by entrepreneur Sir Richard Branson 34 years ago with innovation and customer service at its core. Today Virgin Atlantic carries 5.5 million customers annually, and was recently named the UK's favourite long haul carrier by Skytrax, Best Transatlantic Airline at the British Travel Awards 2017 and one of the Top 5 Airlines in the World by Airline Ratings. Headquartered in London, Virgin Atlantic employs over 10,000 people worldwide and operates a fleet of 47 aircraft serving 25 destinations across four continents. Alongside joint venture partner Delta Air Lines they operate a leading transatlantic network – offering up to 38 flights per day between the UK and US with onward connections to over 200 US and international cities. In 2019 Virgin Atlantic will take delivery of their first Airbus A350-1000 aircraft – helping to transform the fleet into one of the quietest and most fuel efficient in the sky.
For more information visit: www.virginatlantic.com  or via twitter @virginatlantic