National, 18th June 2018: In a mission to create a fitter nation, India's leading athlete Virat Kohli along with the fastest global sportswear brand in the world PUMA, today, gave impetus to the Come Out and Play (COAP) movement with the COAP Play Wagon which traveled around the city with surprise pit stops to set up play areas where people could come out and play a game. Come Out And Play is a movement initiated last year in November during the launch of Virat's brand One8, in order to bring about a cultural change of fitness in the country. In an endeavour by Virat and PUMA to make every Indian adopt a fit and active lifestyle, from now on, the 18th of every month will witness the traveling COAP Play Wagon in Goa and Bangalore.
Alongside the activity, the brand also rolled out a social media campaign – spot the van and play a sport, which bestows participants an opportunity to be featured on Virat's Instagram handle on posting a video/picture of them playing a sport.
The van's first pit stop was at RV College and then moved to Global Tech Park. Along with being highly engaging and a whole lot of fun, this activity created large scale awareness and spread the message of the need to adopt some kind of play to remain fit and healthy.
Last month, Virat along with PUMA commissioned a pan-India study with Kantar IMRB the findings of which revealed that 57% of the respondents had not played any sport for the last one year. Prompted by this, the COAP movement aims to urge and motivate more Indians to take up physical activity to improve both physical and mental health.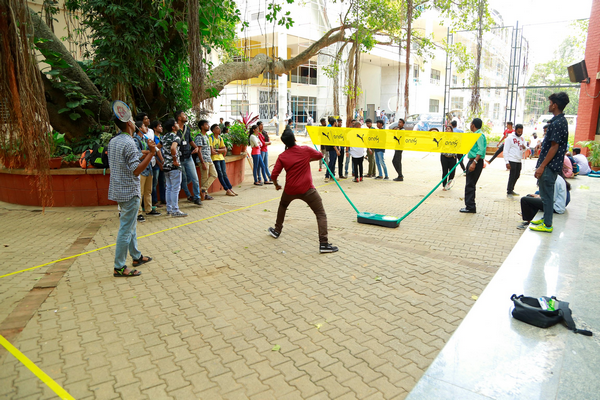 About PUMA:
PUMA is one of the world's leading Sports Brands, designing, developing, selling and marketing footwear, apparel and accessories. For over 65 years, PUMA has established a history of making fast product designs for the fastest athletes on the planet. PUMA offers performance and sport-inspired lifestyle products in categories such as Football, Running and Training, Golf, and Motorsports. It engages in exciting collaborations with renowned design brands to bring innovative and fast designs to the sports world. The PUMA Group owns the brands PUMA, Cobra Golf and Dobotex. The company distributes its products in more than 120 countries, employs more than 11,000 people worldwide, and is headquartered in Herzogenaurach/Germany. For more information, please visit http://www.puma.com
1