Remembrance Sunday is a special day set aside to remember the sacrifices made by all those who laid down their lives for peace and freedom in two World Wars and other subsequent conflicts. At one time, the day was known as 'Armistice Day', but was renamed 'Remembrance Sunday' after World War II.
The British Deputy High Commission Kolkata organised the Remembrance Sunday Commemoration at the Cenotaph, Maidan today, to pay tribute to all those who laid down their lives in the World Wars.
A two-minute silence was held to remember the people who have died in all wars. In Britain, you can see poppies being worn or used as a symbol of Remembrance Sunday. They were adopted as the symbol of Remembrance because they grew on the battlefields in Flanders during the First World War.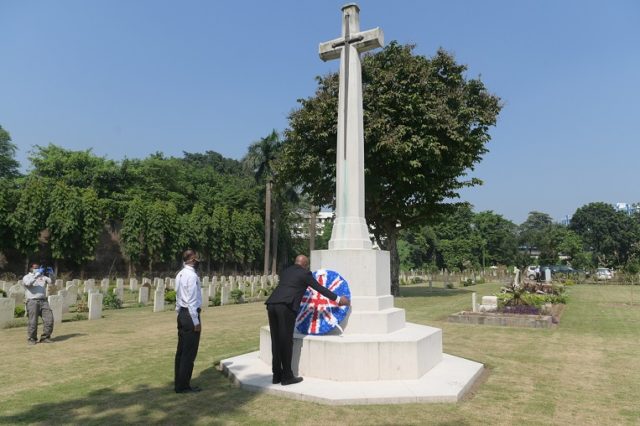 On this occasion, Mr. Nick Low, British Deputy High Commissioner to Kolkata who is currently in the UK said: "On Remembrance Day we remember those who gave their lives in conflict that we might have a better tomorrow. In Kolkata, as in countless other cities and towns across Britain and India, we come together to honour them and we commit to building that better tomorrow."
Mr. Yemi Odanye, British Deputy Head of Mission to Kolkata said: "Today, we remember those brave men and women who volunteered, fought and died in wars so that we have freedom and a better future.  In Britain and India, we come together to salute and honour them. They shall never be forgotten."
Senior representatives from the Government of West Bengal, the Indian Armed Forces, Air Force, Navy, West Bengal/Kolkata Police, Foreign Consulates in Kolkata, Ex-Services Associations, Consular Corps, War Graves Commission, and members of the public attended the programme today.
Mr. Odanye also laid a wreath at the Commonwealth War Graves Cemetery (Bhowanipore), straight after the Remembrance Sunday Programme at the Cenotaph, Maidan.
1