Users can now broadcast from their GoPro HERO 4 directly to Periscope for iPhone
The integration aims to enable users to create the most compelling content, and will enable GoPro users and Periscope broadcasters to expand their reach to their Twitter fanbase
27th January 2016: Popular micro-blogging platform, Twitter's live broadcasting tool, Periscope has integrated with GoPro to enhance the live broadcasting experience. The integration aims to enhance the creativity, passion and drive of the broadcaster community.
The integration is currently live for iOS users with the GoPro Hero 4 Black and Hero 4 Silver, which allows Periscope to recognize a GoPro whenever one is connected to an iPhone, but users will be able to view GoPro broadcasts from any platform.
Once connected, the Periscope applications gives users the option of broadcasting from the GoPro camera. (Refer to image below)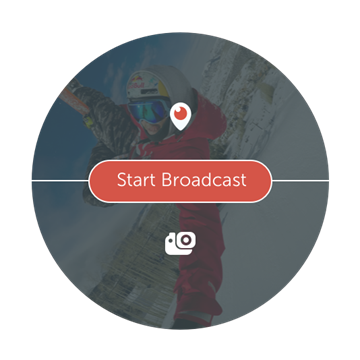 The integration is indeed a winning combination with Periscope's aim always being to enable people to view the unedited and unfiltered version of the latest happenings in the world in real-time. The integration enables Periscope users to toggle between broadcasting from their iPhone to their GoPro directly from their phone screens, while continuing to see the on-screen chat on their phones.
"GoPro enables people to capture and share their experiences in the most immersive way possible, and the integration with Periscope provides GoPro users with a great, real-time platform to share their content,"  said Tony Bates, President of GoPro.
The integration is a win-win situation for action sports enthusiasts who can save their full length video and edit content afterwards plus take advantage of GoPro to record full-quality video locally with the GoPro SD card even while broadcasting through Periscope. The Periscope UI will offer a new lock screen switch that allows users to freeze their iPhone screen while broadcasting, enabling users to continue from a GoPro with their iPhone in their pocket.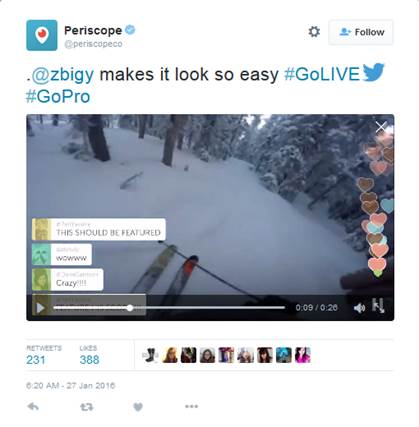 Embeddable Tweet: https://twitter.com/periscopeco/status/692147745235214336
Periscope attracted over 10 million users from the time it was launched till August 2015. The connection of Periscope and GoPro promised to give users creative new ways to share their videos and experiences. Live broadcasts from GoPro can now be shared directly to Twitter's home timeline, enabling GoPro users and Periscope broadcasters to expand their reach to their Twitter fanbase. This helps broadcasters cultivate new fans and interact with their audience, right from their broadcasts in their home timeline, even after the live broadcast is done.
Periscope Stats for Reference:
There are over 10 million Periscope accounts (August 2015)
There are 40 years of video watched per day on Periscope (August 2015)-
More than 1 million people joined Periscope in the first 10 days after the official launch March 26, 2015 (April 2015)
Periscope users have created more than 100 million live broadcasts (January 2016)
There have been days where there are over 10 thousand broadcasts live at the same time (January 2016)
Periscope Accounts To Follow:
Get an inside look at the X Games and experience compelling content that highlights
the Periscope GoPro integration by following these Periscope accounts:
@MitchOates
@DanMoore
@CatherineAeppel
@Loki_the_WolfDog
For more information, please follow @PeriscopeCo
Read @PeriscopeCo's blog here: https://medium.com/@periscope/golive-gopro-50b050f5ce85#.bgj6rdlse
1