"India and Iran share a relationship which is age-old backed by strong cultural, social and economic ties. I am here as the Member of Parliament to support this strong bondage, to give a boost to the private sector and support foreign investments to Iran. Development and growth are the basis for this relationship. India has all along followed the path of development and Iran has always embraced development and so India-Iran ties have gone to the root of development for better ties which is important", said H.E. Mr. Hadi Ghavami, Member of Parliament, The Islamic Republic of Iran, during an interactive meeting jointly organized by MVIRDC World Trade Centre and All India Association of Industries along with Consulate General of the Islamic Republic of Iran (Mumbai).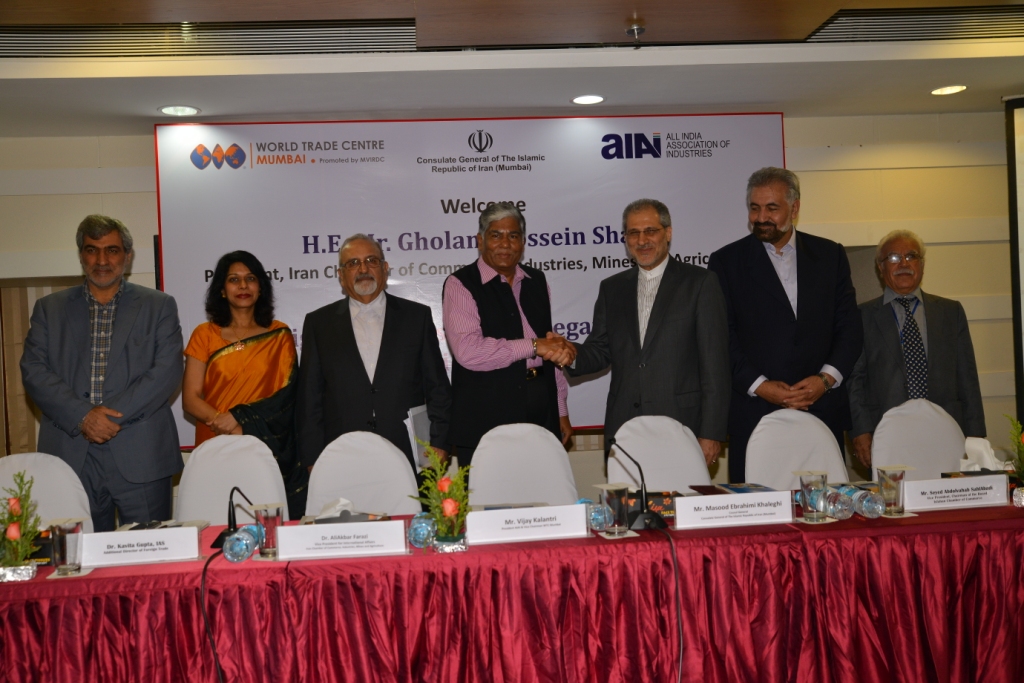 Further elaborating on India-Iran ties, H.E. Ghavami said that both countries have encouraged entrepreneurship and the private sector giving a thrust to development. He said that Iran had laid the foundation for good connectivity by developing its infrastructure, citing the example of a new railway route and further developing existing routes to create a strong north-south corridor. Besides rail networks, entrepreneurs, industrialists, pioneers of industry and the setting up of factories near markets have all gone into creating the right environment for increasing the trade ties. The Government of Iran has provided all support for local businesses to reach out to global markets. Infrastructure development has come about due to demography increases, geographical expansion and abundant natural resources. This will lead to reduction in unemployment, paving the way for joint collaborations. Foreign pressures through sanctions have played its role in providing a window of opportunity for both countries thereby enhancing trade ties. He stressed on positive vibes and interactions between India and Iran would only further trade.
Dr. Ali Akbar Farazi, Vice President for International Affairs, Iran Chamber of Commerce, Industries, Mines and Agriculture in his address, stressed that although India-Iran have friendly relations, much needed to be done in increasing trade values between the countries. He was of the opinion that the private sector needs to do much more. The coming together of various Iran-India chambers of commerce, city representatives, private sector organizations in the fields of chemical and tourism through the business-to-business meetings organized would give a major thrust to the private sector. There is ample scope to increase trade. There are several other business opportunities that need to be seized,he added.
While presenting an overview of Iran Dr. Farazi said that Iran is a resource and labour rich country with 40 industries listed on the Tehran Stock Exchange. Worldwide, the country is ranked 4th largest oil producer, 2nd highest gas reserves, 10th rank in tourism, 5th rank in ecotourism, 4th and 10 ranked in zinc and cobalt respectively and 4th in diversity of agriculture products. Iran has tremendous opportunities for growth in areas of petroleum, fertilizers, textiles, cement, construction, materials, vegetable oil products and tourism. Iran is a part of the Silk Route and is the gateway hub to Central Asia. It has 6 free trade industrial zones and 19 special economic zones. Some of the important business areas are the Kish, Qeslum and the strategically located Chabahar region. The latter being a transit of South East Asia to Commonwealth of Independent States (CIS|), Afghanistan, Turkey and Iraq, besides having good access to land roads and possessing good infrastructure.
Dr. Kavita Gupta, Additional Director General, Directorate General of Foreign Trade in her address said that the meeting comprised an important gathering and a focused group of people who were keen to forge collaborations. She stressed on the similarities of the countries. Both countries have comparative trade advantages, great potential and a special bonding. India and Iran use the rupee payment mechanism through UCO Bank's Nostro account which is an easy payment mode. However she added that although there exists tremendous potential, India has not been able to maximize it. She enumerated that while India is strong in sectors such as textile, pharmaceuticals, engineering, agriculture, while Iran is strong in services and infrastructure. She stressed that India had taken on several measures in the ease of doing business through the 'Make in India' campaign thereby providing an excellent business environment. She proposed a doubling of trade with Iran while hoping that Mr. Khaleghi, Consul General of Iran would quadruple the figure.
Mr. Masood Ebrahimi Khaleghi, Consul General, Consulate General of the Islamic Republic of Iran (Mumbai) was forthcoming and offered to assist in increasing trade and business between India and Iran. He stressed on having meaningful business. He was concerned over the volumes of trade being inadequate. He recommended on having a fresh look at each other's trade potential, citing that capacities have increased.
Earlier, in the welcome address Mr. Vijay Kalantri, Vice Chairman, MVIRDC World Trade Centre and President, All India Association of Industries said the bilateral trade between India and Iran currently stands at around US$ 15 million which has potential to escalate to US$ 20-30 million. This figure comprises direct and indirect trade. Direct trade was not much. There is immense opportunity in the areas of pharmaceuticals, textile, agriculture and genetic medicines however our manufacturing needs to be improved. He was hopeful that the natural gas pipeline from India to Iran comes through in the next couple of years which would reduce the energy costs for India. He stressed that Iran should invest in India in several areas stressing on the Hon'ble Prime Minister Mr. Modi's Make in India' campaign, providing ample scope for opportunities for doing business in India and deepening trade ties between the countries.
Thereafter, Memorandum of Understanding was signed between MVIRDC World Trade Centre with Iran Chamber of Commerce, Industries, Mines and Agriculture, and All India Association of Industries with Iran Chamber of Commerce, Industries, Mines and Agriculture, and MVIRDC World Trade Centre and Isfahan Chamber of Commerce and All India Association of Industries with Iran Chamber of Commerce, Industries, Mines and Agriculture and Isfahan Chamber of Commerce.
Capt.  Somesh Batra, Vice Chairman, MVIRDC World Trade Centre proposed the vote of thanks.
The event concluded with 100 Business-to-Business meetings among Indian and Iran delegates present from sectors of food related industries, cosmetics, metal engineering, machine manufacturing, mining, aviation, furniture and chemicals.