New Delhi, October 2016: Striving to provide young students the skills & tools they need to become the Innovators and Entrepreneurs of tomorrow, EdgeMakers, a San Francisco headquartered company, organized a panel discussion in the Capital recently. The event brought together the Principals of leading schools and eminent political leaders, who discussed path-breaking ideas to promote creativity, out of the box thinking, research and innovation in the Indian education system. The event was held in the city's popular convention centre India Habitat Centre on Saturday, 22nd October 2016.
The group of Panelists included School Principals, a corporate leader and a Member of Parliament who shared their views on 'Transforming our Education System to create cutting edge Innovators and Entrepreneurs. They analyzed the challenges in the education system and suggested sustainable changes to reform the same. It was also agreed that it is the collective responsibility of school leaders, teachers and parents to constantly innovate so that every child can be provided education as per his or her unique learning need. Parents should encourage their kids to acquire different skills along with core academics. It was also emphasized that students should be exposed to real world start-ups and entrepreneurs so that they can get inspired to create impact in society even while they are in school.
Mr. Ramit Bhatnagar, CEO- India, EdgeMakers, said: "Prime Minister Modi launched the Start Up India Stand Up India initiative to make India the entrepreneurship hub of the world. To achieve this goal it is important to shape the mindset of students at a young age. The EdgeMakers learning system empowers students with the critical skills& tools they need to become the entrepreneurs of tomorrow. We are grateful to schools and parents who have supported our vision by adopting the EdgeMakers learning system. With this panel discussion, we gained insights on the challenges in our education system and how different stakeholders can contribute to make the system relevant in a rapidly changing world."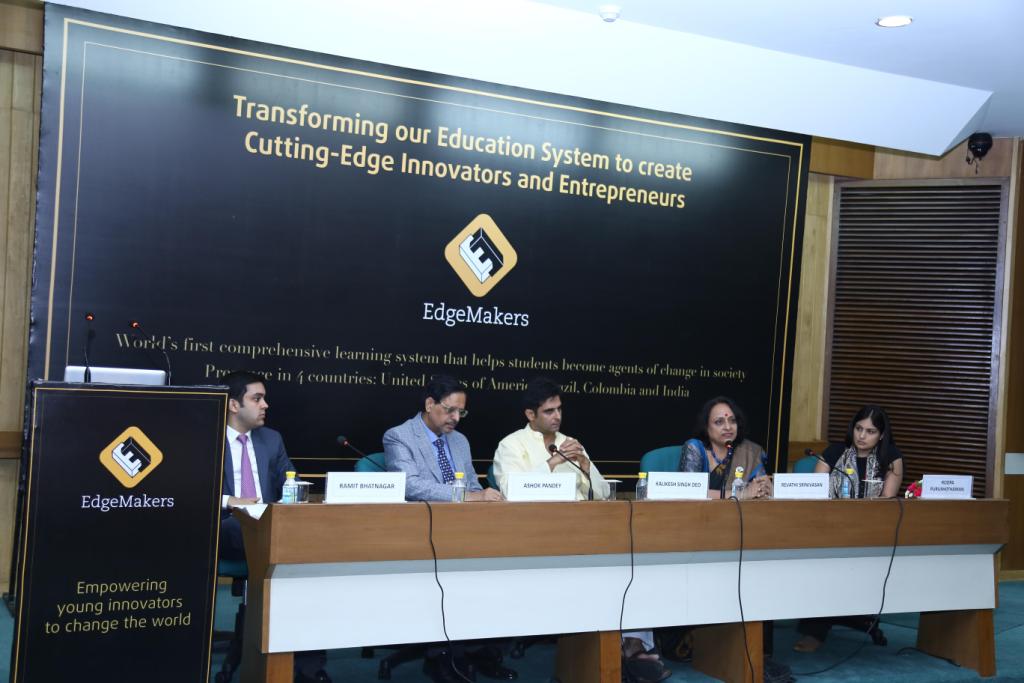 About EdgeMakers
EdgeMakers is a San Francisco headquartered company backed by Venture Capitalists. EdgeMakers has developed the world's first comprehensive learning system for Innovation and the related discipline of Entrepreneurship that is implemented at leading schools across the world. The EdgeMakers learning system empowers young students with the tools, skills and knowledge they need to become Innovators, Entrepreneurs and Leaders. The EdgeMakers learning system has been implemented in schools across 4 countries (United States of America, Brazil, Colombia and India).
The Founder of EdgeMakers, John Kao, was a Professor at Harvard Business School. He is a bestselling author of Jamming: The Art and Discipline of Business Creativity and Innovation Nation: How America is Losing Its Innovation Edge, Why it Matters, and What We Can Do to Get it Back.
Ramit Bhatnagar is the Country Head – India. He was previously a Management Consultant at McKinsey & Company.
Website: www.edgemakers.com
1