Debt and public market financing decline; residential/commercial funds surge; solar securitization deals cross $1 billion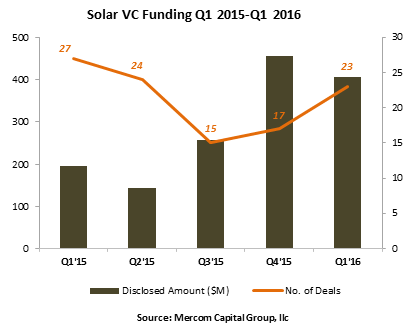 KOLKATA – April 11, 2016 – Mercom Capital Group, llc, a global clean energy communications and consulting firm, released its report on funding and merger and acquisition (M&A) activity for the solar sector in the first quarter of 2016.
Total corporate funding, including venture capital funding, public market and debt financing, into the solar sector in Q1 2016 dropped to $2.8 billion compared to $6.9 billion in Q4 2015, a decline of about 59 percent quarter-over-quarter (QoQ). Year-over-year, total corporate funding was down compared to $6.4 billion in 64 deals in Q1 2015.
"It's a tough environment out there," said Raj Prabhu, CEO of Mercom Capital Group. "Solar public companies in general have had a difficult time raising capital at depressed market valuations. Yieldcos, which accounted for significant financial activity in the debt and public markets last year, have faded this quarter. On the bright side, VC funding held up well, securitization deal activity picked up and residential/commercial funds raised a billion dollars in Q1."
Global VC funding for the solar sector came in at $406 million in 23 deals compared to $457 million raised in 17 deals in Q4 2015. Year-over-year, VC funding was up compared to Q1 2015 when $195 million went into 27 deals.
Most of the funding in the first quarter of this year went to solar downstream companies with $333 million in eight deals. The $300 million raise by Sunnova Energy accounted for most of the total.
The next largest deal was TenKsolar with a $25 million raise. PosiGen raised $20 million and Mercatus brought in $11.7 million. Completing the Top 5 was NexWafe (a spinoff of Fraunhofer) which raised $6.7 million. A total of 20 VC investors participated in Q1 2016.
Public market financing activity fell of the cliff in the first quarter this year with only $94 million raised in four deals compared to $605 million in eight deals last quarter and $1.3 billion in 10 deals in Q1 2015. There were no IPOs this quarter, compared to three in Q4 2015.
Announced debt financing also fell sharply this quarter with just over $2.3 billion in 19 deals. By comparison, in Q4 2015, $5.8 billion was raised in 27 deals and Q1 2015, $4.9 billion was raised in 25 deals.
Securitization deals continued to gain momentum, with $387 million in three deals in the first quarter of 2016 alone. Securitization deals in solar have now surpassed $1 billion globally.
The Top 5 large-scale project funding deals included the $250 million secured by ReNew Power Ventures for 400 MW of new solar projects across India. Recurrent Energy raised $180 million for the 75 MW Astoria 2 solar power project located in Kern County, California. Samsung Renewable Energy and Connor, Clark & Lunn Infrastructure secured $136 million for their 50 MW Southgate solar project located in Ontario, Canada. The Marguerite Fund brought in $120 million to fund its 36 MW Toul project in Lorraine, France. Rounding out the Top 5, SunPower secured a $115.5 million loan for its 54 MW Rosamond I solar project located in Kern County, California.
Funding continued to pour into residential and commercial solar funds for lease/PPAs, with $1 billion in six deals announced in Q1 2016 compared to the $650 million in three deals in Q4 2015. Since 2009, approximately $18 billion has gone into residential and commercial funds.
There were 14 solar M&A transactions this quarter compared to 13 transactions in Q4 2015. Nine of the M&A transactions in Q1 2016 involved solar downstream companies.
Project acquisition activity held steady this quarter with 50 transactions; about 2.4 GW of solar projects were acquired this quarter. In comparison, there were 52 transactions in Q4 2015, with roughly 3.3 GW of solar projects acquired, and 44 transactions totaling 2 GW in Q1 2015. Project acquisitions by yieldcos dropped to 234 MW in Q1 compared to 483 MW last quarter.
This quarter's largest project acquisition by dollar amount was the $227 million acquisition of the 132 MW Alamo 7 solar project in Texas by ConEdison Development, from OCI (a Korean chemical company). Bluefield Solar Income Fund acquired a portfolio of six solar PV projects totaling 104.5 MW for $189 million from Primrose Solar Management. Kong Sun Holdings made six project acquisitions this quarter. The largest of these was the $136 million acquisition of Dingbian Ang'Li Photovoltaic Technology for its 100 MW solar project located in Shaanxi Province, China. Masdar acquired Shams-1, a 100 MW solar thermal project in Abu Dhabi, from Abengoa for $110 million. BCPG Company (a subsidiary of Bangchak Petroleum) acquired SunEdison's portfolio of Japanese solar assets totaling 198 MW for $81 million.
Mercom tracked 308 new large-scale project announcements worldwide in Q1 2016 totaling 13.8 GW.
To learn more about the report, visit: http://bit.ly/MercomSolarQ12016
About Mercom Capital Group
Mercom Capital Group, llc, is a global communications and consulting firm focused exclusively on clean energy and financial communications. Mercom's consulting division advises cleantech companies on new market entry, custom market intelligence and overall strategic decision making. Mercom's consulting division also delivers highly respected industry market intelligence reports covering Solar Energy and Smart Grid. Our reports provide timely industry happenings and ahead-of-the-curve analysis specifically for C-level decision making. Mercom's communications division helps clean energy companies and financial institutions build powerful relationships with media, analysts, government decision makers, local communities and strategic partners. For more information about Mercom Capital Group, visit: http://www.mercomcapital.com. To get a copy of Mercom's popular market intelligence reports, visit: http://mercomcapital.com/market_intelligence.php.
Notable Indian Transactions in Q1 2016:
VC Funding:
Zolt Energy, a solar rooftop installer, raised an undisclosed seed funding from seven angel investors.
Project Funding:
ReNew Power Ventures, an independent power producer, debt financing of up to $250 million fromm Overseas Private Investment Corporation (OPIC) to construct up to 400 MW of new solar power projects in India across multiple states.
Brightsolar Renewable Energy, a Special Purpose Vehicle setup by Mahindra Susten to develop a 10 MW solar project based on crystalline PV technology, located in Anantpur District, Andhra Pradesh, raised a $9.6 million loan from Yes Bank and Union Bank of India.
P2 Solar, a solar project developer, received equity financing from a London-based fund for its 5 MW solar PV project. The equity amount was undisclosed.