Residential/commercial funds bring in $1.36 billion in Q2 2016, debt and public market financing slump continues
KOLKATA – July 11, 2016 – Mercom Capital Group, llc, a global clean energy communications and consulting firm, released its report on funding and merger and acquisition (M&A) activity for the solar sector in the second quarter of 2016.
Total corporate funding, including venture capital funding, public market and debt financing into the solar sector in Q2 2016 fell to $1.7 billion this quarter, a 41 percent drop compared to the $2.8 billion raised in Q1 2016. Year-over-year total corporate funding was down significantly compared to $5.9 billion in the second quarter of last year.
"The solar industry continues to experience weakness in terms of financing activity, and corporate funding in Q2 2016 was at its lowest level in three years," said Raj Prabhu, CEO and Co-Founder of Mercom Capital Group.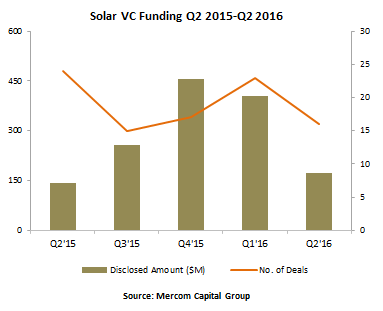 Global solar VC funding (including private equity) saw a large decline this quarter with $174 million in 16 deals compared to $406 million in 23 deals in Q1 2016. Year-over-year (YoY) VC numbers were slightly better compared to Q2 2015 with $142 million in 24 deals.
Solar downstream companies raised the most (64 percent) VC funding in Q2 2016 with $112 million in seven deals. A large part of the total came from the $100 million raised by Silicon Ranch from private equity firm Partners Group.
Other VC deals this quarter included the $20 million raised by Tigo Energy, 1366 Technologies' $15 million raise, and the $12.5 million raised by Sol Voltaics. A total of 21 VC investors participated in funding deals.
Solar public market financing in Q2 2016 came to $179 million in four deals compared to $94 million in four deals in the first quarter of 2016 and $2.3 billion in 12 deals in Q2 2015.
Announced debt financing came to $1.3 billion in 12 deals in Q2 2016 compared to $2.3 billion raised in 19 deals in Q1 2016 and $3.4 billion in 14 deals in Q2 2015.
The top large-scale project funding deal in Q2 2016 was the $588 million secured by Engie for its 100 MW Kathu CSP solar project located in Northern Cape Province of South Africa. Connor, Clark & Lunn Infrastructure, Samsung Renewable Energy and Six Nations of the Grand River Development secured $482 million for their 100 MW Grand Renewable solar project. DE Shaw Renewables received a $226 million syndicated loan for its 100 MW North Star solar project. Suzhou GCL New Energy secured a loan of $200 million for the construction of Hubei Jiangling Sanhu solar project and Hefei Changfeng Mingcheng Reservoir solar projects (60 MW). Mytrah secured a $175 million loan for the development of a portfolio of solar and wind projects in the company's pipeline. 
It was a good quarter for residential and commercial solar funds, led by SolarCity, Mosaic, and Sunnova Energy, with $1.36 billion in 11 deals in Q2 2016, a 36 percent increase over the $1 billion raised in six deals in Q1 2016. Of the $1.36 billion announced in Q2 2016, $800 million went towards the lease model and $555 million went to loan funds. Since 2009, almost $20 billion has gone into residential/commercial solar funds.
There were 17 solar M&A transactions in the second quarter of 2016 compared to 14 in Q1 2016. Almost half of the M&A transactions involved solar downstream companies with eight deals, which was followed by BOS companies with five.
Sungevity announced a merger with Easterly Acquisition Corp, a blank check company traded on Nasdaq in a deal valued at $357 million.
There were 38 large-scale solar project acquisitions (13 disclosed for $1.9 billion) in Q2 2016, compared to Q1 2016 with 50 transactions (22 disclosed for $1.2 billion). More than 2 GW of solar projects were acquired in the second quarter compared to the 2.4 GW in the previous quarter.
The largest disclosed project acquisition by dollar amount in Q2 2016 was the $1.4 billion acquisition of 1,140 MW (solar 994 MW and wind 146 MW) renewable energy project pipeline of Welspun Renewables Energy by Tata Power Renewable Energy, a Tata Power subsidiary. NextEnergy Solar Fund, a UK-based investment fund, acquired a portfolio of five solar projects totaling 84.3 MW for $140 million. United PV (Changzhou) Investment, a wholly owned subsidiary of United Photovoltaics Group, acquired a 99 percent equity interest in Guodian Wulateqianqi Photovoltaics Power from Forty-eighth Research Institute of China Electronics Technology Group for $75 million, which gave them a 50 MW solar project located in Inner Mongolia. 8point3 Energy Partners, a yieldco formed by First Solar and SunPower acquired an interest in the 40 MW Kingbird solar project located in Kern County, California, from First Solar, for $60 million. Sky Capital America, a wholly owned U.S. subsidiary of Sky Solar, acquired 22 operating solar projects in California and one operating solar project in Massachusetts for a combined 22 MW from Greenleaf-TNX and SunPeak Universal Holdings for $57 million.
Mercom also tracked 196 new large-scale project announcements worldwide in Q2 2016 totaling 11.3 GW.
To learn more about the report, visit: http://bit.ly/MercomSolarQ22016
About Mercom Capital Group
Mercom Capital Group, is a global communications and consulting firm focused exclusively on clean energy and financial communications. Mercom's consulting division advises cleantech companies on new market entry, custom market intelligence and overall strategic decision making. Mercom's consulting division also delivers highly respected industry market intelligence reports covering Solar Energy and Smart Grid. Our reports provide timely industry happenings and ahead-of-the-curve analysis specifically for C-level decision making. Mercom's communications division helps clean energy companies and financial institutions build powerful relationships with media, analysts, government decision makers, local communities and strategic partners. For more information about Mercom Capital Group, visit: http://www.mercomcapital.com. To get a copy of Mercom's popular market intelligence reports, visit: http://mercomcapital.com/market_intelligence.php.
Notable Indian Transactions in Q2 2016:
VC Funding:
SolarTown Energy Solutions, a company specializing in the sale, lease and installation of solar rooftop systems for residential, commercial and industrial customers, raised early-stage funding from GREX.
Debt Funding:
Tata Power Renewable Energy (TPREL), a wholly owned renewable energy subsidiary of Tata Power, raised ~$86 million through the issuance of guaranteed, unsecured, noncumulative, redeemable, taxable, listed, rated, non-convertible debentures (NCDs) on a private placement basis.
Project Funding:
Mytrah, an Indian renewable independent power producer, secured a $175 million loan from the Asian Development Bank (ADB) to help fund the development of a portfolio of solar and wind projects from the company's pipeline.
Project M&A:
Tata Power Renewable Energy (TPREL), a Tata Power subsidiary and a renewable energy project developer, acquired Welspun Renewables Energy's (WREPL) 1,140 MW renewable energy project pipeline for ~$1.38 billion.
CLP India, a subsidiary of Hong Kong based CLP Group, bought a 49 percent stake in Suzlon Energy's 100 MW solar project in Veltoor, Telangana, with an option of acquiring the 51 percent stake balance in the future.
Amplus Energy Solutions (Amplus Solar), an Indian solar installer and a portfolio company of I Squared Capital, acquired SunEdison's 7 MW rooftop solar project portfolio in India. The projects are spread across the states of Maharashtra, Karnataka, Tamil Nadu and Delhi.
Large-scale Project Announcements:
Of the196 new large-scale project announcements that Mercom tracked worldwide in Q2 2016 totalling 11.3 GW, 56 were announced in India for about 3.2 GW.