14 May 2016. Gurgaon. Medanta – The Medicity, in collaboration with the Association of Radiation Oncologists of India (AROI) hosted the Best of ASTRO India conference. The conference is considered to be the gold standard in the professional education and research in the field of radiation oncology internationally. The conference was attended by the leading Radiation Oncologists1 from around the world and offered a platform to empower them with latest developments in the field for the benefit of the general public.
Dr. Naresh Trehan, Chairman and Managing Director, Medanta – The Medicity inaugurated the conference and in his address spoke about the role of radiation oncology in cancer treatment. Dr. Trehan said, "It is our endeavor to provide the finest medical care in India, and we therefore strive to propagate the advances in medical care, research and training among the medical fraternity. Treatment of cancer is being made more effective by doctors with super-specialties and advances in equipment, 'Best of ASTRO' serves as a platform for knowledge sharing in Radiation Oncology leading to delivery of the best treatment for cancer and also empowering of the patient in defeating cancer."
Talking about the conference Dr. Tejinder Kataria, Chairperson, Medanta Division of Radiation Oncology and Organizing Secretary of Best of ASTRO India added that "The conference was a great success this year. It provided a great opportunity for those who could not attend ASTRO 2015 to review all the important presentations covering the major sites and take back the frontiers of science to their clinics."
While launching Tomotherapy in Medanta, Dr. Trehan underlined the relevance of radiation therapy in Cancer treatment. He added, "Radiation Oncology complements surgery and medication in delivering effective cancer treatment and cure. Recognizing that Tomotherapy offers a whole new, revolutionary treatment modality, Medanta has invested significantly and introduced it to India." Dr. Tejinder Kataria added – "Tomotherapy is the new hope for cancer patients especially leukaemias, lymphomas, carcinoma breast, carcinoma esophagus, prostrate and peadiatric tumors"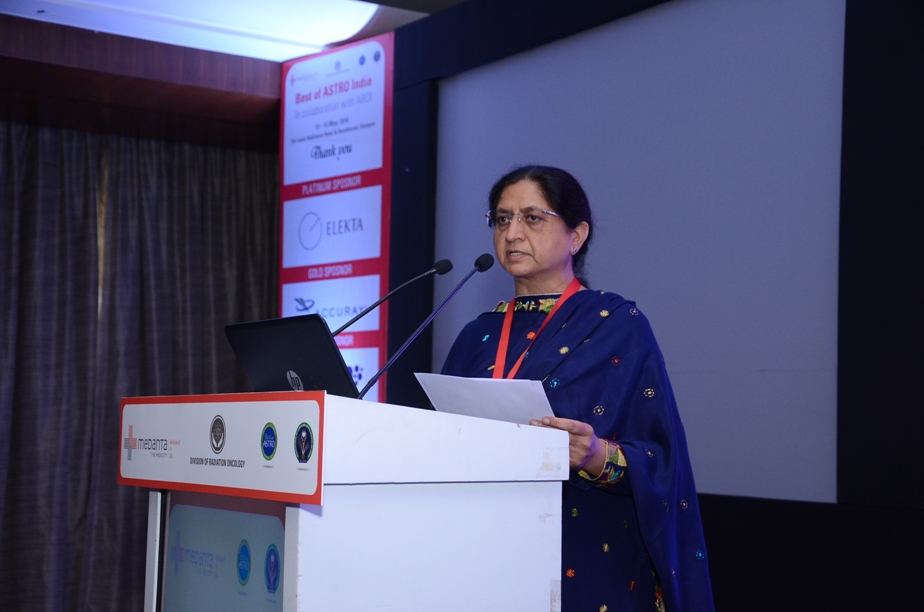 About ASTRO
ASTRO is the premier radiation oncology society in the world, with more than 10,500 members who are physicians, nurses, biologist, physicists, radiation therapists, dosimetrists and other health care professionals who specialize in treating patients with radiation therapies. These medical professionals, found at hospitals, cancer treatment centers and academic research facilities around the globe, make up the radiation therapy treatment teams that are critical in the fight against cancer. Together, these teams, treat more than 1 million cancer patients each year. As the leading organization in radiation oncology, the Society is dedicated to improving patient care through professional education and training, support for clinical practice and health policy standards, advancement of science and research and advocacy.
ASTRO provides members with the continuing medical education, health policy analysis, patient information resources and advocacy that they need to succeed in today's ever-changing health care delivery system.
About Medanta – The Medicity
 Medanta – The Medicity is one of India's largest multi-super specialty institutes located in Gurgaon, in the National Capital Region. Founded by eminent cardiac surgeon, Dr. Naresh Trehan, the institution has been envisioned with the aim of bringing to India the highest standards of medical care along with clinical research, education and training. Medanta is governed under the guiding principles of providing medical services to patients with care, compassion, commitment. 
Spread across 43 acres, the institute includes a research center, medical and nursing school. It has 1250 beds and over 350 critical care beds with 45 operation theatres catering to over 20 specialties. Medanta brings together an outstanding pool of doctors, scientists and clinical researchers to foster collaborative, multidisciplinary investigation, inspiring new ideas and discoveries; and translating scientific advances more swiftly into new ways of diagnosing and treating patients and preventing diseases. A one-of-its-kind facility across the world, Medanta through its research integrates modern and traditional forms of medicine to provide accessible and affordable healthcare. 
1