This year, Viacom 18 and Star Networks swept the awards with Viacom 18 winning 29 trophies and Star winning 28
National,​30th May​ 2018: The 22nd Promax India BDA Awards held today at Taj Santacruz, Mumbai, captivated the audience with a formidable line-up of innovators and trailblazers who've redefined the creative space across industries and platforms. Leading the pack was Keynote Speaker Tim Horwood whose masterclass on the changing creative space in South Africa enthralled speakers and participants alike.
Speaking about the enormous success of the event, Rajika Mittra, Country Head, India, Hong Kong and Philippines, said, "we realize that storytelling is evolving and creativity has to be platform agnostic. That's the reason, we brought in eminent personalities from across the globe who can share their dynamic experience across multiple platforms with this eclectic group. The idea was to take the game higher and challenge the Indian creative industry even more."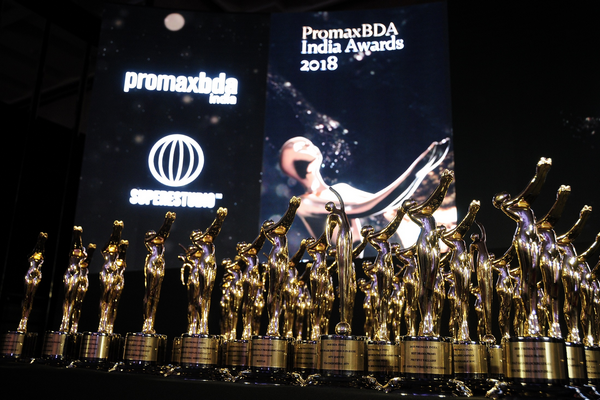 Therefore, Promax BDA introduced three new categories-MOST OUTSTANDING MARKETING INITIATIVE (in house and out of house) and MOST OUTSTANDING DESIGN IN PROMOTION where the best of the best competes to win a Gold trophy. There is no second-best team here. You either win a Gold or nothing at all. This year, these prestigious awards were taken home by Star India, Zee and Star Movies.
Prasoon Joshi, Conference Chair, Promax BDA, 2018 looking at the award-winning categories said, "It's amazing how year after year, TV networks and creative agencies are tapping into the Indian cultural kaleidoscope and coming up with ideas that are fresh, cutting-edge and shareworthy on all platforms. Promax is a unique forum that understands this changing dynamic and encourages them to push the envelope every year."
There were many exciting firsts for the Promax BDA India awards this year. New categories that included Best VOD Service Promo, Best use of digital and Best direction. Further, a successful boot camp with three creative musketeers- Rob Middleton, Arnab Chaudhri and Pete Bishop – who super-charged the atmosphere with [V] machine, a hand- on creative drill that covered everything to create award-winning promos for a 360 audience.
This year, The Promax BDA Awards gave away 60 GOLDS, 57 SILVERS.
The eminent speakers present at the event were:
l Tim Horwood – Executive Creative Director, Mashoba Media Africa
l Glenn Urquhart – Creative, Swiss Army Knife
l Harry Ead – Associative Creative Director,DixonBaxi
l Bex Schwartz – Executive Creative director/Director, Cause+Effect
l Puja Vohra – Executive Vice President of Marketing and Digital, truTV
l Sheetal Sudhir – Creative Director/Co-Founder, Dynamite
l Stefan Mueller – Executive Creative Proudcer & Consultant, Flint Skallen
l Pete Bishop – Director, The Shop
l Rob Middleton – VP – Network Presentation Content Group, Astro
l Arnab Chaudhari – Director, Banabo