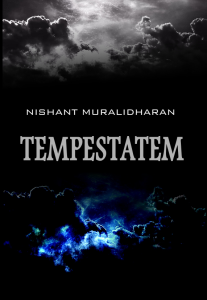 The young Author Nishant his so excited seeing his book "Tempestatem" moving so fast from Amazon & Flipkart.
When asked was it always he wants to be a writer? He says it is not, as if I just woke up one day and decided to do this. I had many dreams growing up, and I think those dreams helped me in whatever way to become a writer. What really counts is that I tried and I think people appreciate that trait. Now that I see much interest for Tempestatem within few months of its launch, I feel overwhelmed.
The young author wants to plan the prequel to Tempestatem. There is lots of history, way beyond the timeline released. One could call it an origin story of sorts. I will definitely come with a prequel to "Tempestatem"
He agrees that he was so excited to hold his first copy in his hand. "It's hard to put into words. You see it every day, but when it is all done and dusted, it gives you a sense of accomplishment. A couple of my friends asked me to sign their copies, and that made it even more real. After all, friends will always make you feel so special isn't?
Tempestatem is available on AMAZON – http://www.amazon.in/Tempestatem/dp/8182092590 and on FLIPKART – http://www.flipkart.com/tempestatem-nishant-muralidharan-english-paperback/p/itme3zde8nh5cam9 from four different buyers.
Synopsis of Tempestatem
Ordinary nineteen-year-old Gale C. Storm is forced to swap his world for another, a realm of power and mystery.
Despite its wondrous creatures of myth and some beyond human concepts of fantasy, for thousands of those less acknowledged, the pitiful holdings of their once great empire offered little opportunities. Now humiliated and angry, and resentful of their distant oppressors, these desperate soldiers gather together to live their lives as they see fit, establishing ideals of freedom under great leaders, which would carry on for generations to come.
Shades, they were named, and their life amidst this world of fantasy – a brutal one, filled with betrayal, mutiny, and cruelty. There are riches to be found here, in immense untamed jungles, blizzard ravaged mountains, and most importantly – mighty kingdoms.
For nearly seven months, Gale will experience a life of war and misfortune, backed by strong leaders and fierce warriors, judged only by their own morals in a society built for those they desire to protect.
Here at last are their true stories, open and unvarnished; this is the truth behind the world after death, and it comes to life in the Tempestatem.
About the Author: Nishant Muralidharan a former professional tennis player and a twenty year old writer is an admirer of the epic-fantasy genre. He is a student from Manipal Institute of Technology, Manipal University, studying his third year Electronics & Communications. He self published his first book "Lucifer" when he was barely 16, the book did well in the international market.