Suffering from Lyme disease herself, Olivia Goodreau develops TickTracker to help others avoid serious illness all over the world
Denver, Colorado, USA (July 9, 2018) — TickTracker, a free app originated by a 13-year-old American to help combat tick-transmitted infections and diseases by using a patent–pending algorithm to coordinate multiple tick-activity data sources into a simple and user-friendly map view, is now available worldwide. The plan is to continue developing the app into multiple languages so that everyone can have access in their native tongue. In addition to providing real-time and historic data on an interactive map using geolocation, users can report tick sightings and bites. The life-saving app also educates users about tick identification, prevention and safety through game-based learning.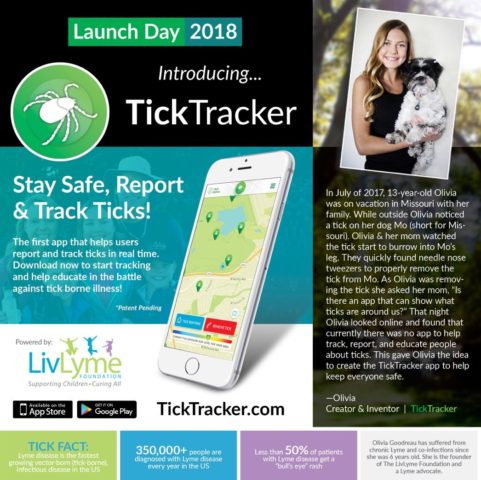 Available free at Google Play and Apple app stores, TickTracker was created by Denver resident Olivia Goodreau, founder of the LivLyme Foundation. Olivia contracted Lyme disease during a family vacation while in the first grade, but she was not diagnosed with the illness until years later after going through a battery of tests and seeing 51 doctors. This experience prompted her to devote countless hours to the cause by supporting research and organizing fundraising events through LivLyme. However, her greatest contribution to date may be the creation of the life-saving TickTracker app.
Olivia recognized the need for an app-based technology to help others track the small arachnids after realizing nothing existed when trying to determine where her dog may have picked up ticks last summer. Launched nationally in February, the free app was released globally in July and is now available in Spanish and French as well as English.
"My goal is for everyone to have access to this app, because people with Lyme know the medical difficulties we face and the need to find a cure," says Olivia. "This app helps call attention to tick locations, which could ultimately save lives."
Lyme is one of the fastest growing vector-borne diseases. Every year, more than 350,000 people contract the illness, while many of them never get a 'bullseye' rash or even know they were bitten. Lyme disease can be transmitted from mosquito bites, rodents, mother-to-child transmission, and many other ways.
"We knew there was a real need for this app to be global and not just available in the United States," says Holiday Goodreau, Olivia's mother and LivLyme Foundation president. "Just a few weeks ago a friend was sending me pictures all the way from Spain asking if the bugs in her photos were ticks, and we've recently helped supply information to an individual in Pakistan."
Users do not have to be scientists to utilize the app. Anyone noticing a tick can snap a picture, upload the details and the information goes into a large database, where it is synthesized for errors.
"We will have the largest collection of tick sightings and tick reports in the world to further efforts to eradicate tick-borne disease," said Jeff Stauffer, Chief Insect Information Officer of TickTracker. "We'll also have tick photos that we can share with Lyme labs and research facilities to help scientists better track tick populations and ultimately aid in their research for a cure to Lyme disease."
The LivLyme Foundation envisions a world without Lyme disease and supports the work of researchers and scientists who are dedicated to finding an effective treatment and a cure. LivLyme Foundation also provides education and funding to children and their families who are struggling with Lyme disease. The LivLyme Summit is slated for September 22-23. 2018 in Westminster, Colo., with many of the world's foremost authorities and researchers on tick-borne diseases slated to attend. For more information, visit www.livlymefoundation.org.
Lyme Disease is most often transmitted by tick bites and has been found in all 50 States and in more than 60 other countries. Public awareness of its symptoms and possible contraction is critical. The Centers for Disease Control and Prevention (CDC) has revised its estimates from 30,000 to over 300,000 people that are diagnosed with Lyme disease in the U.S. every year. This is 1.5 times greater than the number of women diagnosed annually with breast cancer, and seven times the number of people diagnosed with HIV/AIDS each year. Lyme disease affects people of all ages; however, the CDC notes that it is most common in children and older adults. Outdoor enthusiasts, park rangers and firefighters have a higher risk of contracting Lyme and other tick-borne diseases because of their greater exposure to ticks. For more information, visit http://livlymefoundation.org/resources/what-is-lyme-disease/