TBZ-The Original goes live from October 15, 2015
Mumbai, October 15, 2015: India's most trusted and well-known jewellery brand – TBZ The Original (Tribhovandas Bhimji Zaveri Limited) with a 150 years legacy, collaborates with Snapdeal to sell it's exquisite diamond jewellery range & gold coins. A wide variety of diamond studded rings, earrings, pendants and bracelets will be available and accessible to discerning buyers on various devices at the click of a button at affordable prices.
Mr. Shrikant Zaveri, Chairman and Managing Director, TBZ Ltd., said, "With digital and e-commerce wave sweeping India, our iconic brand TBZ-The Original ties up with e-commerce major Snapdeal to showcase its diamond jewellery range in a first-ever e-tailing initiative for the brand. With this partnership of two giants, Gen-Next can now access the latest and highly popular TBZ-The Original's diamond collections on their web-enabled devices anytime anywhere. TBZ-The Original offers convenience to its customers & to a whole new class of buyers going beyond its existing retail network. Our presence on Snapdeal will supplement the brand's retail presence and empower our customers to make self purchases and gift masterpieces of the iconic brand TBZ-The Original's diamond jewellery to their relatives, friends and associates."
Speaking about the exclusive partnership, Tony Navin, SVP, Partnerships & Strategic Initiatives, Snapdeal, said, "Jewelry is one of the fastest growing categories on Snapdeal. With the launch of Tribhovandas Bhimji Zaveri's exclusive collection on Snapdeal, we are excited to bring our customers a vast array of choices from a certified and reputed jewelry design brand and expand our designer jewelry and accessory portfolio. We are working closely with the TBZ team and with this partnership TBZ can now reach newer markets through Snapdeal's pan-India reach."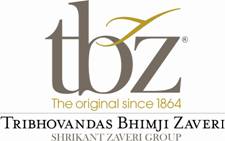 About Tribhovandas Bhimji Zaveri Limited:
Tribhovandas Bhimji Zaveri Limited is India's renowned and trusted jewellery retailer with a legacy of more than 150 years. The company began its journey in 1864 opening its flagship store in Zaveri Bazar, Mumbai. Over the years, the company has established itself as a preferred choice for customers in the wedding jewellery segment, recognised for exquisite gold and diamond jewellery designs. It has led from the front, in an otherwise largely unorganised Indian jewellery industry, displaying high quality and transparency standards over last 150 years, being the first jeweller to offer buyback guarantee on jewellery and to introduce 100% pre-hallmarked jewellery in India. The Company has transformed itself from a one store family owned business in 1864 to a professional organisation spearheaded by the 5th generation of the family, expanding its presence and reach across India with 28 stores currently operational with a retail space of around 93,000 sq ft spread across 22 cities in 10 states. The company envisions an ambitious plan to further expand its retail operations to 57 stores with a retail space of 1,50,000 sq ft spread across 43 cities in 14 states.
Awards won by TBZ Ltd.
TBZ Ltd. has won several prestigious awards including the Readers Digest Trusted Brand Asia in the category of Jewellery Shop in 2007. TBZ has received other awards for both products and customer service, including the DTC Best Showroom award in 2004 and 2006, the DTC Best Diamond Moments award in 2005 for customer interactions, the DTC Best Showroom and Sales Person award in 2006 and 2007, the Jaipur Jewellery Show Gold Souk Awards 2007, which honoured TBZ's contribution to the gem and jewellery industry in India, and the Jamnalal Bajaj Uchit Vyavahar Puraskar 2007 – Council for Fair Business Practices Award. Another prestigious win for TBZ-The Original came when it bagged 2 awards under the marketing excellence category along with being awarded as the 'Best Branded Traditional Jewellery of the Year 2012' Award from the Bombay Bullion Association at the 9th India International Gold Convention Hyderabad. TBZ-The Original was the only brand to win three awards in multiple Jewellers' Choice categories in the Jaipur Jewellery Show-Indian Jeweller Jewellers Choice Design Awards 2013 – 1. Designer Jewellery Under Rs. 5,00,000 and 2. Best Bridal Design between Rs. 10, 00,001-20, 00,000 and 3. Editor's Choice Award -Best Bridal over Rs. 20, 00,000.TBZ has been conferred with two awards at the Asia Retail Congress 2014 in the following categories – Retail marketing campaign of the year and Best use of social media in marketing. TBZ has won two awards in Retail Jeweller India Awards 2014 for the categories- Colored Gemstone jewellery of the year and 360 degree Marketing Campaign of the year. TBZ has also won two awards in the Jaipur Jewellery Show-Indian Jeweller Jewellers Choice Design Awards 2014 – 1. Diamond jewellery over Rs. 5, 00,000 and 2. Best Bracelet design over Rs. 5, 00,000. TBZ has crowned as Asia's Most Promising Brands in jewellery category -2014 by World Consulting & Research Corporation (WCRC) and honoured as Best Jewellery Company in Gem & Jewellery Trade Council of India (GJTCI) Excellence awards. Also TBZ has won awards "Best Gold Jewellery of the Year- in Vouge" category in 5th National Jewellery Awards 2015. Recently TBZ has won two awards in Retail Jeweller India Awards 2015 for the categories- Social media and 360 degree Marketing Campaign of the year .Mr. Shrikant Zaveri, Chairman & MD, TBZ Ltd., received the coveted prestigious MACCIA Award 2013 for Excellence in Entrepreneurship – Large Enterprise in Gems & Jewellery category award from Hon. Union Minister Mr. Sharad Pawar at a glittering function organized by the Maharashtra Chamber of Commerce, Industry & Agriculture (MACCIA).