~ Agostino Schiavo, the head bartender at legendary Arts Club London, hosted the Masterclass sessions in Delhi, Bangalore& Mumbai and kickstarted the competition ~
~The winner will receive an all-inclusive weekend trip to Moscow~
August 2018: Sula Selections, the import arm of Sula Vineyards and one of India's leading wine and spirits importers launched their trail blazing new IP – 'Beluga Cocktail Masters India 2018' in association with Beluga Noble Russian Vodka, the world's most popular Russian vodka.
Over 150 Bartenders from Delhi, Bangalore and Mumbai attended the masterclasses held in the respective cities, learnt about Beluga Noble Russian Vodka, its tasting notes and got interesting tips and tricks about the art of bartending from the celebrated bartender and mixologist Agostino Schiavo, the head bartender at the legendary Arts Club in London.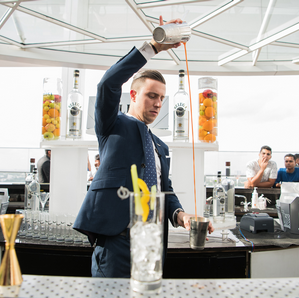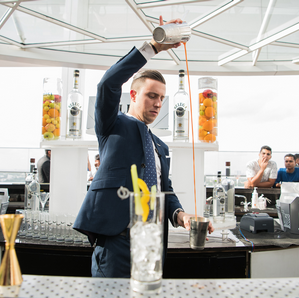 Sula Vineyards is not just the leading wine producer and exporter of wine in India but is also one of the leading wine and spirits importer. Its import arm, Sula Selections comprises of an extensive list of leading and notable wine and spirits brands from across the globe. Beluga Vodka made its first appearance in 2009 and has quickly gained a reputation for being exceptionally clean and pure vodka. A classic Russian vodka, fresh and crisp with a little bit of grain flavor – Beluga is made, unusually, with barley malt spirit, and is very lightly flavored with honey and extracts of oat and milk thistle.
In a bid to provide bartenders with an international experience, Sula commenced its three-city Masterclass in Mumbai, Delhi and Bangalore conducted by Agostino Schiavo. Hailing from the UK, Agostino Schiavo brings with him over 7 years of experience in the hospitality industry. An Alumni of Hotel and Catering School (2008), Agostino is known for mixology and creating unique cocktails and showcases expertise with Beluga Vodka and has been a finalist of Beluga Signature bartender 2016 held in UK.
Kenneth Pritchard, Senior Vice President, Marketing and International Sales, Sula Vineyards said, "We are delighted to launch the Beluga Cocktail Masters India programme.  This is a great opportunity for India's top mixologists to get to know this great brand and of course to show us what they can do with authentic Russian vodka and exciting Indian flavours.  Not only will there be an opportunity for the winner to visit Russia, the home of Beluga, but also to have their creations made available across India.  We look forward to welcoming Agostino Schiavo to India and to welcoming India's best bartenders to our Masterclasses.I would like to thank the Beluga team for their support in helping to launch this programme and we hope that this will be the pre-cursor to India joining the Beluga Signature Bartender Program in coming years."
Speaking on the success of the Masterclasses across the three cities, Agostino Schiavo, the head bartender at the legendary Arts Club in London, said "It was an amazing experience, the crowd reacted perfectly to the messaging and the information that I gave. It was a fantastic initiative by Beluga and Sula Selections. Initiatives like these go a long way in bringing the cocktail experience higher. Indian bartenders have a lot to show to the world in terms of using spices and herbs and bring that knowledge to a global scale".
150 bartenders across the country aligned themselves to put together interesting cocktails made with Beluga and learn global tricks about bartending. The bartenders will be given one week to battle it out as they will need to create a unique cocktail using Beluga Vodka and record a video showcasing it. From the 50 bartenders per city, 20 will be selected to promote Beluga in a personal capacity and using their social media platforms. Top ten cocktails will be selected for the final round. The ten finalists will then make their way to Mumbai for the Grand Finale as they fight it out to be the Beluga Cocktail India Champion and win an all-inclusive weekend trip to Moscow.
The contestants will face two challenges in the grand finale which is scheduled on 25th October in Mumbai. First being of making their original unique cocktail with Beluga Vodka and the final challenge will be a black box consisting of ingredients that the bartenders will have to use with Beluga Vodka to make a brand new cocktail on the spot.
About Sula Vineyards
Sula Vineyards is India's #1 wine company and largest wine producer. Sula's award-winning wines are available nationwide at the finest hotels and restaurants, and are also exported worldwide. The company is also a leading wine and spirits importer, with a portfolio of prestigious brands like Remy Cointreau, ConoSur, Hardys, Ruffino and Asahi.
Sula is also a pioneer in India's wine tourism opening the country's first winery Tasting Room in 2005 and first vineyard resort, Beyond by Sula, in 2007. With 350,000 visitors in 2018, Sula is one of the most visited wineries in the world and the #1 spot where Indians first taste wine.
Firmly committed to remaining at the forefront of Indian wines, Sula continues to experiment with new varietals, engage in sustainable agriculture and support the local rural economy. Sula is well on its way to becoming one of the world's most sustainable wine producers.
About Sula Selections
Sula Selections is the import arm of Sula Vineyards and one of India's leading wine and spirits importers. Sula Selections represents global leaders like Hardys, Ruffino, Cono Sur, Remy Cointreau, Asahi Beer and Sierra Tequila. The portfolio includes wines from new and old world regions across Australia, Argentina, Chile, South Africa, Italy and France.Assured quality and great value in every category is the Sula Selections guarantee!
About Beluga Group
PJSC "BELUGA GROUP" is the leading diversified spirits group in Russia with a 15% share of the legal vodka market in Russia. The Company`s strategic focus lays on production and distribution of alcoholic beverages. Beluga Group is #1 Russian independent importer of spirits. Beluga Group possesses its own distributional platform, ensuring the largest possible market coverage, and diversified portfolio of federal brands, addressing market demands across the full spectrum of price points, from the low-middle to the super-premium price segments. Beluga vodka is the flagship brand in the company's portfolio.
About Beluga
Established in 1900, the Mariinsk Distillery is responsible for producing the entire Beluga Vodka range. Situated in the heart of Siberia, Mariinsk Distillery is based in one of the most tranquil areas of Russia and uses industry-leading, cutting-edge equipment. Its unique geographical position provides Beluga Vodka with purest artesian water from its nearby 300 metre-deep Siberian wells.
Beluga Noble– A combination of sugar syrup, natural honey, oatmeal infusion, holy thistle and a touch of vanilla, rested for 30 days.
Beluga Transatlantic Racing – With extracts of wild strawberry and barley malt, Beluga Transatlantic is rested for 45 days having undergone an additional filtration using natural cotton.
Beluga Allure – With a resting period of 60 days, Beluga Allure offers an outstanding flavour created from maple syrup extract and an infusion of figs.
Beluga Gold Line, – The most premium vodka in the range, Beluga Gold Line is a blend of natural ingredients including rice essence and Rhodiola rosea extract rested over a 90 day period. Each bottle is individually numbered and comes with a wax sealed cork, accompanied by a unique Beluga hammer and brush.