Sufi Sutra is a World Peace Music Festival celebrating cultural diversity. The festival aims at connecting Indian folk artists to the world through cultural exchange and to promote cultural pluralism. Cultural dialogues develop mutual knowledge on different cultural traditions and create scope for developing new collaborations. Initiated in 2011 by banglanatak dot com, a Kolkata based UN recognized social enterprise, Sufi Sutra has now evolved as an annual music festival in Kolkata. Music for all, Music for peace is the Mantra of Sufi Sutra.
6th edition of Sufi Sutra will be held at Rabindra Sadan – Nandan Campus, Kolkata on Feb 5 – 7, 2016 in partnership with Rural Craft & Cultural Hubs of West Bengal, an initiative by Department of Micro, Small & Medium Enterprises & Textiles (MSME&T), Govt of West Bengal in association with UNESCO.
Inauguration: Feb 5 at 6 PM (Venue: Rabindra Sadan)
Evening Concert: Feb 5 – 7 at 6 PM – 9 PM (Venue: Rabindra Sadan)
Workshop: Feb 6 – 7 at 11 AM – 2 PM (Venue: Rabindra Sadan & Nandan Campus). Each group will present their music and interact with other musicians, media and audience for one hour.
Showcasing Rural Craft & Cultural Hubs of West Bengal (Venue: Rabindra Sadan & Nandan Campus and Mohar Kunj).
Programme schedule
Evening Concert (Venue: Rabindra Sadan)

6 pm
7 pm
8 pm
Feb 5

Inauguration
Baul & Bangla Qawwali

(India)

Cherry Grove

(Scotland)

Feb 6
Romengo

(Hungary)

East West Local

(India)

Mamadou

(Burkina Faso)

Feb 7
American Sufi Project

(USA)

Mavambo

(Brazil)

Karrossel

(Portugal)
Workshop (Venue: Rabindra Sadan & Nandan Campus)

11 am
12 noon
1 pm       
Feb 6 
Karrossel

(Portugal)

American Sufi Project

(USA)                                             

Mavambo

(Brazil)

Feb 7
Cherry Grove

(Scotland)                                

Romengo

(Hungary)                                    

Mamadou

(Burkina Faso)
East West Local: India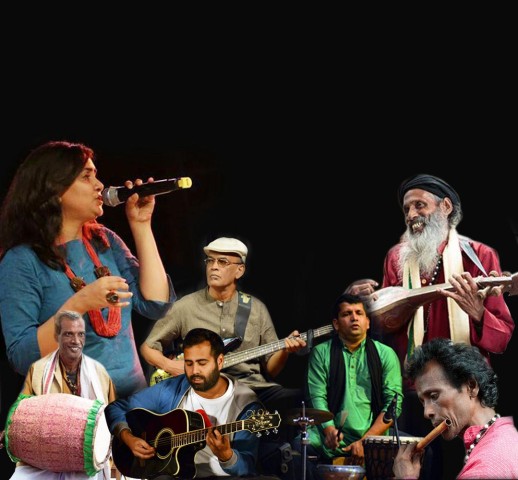 East West Local, presenting Bengali folk based World Music, a collaboration between musicians of West Bengal & Goa, is an initiative of banglanatak dot com MusiCal. The team has 7 members on stage, includes Debalina (Vocal), Elvis (Acoustic Guitar), Golam (Vocal & Dotara), Carlos (Percussion), Mohan (Flute), Sonatan (Dhol & Khol) and Steve (Bass Guitar).  Their album "Trans Bangla" was the Indian pick of Top World Music Albums of 2014: http://worldmusiccentral.org/2014/12/19/best-world-music-albums-of-2014/. The team performed at MIPAF Malayasia in 2014.
Debalina Bhowmick, the lead vocalist and leader of the band, has also performed at many World Music festivals including at Copenhagen in 2014 & at Essouria, Morocco in 2015 and has also performed at Kolkata International Film Festival 2015.
Members
Debalina Bhowmick
Elvis Lobo
Golam Fakir
Carlos Gonsalves
Mohan Tati
Sonatan Das
Steven Francis
American Sufi Project: USA
The American Sufi Project was started by a group of artists and seekers who meet at the weekly gatherings for Zikr (remembrance of God) at the Dergah-Al-Farah in New York City. The intention of this project is to transmit through music and art, a taste of the divine love and interconnectedness that they have felt participating in these spiritual and musical practices. They believe the Sufi qualities of love, devotion and contemplation expressed through creativity can elevate the culture of our times.
Members
Dan Kurfirst
Gabriel Marin
Tomchess
Jeff Mann
John Ferrara
Maura Tousignant

Cherry Grove: Scotland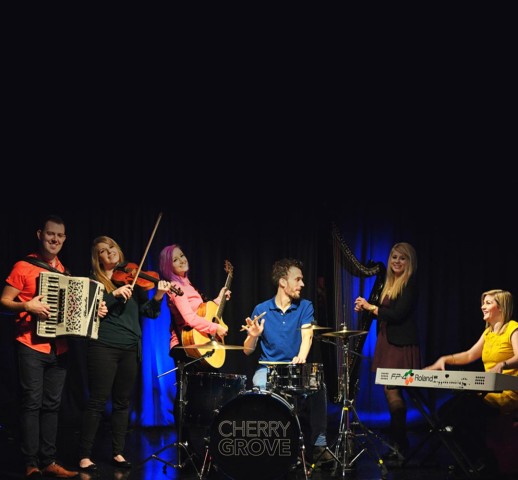 With traditional songs, original compositions and contemporary melodies Cherry Grove is one of Scotland's most exciting folk ensembles. Nominated for 'Up and Coming Artist' at the MG Alba Scots Trad Music Awards 2014, they have enticed audiences internationally with performances at the London 2012 Olympics as well as Europe's largest Celtic music festival, Festival Interceltique in Lorient, France. With graduates from the Royal Conservatoire of Scotland, former students of the National Centre of Excellence in Traditional Music and a finalist from the BBC Young Traditional Musician of the Year 2013 competition, the band produce an exceptional level of musicianship which is evident in their thoughtful and sophisticated arrangements.
Members
Marianne Fraser
Grant McFarlane
Fergus Munro
Alanna McCuaig
Hannah McNeill
Baul & Bangla Qawwali: India
Do not look for God anywhere, look for Him in the human body and you will be able to know yourself too. The Bauls and Fakirs are conveying the message of peace all over the world through their music.  In Bengal, the Qawwali songs synthesized with the philosophy and music of various traditions, such as Vaisnava Kirtan, Sahajiya Buddhism and Baul songs, to produce a new genre of Qawwali called Bangla Qawwali, which retained the Sufi idioms of Silsila (teachings of Sufi masters), Sama (listening to music and chanting to induce mystical trance), and Fana (annihilation of the ego). The Fakirs of Bengal who identify with the liberal philosophy of Bangla Qawwali are the present bearers of this tradition in West Bengal.
Members
Arjun Khyapa
Subhadra Sharma
Arman Fakir
Babu Fakir
Akkas Fakir
Nur Alam
Chhote Golam Fakir
Romengo: Hungary
The music of Romengo is characterized by the respect for traditions and constant renewal. This 10 years old group plays Hungarian Olah-gypsy music. Most of the members of the group mastered this music as their mother tongue. Besides the existing gypsy folksongs, the group also performs their own tradition-based songs on stage with their own unique sound. Romengo has given concerts in more than 20 European countries and both of their albums got into the best 10 records of World Music Charts Europe. Romengo's solo vocalist Mónika Lakatos was given the Anna Lindh award in 2007, the Parallel Cultures award in 2013 and for the Ethnic Minority award in 2014.  Even with their preference for using can tins along with spoons and the wooden trough, they are not averse to new sounds.
Members
Monika Lakatos
Janos Lakatos
Mihaly Rostas
Mihaly Istvan Kovacs
Tibor Balogh
Karrossel: Portugal 
From the passion of folk dance and music, in 2009 the group Karrossel was born in Oporto, Portugal. Based on the collection and research, they teach traditional dances, mostly Portuguese but also from the rest of Europe. In a spirit of celebration, Karrossel proposes a journey through the world of traditional music, where the public is invited to participate in a whirl of dances! Starting with Portuguese dances such as Vira do Minho or Fado Batido, they pass through Troika from Russia and throughout Britain, Romania, Lithuania, and many other cultures, always returning to Portugal in a constant dialogue with the public.
Members
Hugo Osga
Nuno Encarnação
Sílvia Guerra
Sérgio Cardoso
Diana Azevedo
Andreia Barão
Ricardo Coelho
Mamadou Diabate and Percussion Mania: Burkina Faso
Colorful, as the atmosphere of a market place in West Africa, the music of Mamadou Diabate and Percussion Mania is supported by powerful African rhythms and refined by African chants. They owe their popularity mainly to the spectacular and virtuosic "Balafon duel" between the two brothers, Mamadou and Brahima Diabate. The master of the Balafon, Mamadou Diabate, composes, sings and plays many percussion instruments like Ngoni & Talking Drums other than the Balafon. He has presented concerts across many countries and prestigious festivals. With his group Percussion Mania he won the Austrian World Music Award (2011) and the Grand Prix of the "Triangle du Balafon" Competition in Mali (2012).
Members
Mamadou Diabate
Fall Cheikh Ibrahima
Dagnogo Djakaridja
Brahima Diabate
Sanon Karim
Schumann Stephanie Sabine
Mavambo: Brazil
Mavambo is an artistic group combining traditional Afro-Brazilian dance and music. In the performance, Mavambo will focus on the "roda", or circle, the format in which most of these traditions are held. The ritual and trance aspects of the Afro-Brazilian culture, as well as its playfulness and joyfulness, are widely explored by the group that reinterprets the phenomenon in a very creative way. The group is led by the dancer, singer and composer Benjamin Abras. The cast also includes two experienced percussionists who have played together in many shows -Bill Lucas and Guda Coelho, and two young female dancers, raised in different Afro-Brazilian traditions – Lisa Lima and Luana Setragni.
Members
Benjamin Abras
Bill Lucas
Guda Coelho
Lisa Lima
Luana Setragni
banglanatak dot com is a social enterprise working across India with a mission to foster pro-poor growth and protection of rights of women, children and indigenous communities.We specialise in communication for development (C4D) using theatre and developing community led creative industries based on intangible cultural heritage like performing arts and crafts.
For More information Contact: http://www.banglanatak.com/
1