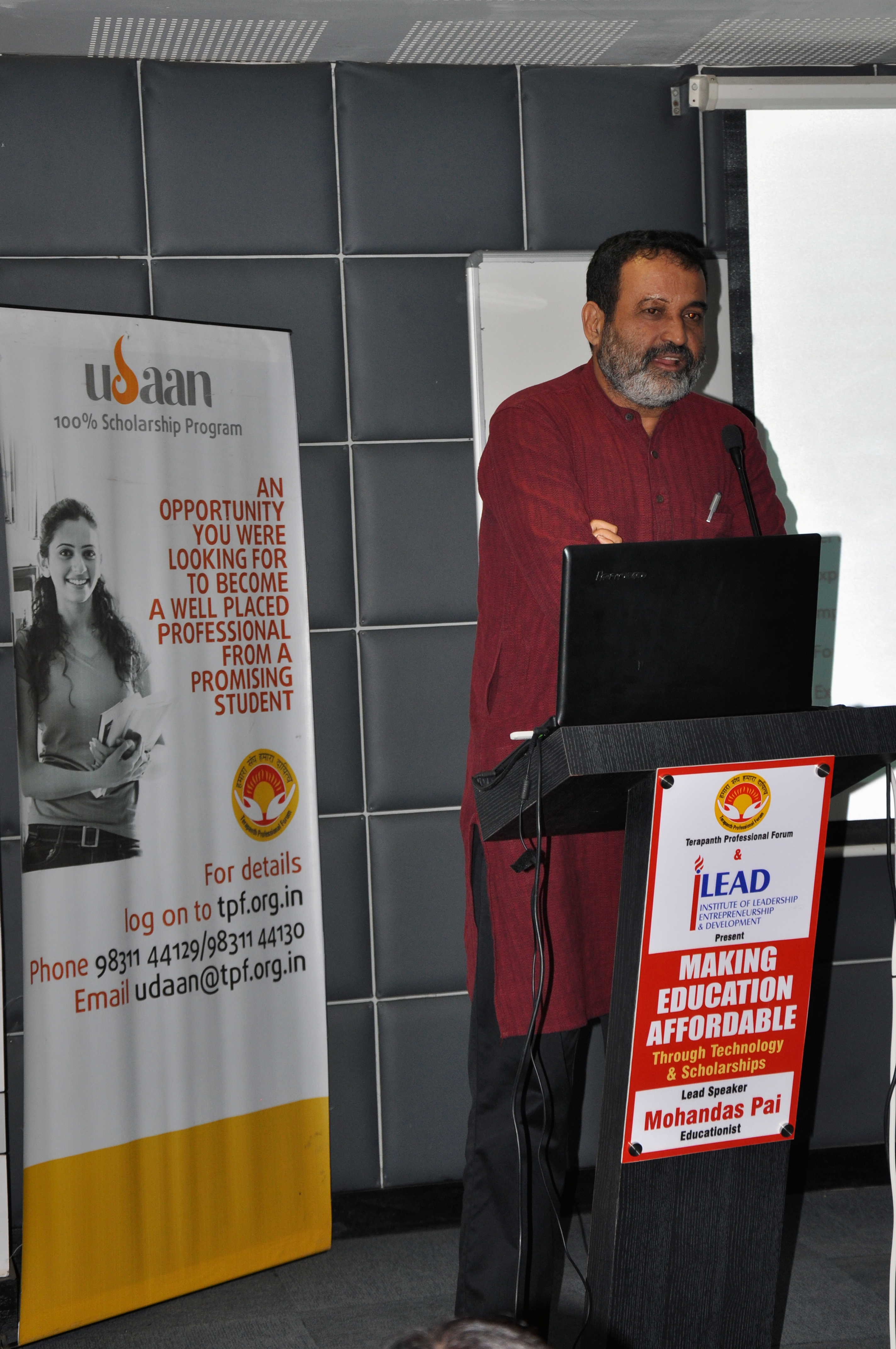 Kolkata, 16th March, 2013:  iLead Institute has always taken initiative to give their best to their students and society, so this time iLead in association with TPF (Terapanth Professional Forum) had invited Mr. Mohandas Pai, the Chairman of Manipal Global Education for an interactive session with the students of iLead Institute on Making Education Affordable through Technology and Scholarship from 2.30pm onwards at the iLead campus. Mr. Pradip Chopra, the Chairman of iLead Institute was also present to grace the event.
This was really an essential topic to discuss as there are many students who really wish to study but they fail to do so because of their economic condition or the fees of the institutes are not affordable by them or institutes do not have the provision of scholarship to grant to the outstanding students to mould their future.
As Mr. Mohandas Pai introduced the topic to the students as well as the philanthropists of the city to come forward and enable meritorious but economically weak students with scholarships. The main interesting phase of the event started when everyone was given the opportunity to discuss the topic with him.
The session seemed to be really interactive as both counterparts had their points to discuss and share their views. The session was so interesting that it seemed to be never ending and all the participants enjoyed it thoroughly as it was inspiring for all of them. There were lots of questions from all the participants including scholarship providers, educationists, teachers and other stakeholders from academia and that were well addressed by Mr. Mohandas Pai.
"I was happy to see all stakeholders in education took equal effort in discussing this topic with me. I hope this session was informative as well as interesting for all of them and I wish them All the Best to the students for their Future" said Mr. Mohandas Pai.
"I am glad to have Mr. Mohandas Pai amongst us today to interact with our students and share his knowledge and experience with us. His interaction was valuable for our students as well as other participants and we are looking forward for more such interactions" said Mr. Pradip Chopra, Chairman of iLead Institute.
"The session was really interesting and fruitful. I wish this session would have continued for some more hours so that we could discuss the topic in a much broader prospective" said students of iLead.
About iLEAD:
iLEAD, The Institute of Leadership, Entrepreneurship and Development as an upcoming world class Institute offering degrees courses in Media and Management studies both at the undergraduate and postgraduate levels i.e Bachelor in Business Administration (BBA), Master in Business Administration (MBA), Bachelor in Mass Communication, Advertising and Journalism (B.Sc), and Masters in Mass Communication, Advertising and Journalism (M.Sc). iLEAD is sensitizing all school and college students to avail world class education experience FREE through Khan Academy and coursera.org, etc. Workshops are regularly organized at iLEAD and iLEAD students are conducting seminars in various schools and colleges for the same.
About TPF:
TPF (Terapanth Professional Forum) is an organization of professionals from the Jain Community. Its objective is to use its expertise, experience and knowledge to serve the community at large in areas of education, health, law and enterprise.Udaan is the latest education initiative of TPF.
About UDAAN:
Talented and focused students are the key resources of our community. While India is the youngest nation in the World, our biggest challenge is to empower our youth with relevant education and skills. We would therefore like to supplement the efforts of our Government and other agencies engaged to address this challenge. The academic success of Terapanth community is appreciable but now it would like to contribute in the betterment of the society in general. With an aim of growing from an enlightened community to a globally admired, evolved community via erudite and socially concerned members; it would now like to offer the opportunity of higher education to one and all. This is the current mandate of Terapanth Professional Forum (TPF). Currently TPF is offering promising students 100% scholarship.
About Mr. Mohandas Pai:
Mohandas Pai is the Chairman of Manipal Global Education. He used to be a Member of the Board of Directors of Infosys, and Head – Administration, Education and Research, Financial, Human Resources, and Infosys Leadership Institute. Mohan joined Infosys in 1994 and served as a Member of the Board from May 2000- July 2011. He was the Chief Financial Officer from 1994 to 2006.
He formulated the country's first publicly articulated financial policy for the Company- Infosys. He played a key role in branding the company among the investor community and enhancing transparency and disclosure levels. The Infosys Annual Report, under his supervision, has won the top awards consistently from the Institute of Chartered Accountants and from the South Asian Federation of Accountants.
He was voted 'CFO of the Year' in 2001 by IMA India. He won the 'Best CFO in India' award from Finance Asia in 2002, and 'Best Chief Financial Officer in India' in the Best Managed Companies poll conducted by Asia Money in 2004.