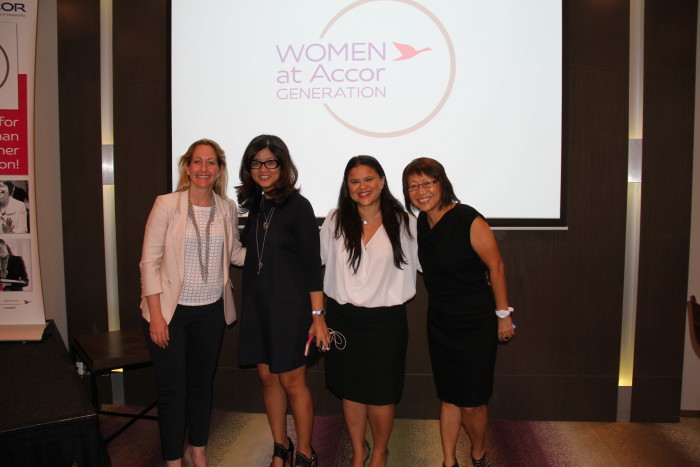 AccorHotels recently invited three of the most successful women in the tourism industry to speak to its staff, as part of the hotel's group's Women at Accor Generation program (WAAG). Lou Dela Pena, CEO of Publicis Singapore, Lisa Akeroyd, MD of Carlson Wagonlit Travel for Australia and New Zealand, and Yeoh Siew Hoon, Founder and Editor of Web in Travel were part of an inspiring panel to share their secrets to success and motivate the next generation of women leaders within the group.
"This sharing session helped foster and encourage women to feel more confident through role modelling and provided an opportunity for members of the WAAG group to network and support each other," said Christine Rumble, Vice President, Learning and Talent Development, AccorHotels Asia Pacific. "AccorHotels firmly believes in encouraging our women staff to take control of their careers and to have access to equal opportunity across the group."
Launched in 2012, WAAG is now active in more than 60 countries and already counts over 1,500 women and men members worldwide. Its goal is to reach a target of 50% women holding positions as hotel general managers with an intermediary target of 35% by the end of 2015.
WAAG's activities are mainly based on mentoring, sharing of experiences and training, as well as collaboration through networks, with the aim of promoting greater access for women to managerial positions.
"It was an honour to be invited to the Women at Accor Generation event and to be able to share my professional and personal experiences with the group," said Lisa Akeroyd. "It's really great to see AccorHotels lead the industry in supporting women in becoming general managers, MDs, and CEOs in previously male-dominated roles."
Today, women fill 50 percent of middle management positions globally but still lag behind when it comes to senior and board level positions. With studies showing that companies with the highest proportion of women in senior management positions report enhanced organizational and financial performance, AccorHotels is actively looking to improve the position of women across its network.
AccorHotels is a Group united by a shared passion for hospitality and driven by a shared promise to make everyone Feel Welcome.
Over 180,000 women and men in almost 3,800 AccorHotels establishments look after thousands of guests every day in 94 countries.
AccorHotels is the world's leading hotel operator and offers its customers, partners and employees:
– its dual expertise as a hotel operator and franchisor (HotelServices) and a hotel owner and investor (HotelInvest);
– a large portfolio of internationally renowned brands covering the full spectrum, with luxury (Sofitel, Pullman, MGallery, Grand Mercure, The Sebel), midscale (Novotel, Suite Novotel, Mercure, Mama Shelter, Adagio) economy (ibis, ibis Styles, ibis budget, adagio access and hotelF1) establishments;
– a powerful marketplace and loyalty program Le Club AccorHotels
– almost half a century of commitment to corporate citizenship and solidarity with the PLANET 21 program.
Accor SA shares are listed on the Euronext Paris exchange (ISIN code: FR0000120404) and traded in the USA on the OTC marketplace (Code: ACRFY)
Follow news on Accor:
www.twitter.com/accorhotelsgroup | www.accorhotels-group.com