Professional alpinists Adrian Ballinger and Cory Richards summited Mount Everest on May 27, 2017, using Strava to share every step of the journey
SAN FRANCISCO – May 29, 2017 – Professional climber and Strava mountaineer Adrian Ballinger celebrated his first successful summit of Mount Everest without the use of supplemental oxygen, a feat that just over 200 people have ever been known to accomplish. Adrian climbed alongside Eddie Bauer alpinist Cory Richards, who summited Everest for his second time. In a nerve wracking turn of events, Cory, determined to make it to the peak rather than turn around, decided to continue the climb with oxygen approximately 780 feet from the summit. In doing so, both Adrian and Cory stood atop Mount Everest together early Saturday morning. The teammates used Strava, the social network for athletes, to tell the story of their entire expedition and offer unique insights into the effort it takes to climb the highest mountain in the world.
View Adrian's full Mount Everest summit data at Strava here.
"Hats off to Adrian and Cory on their hard won summits, their safe return, and their epic display of friendship," says Andrew Vontz, Communications Lead at Strava. "By sharing their entire journey with us on Strava, they inspire all of us to do more than we think is possible and to pursue more audacious summits of our own. This is sport at its best."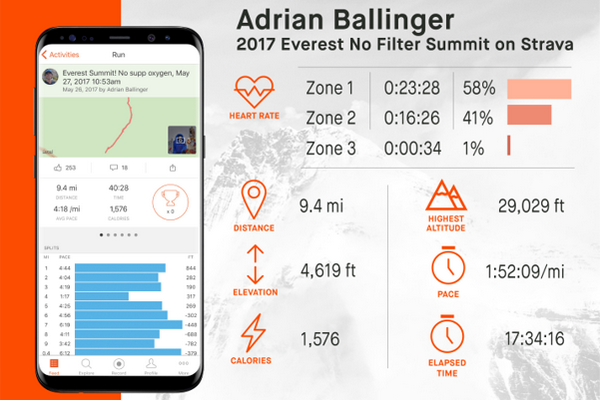 Strava provided Adrian and Cory a platform to show the effort behind their climb through data and give a behind-the-scenes look at the expedition and their remarkable athletic achievement through social storytelling using athlete posts. Strava has the most engaged community of athletes in the world, from people training for their first 10k to elite athletes like Adrian and Cory. A passion for sport is what brings Strava athletes together. The community cheered Adrian and Cory along throughout the expedition with an outpouring of thousands of kudos and comments.
View the entire 2017 expedition on Adrian Ballinger's and Cory Richards' Strava accounts or at blog.strava.com/everest-no-filter/. You can also find the expedition on Instagram by following @adrianballinger, @coryrichards and #EverestNoFilter.
Last year Strava was one of three social platforms to document the first Mount Everest expedition, allowing outdoor enthusiasts to stay updated on their journey via Ballinger's Strava feed. While Richards made his first successful summit without supplemental oxygen in 2016, Ballinger was forced to turn back just 250 meters from the summit.
In addition to Strava, expedition partners include Eddie Bauer, Samsung, Alpenglow Expeditions and Hiball Energy.
About Strava
Strava is the social network for athletes. Our mobile apps and website connect millions of active people every day. All athletes belong on Strava, no matter where they live, which sport they love or what device they use. Join the community at strava.com.
Our favorite stats:
16 activities uploaded every second, 10 million every week
100+ compatible mobile phones and GPS devices
130+ employees, most in San Francisco with more in Hanover and Bristol
600+ professional athletes are on Strava
1 million athletes join every 45 days
1.3 billion kudos given between athletes last year
$7.99 a month to make the most of your sport with Premium, or $59.99 a year
100+ cites making commuting better with Strava Metro
About Adrian Ballinger
Adrian Ballinger is one of the USA's premier high-altitude ski mountaineers and mountain guides, and the only American guide to have both AMGA/IFMGA guide certification (one of 75 in the USA) and more than 10 summits of 8,000 meter peaks (12 total, including 6 summits of Mt. Everest). As founder and head guide of Alpenglow Expeditions, Adrian has been guiding full-time for twenty years and has led over 100 international climbing expeditions on 6 continents. His personal ski descents include the first descent of Manaslu (8th tallest peak in the world), and Cho Oyu (6th tallest peak in the world), making him the only American to have successfully skied two 8000-meter peaks.
About Cory Richards
Cory Richards is an esteemed alpine athlete as well as a National Geographic Photographer Fellow and filmmaker whose expeditions to the greater ranges of the world has made a leader in adventure and expedition photography. His film work has won awards at nearly every major adventure film festival including the grand prize at the Banff Mountain Film Festival. In 2011, he was awarded the National Geographic Adventurer of the Year Award for his efforts as both a climber and visual storyteller. He's the first and only American to summit an 8000m peak in winter and this is his third attempt to climb Everest without oxygen. He joined the Eddie Bauer Guide Team as an alpine climbing athlete in October 2015.
1